Singapore again in January.
Ni hao, peng you.
I'd just went to Singapore for three days, 10-12 January 2012 :) Well, it's not quite a holiday. I just accompanied my mom for her check up in General Hospital, Singapore. Thanks God, everything is okay now. I wish she'll totally back to normal.
For me, it's not enough to go traveling to another country, just for three days. I was really tired eventho i didn't go anywhere. So, the first day, after we'd landed, we went to hospital immediately because my mom had her appointment at 12 and we landed at 11. With a lot of baggages, we went there by a taxi. At the hospital, my mom and aunty was in a rush so i just waiting them outside and keeping the baggages. I was starring at the road when an old woman asked me something in chinese. With chuckling, i said i can't speak chinese, and she spoke in English. She said i must be Indonesian. Indonesian teenagers nowadays cannot speak Chinese, she said, does Chinese not a main lesson in school, 'cause in singapore school, everybody has to be able to speak Chinese. With a shame and my ugly pronunciation, i said we used to learn it at school. But just some easy vocabularies. Thanks God the bus was coming and she said good bye.
Another Indian-Singaporean spoke to me too, but i now better understand the Singlish. Maybe i looked so pity sat there alone.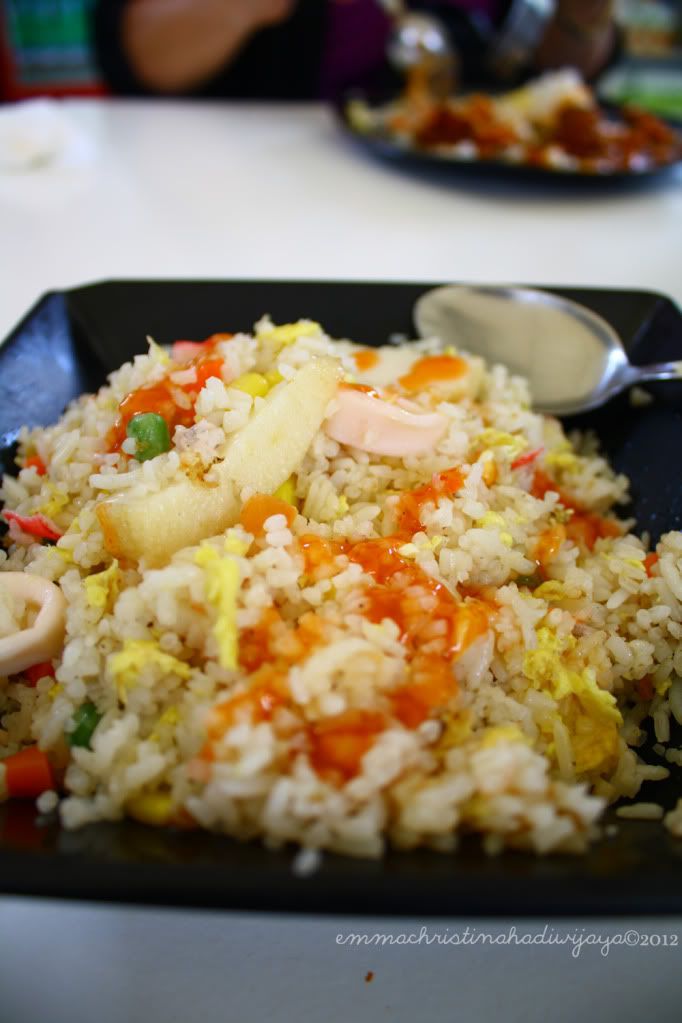 After Mom checked everything up, we were so hungry and we went to Cafe Angsana, NCCS Hospital's canteen. I ordered a Fried rice seafood. I cannot say it's delicious, but it's enough for hospital canteen.
Afternoon, me and my mom when to Chinatown for a look. We stayed at People Park Center, and because we had no enough time, it was the nearest place we could go.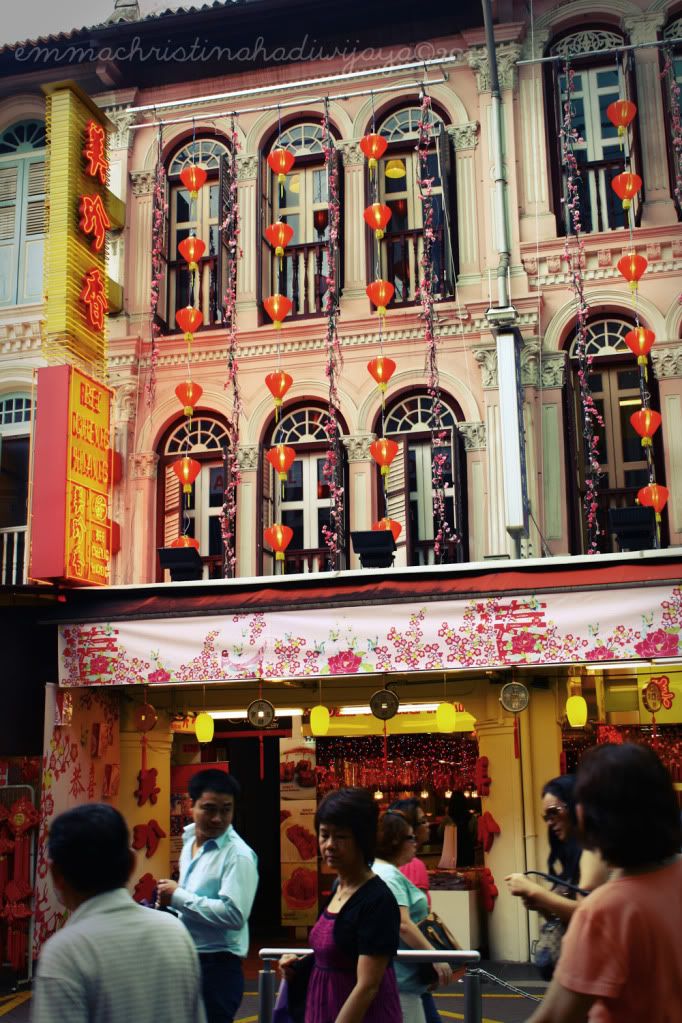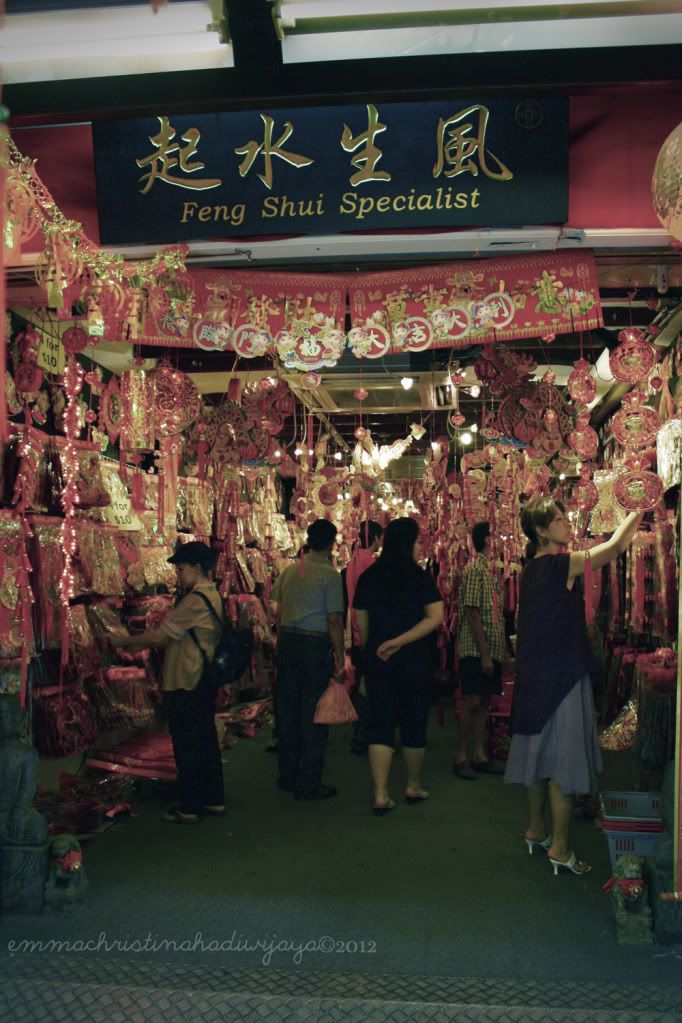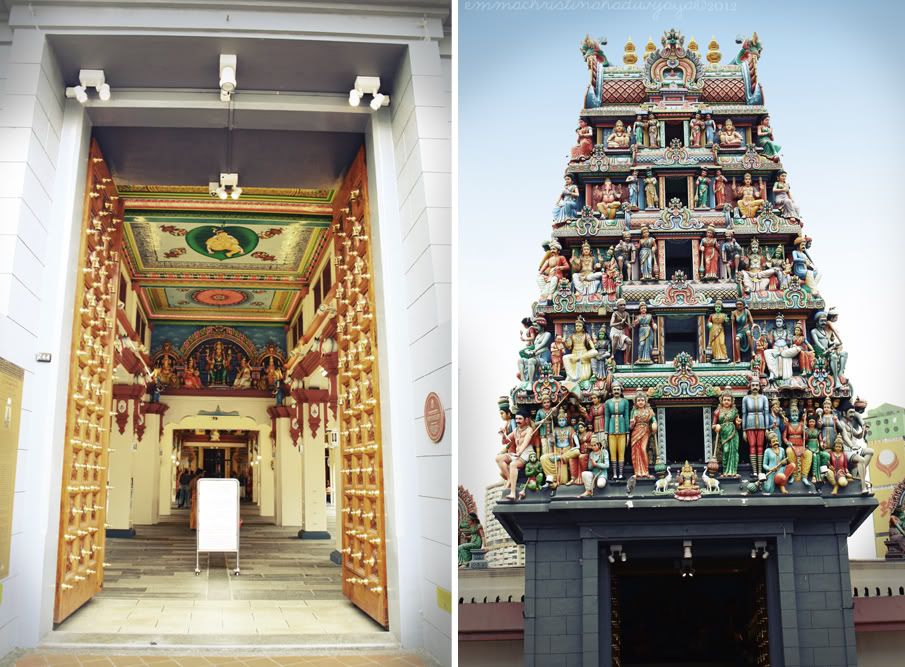 Vihara at Chinatown.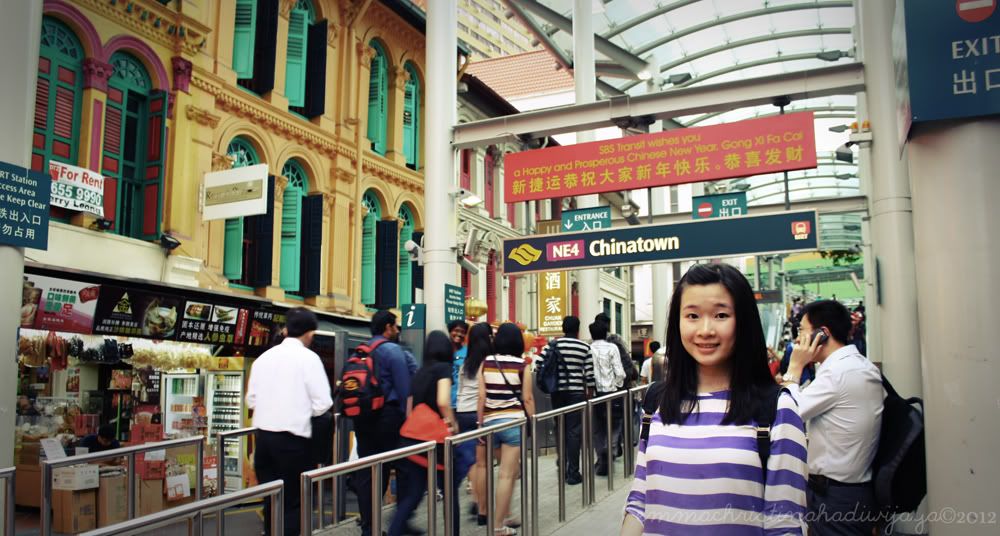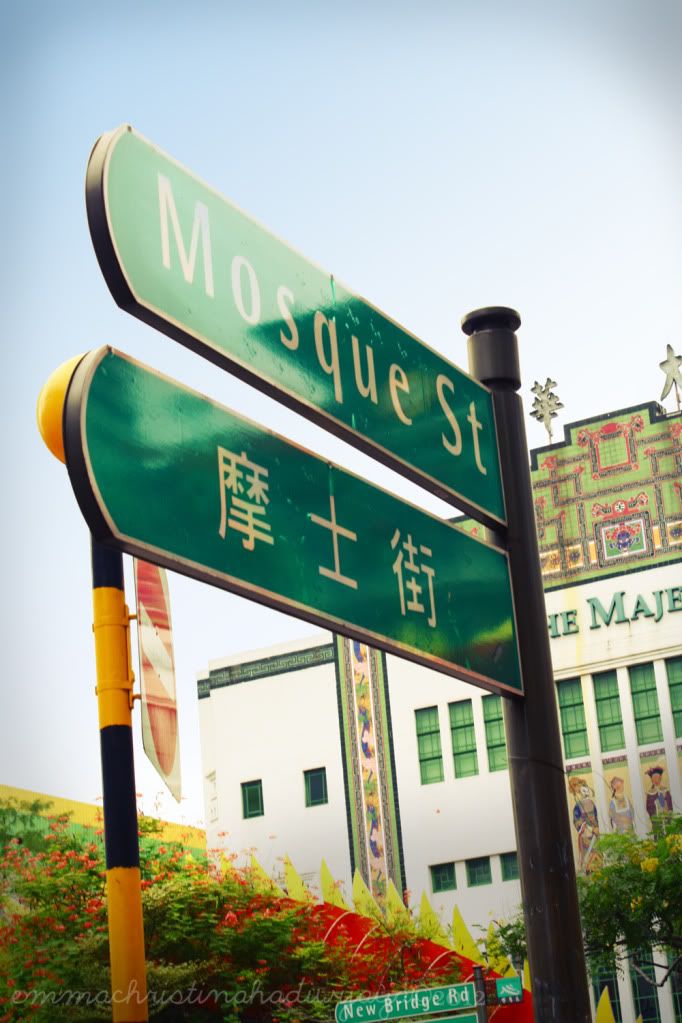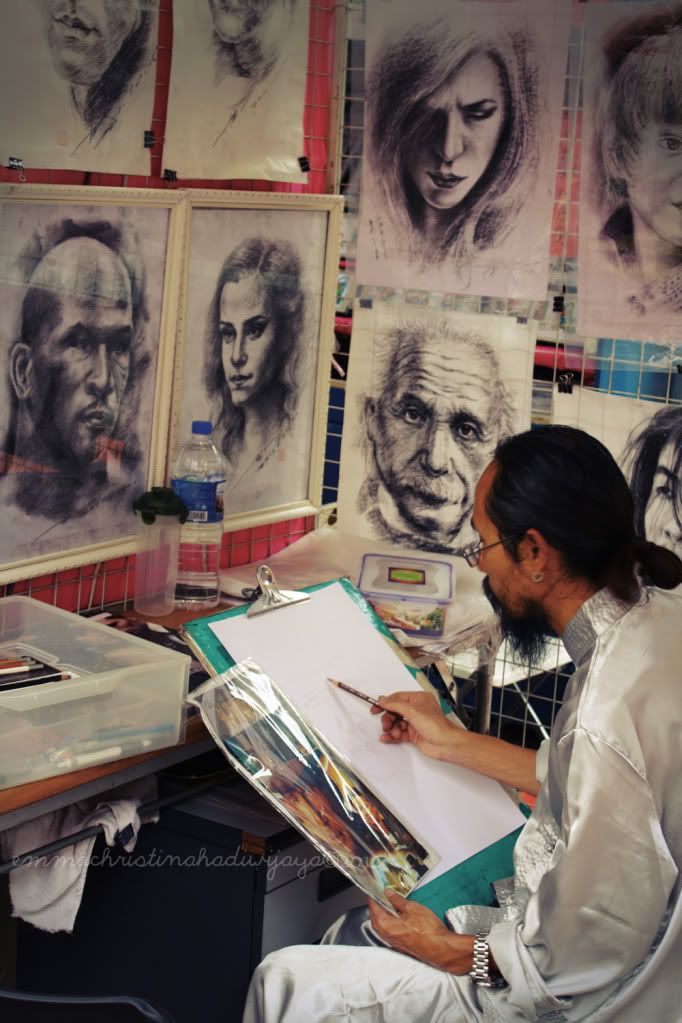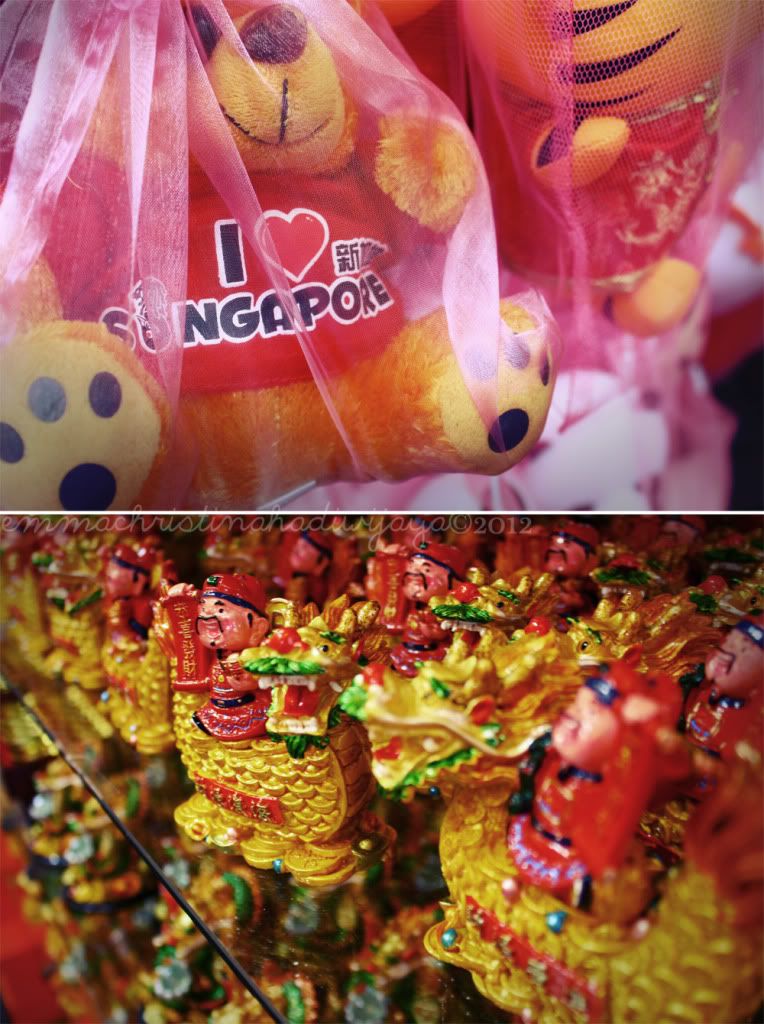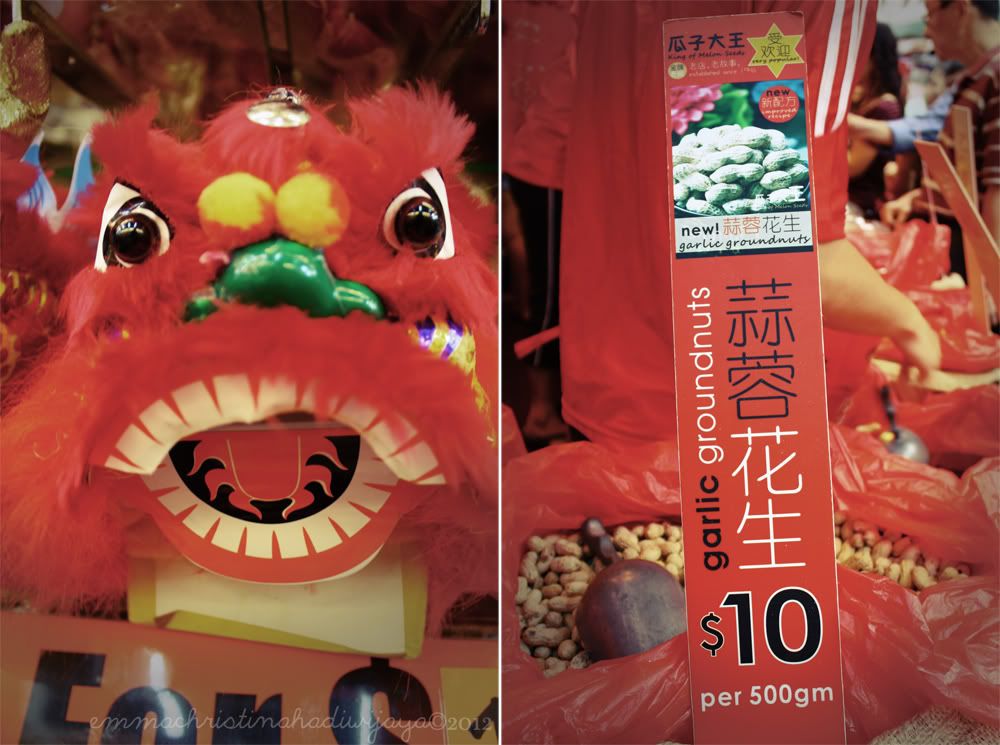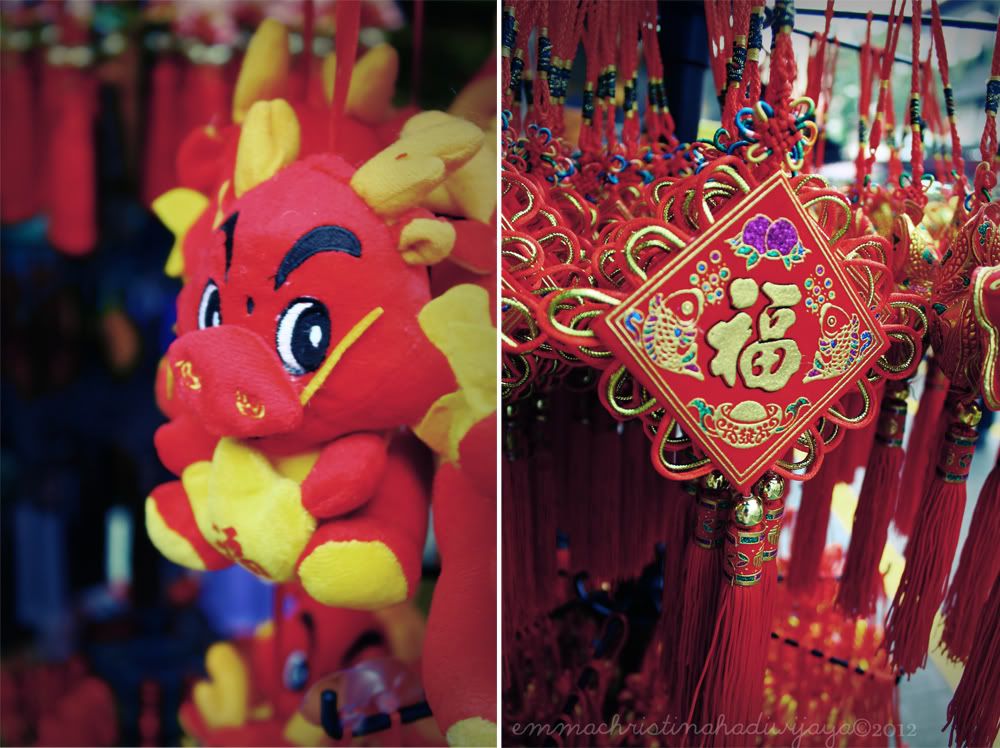 The Dragon at noon and night.
For dinner, we ate at People Park Center's food court. Singapore's food courts are always exciting. They had a lot of delicious food, eventho it's just a food court. But honestly, i was craving for Nasi Padang and Nasi Bali, still. Indonesian foods are the best!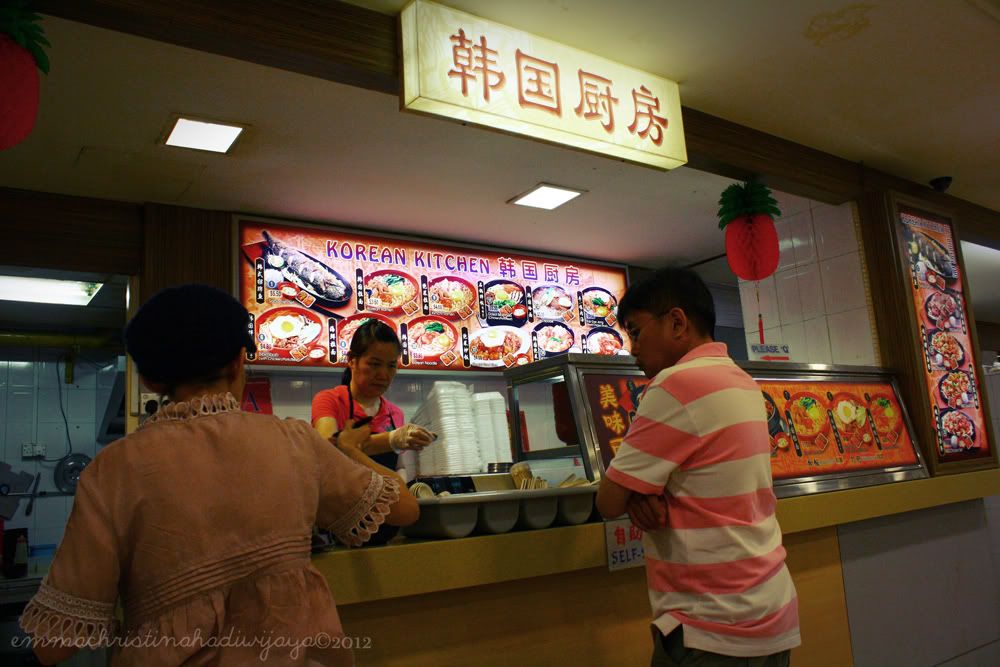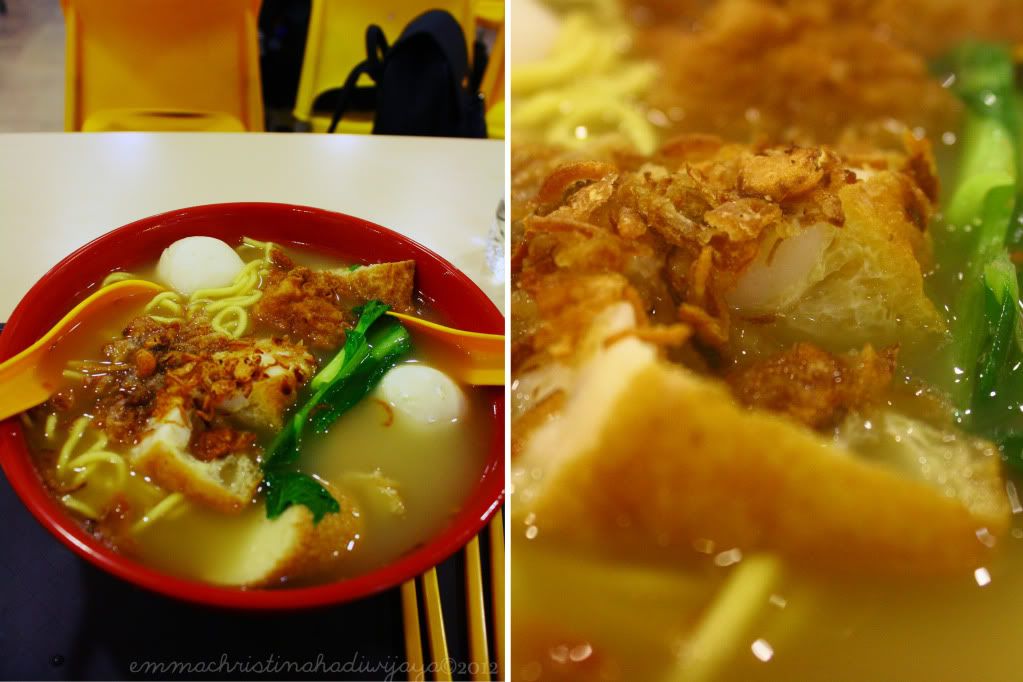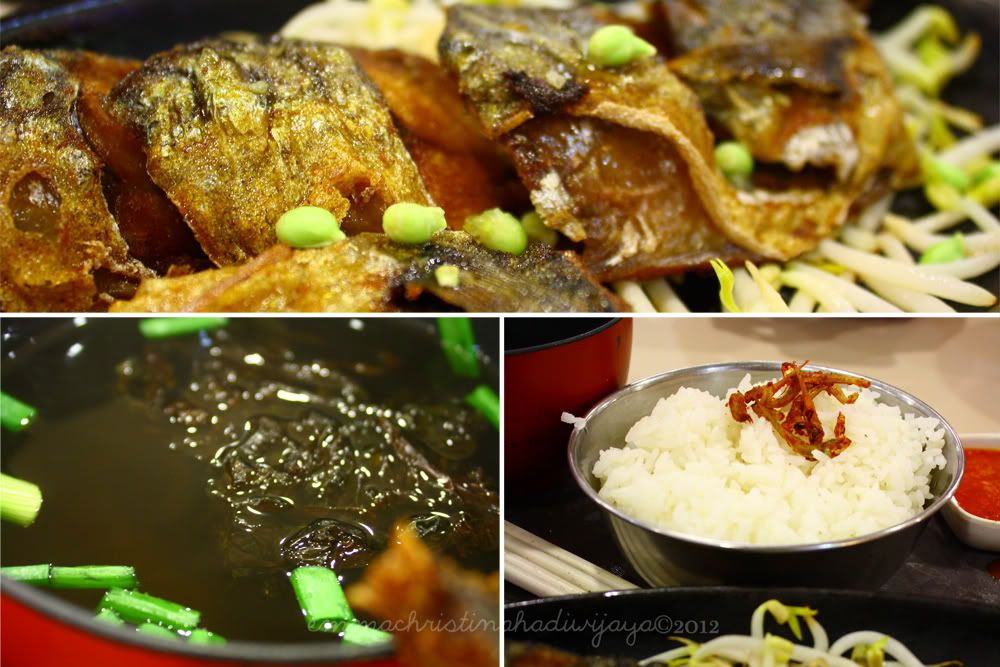 We ate Yong To Fu and Saba Fish Set.
Yong To Fu is a cheap food, glut and delicious. In Surabaya, i used to know as Lai Ki, at Tunjungan Plaza 3's food court. But it had been closed, since i don't know when. But Yong To Fu couple times more delicious. I don't know why but me and my mom love it.
Another food we love is Saba Fish Set. It is from korean food and it's taste good too. Unfortunately, if we calculate with rupiah, it's really expensive. It's 5.50$/portion, same as Rp. 40.000,00. It is absolutely not a food-court-food, it's the same like cafe's food, in Surabaya. Okay…..
Second day, we had our breakfast at chinese restaurant under the apartment, and i don't know the name of the restaurant because it was written with chinese. We ate Century Egg Poridge, as Indonesian knows : Bubur pitan. It's good, but perfectly if you eat it with their cakue. Really good.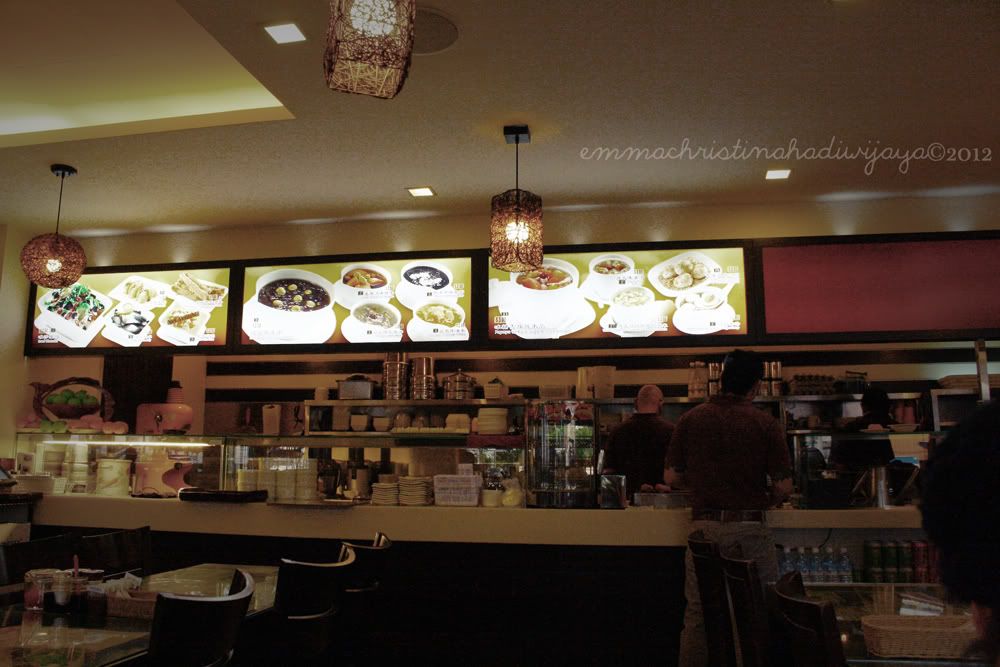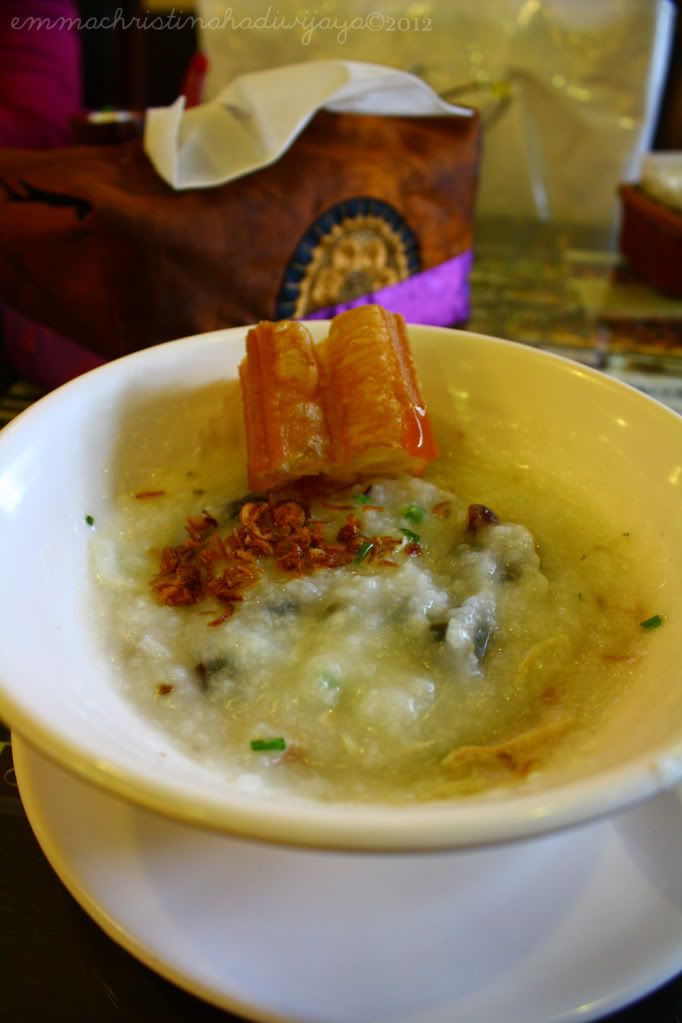 Then we went to hospital to talk with the doctor. While awaiting the result came out, we went to General Hospital's Canteen at Block 4. I realized that the Hospital is really big. They have around 7 or 8 blocks and it's rounded. And Blocks 4 canteen, seems much better then little canteen at NCCS. From my aunty recommendation, i ordered a Durian Cendol. I'm not a fan of durian but not hate it too. For me it's good, really sweet because it's use a durian pasta, sugar and milk too. But i don't like cao, so i let my mom ate that. lol. It's more like Es Campur durian in Indonesia.
Noon, we went to Lucky plaza and Paragon.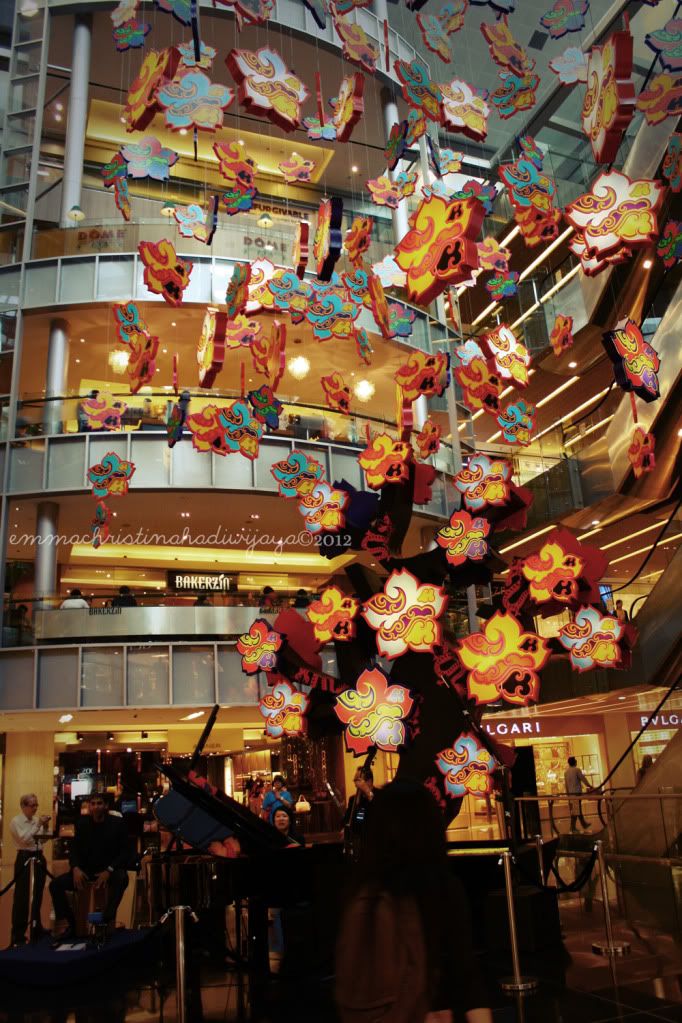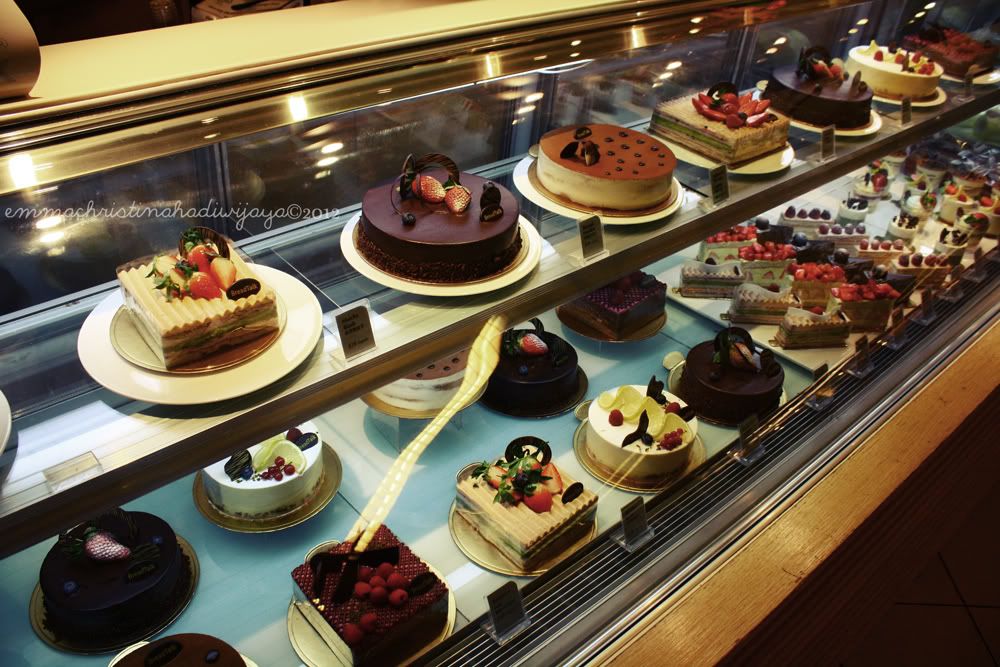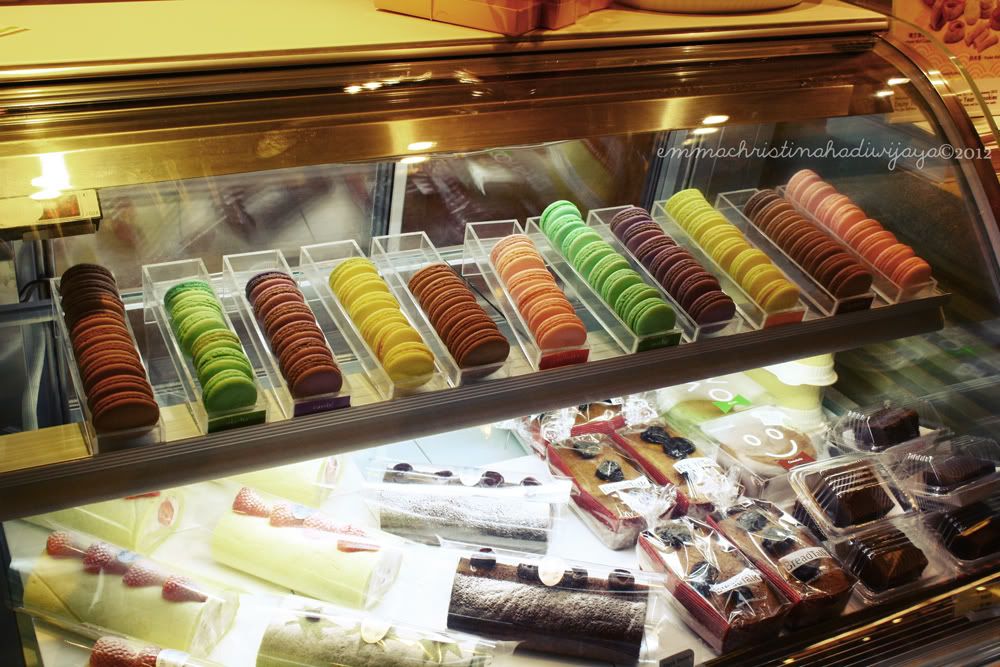 Bread Talk has a lot of cakes here! and macaroons too.
We had lunch at Takashimaya's food court. I ordered for Laksa from Fish Meatball Noodle and my mom for Steamed Chicken Rice from Chicken Rice, or nasi Hainan. I like Laksa better, because it's fresh and the soup is delicious!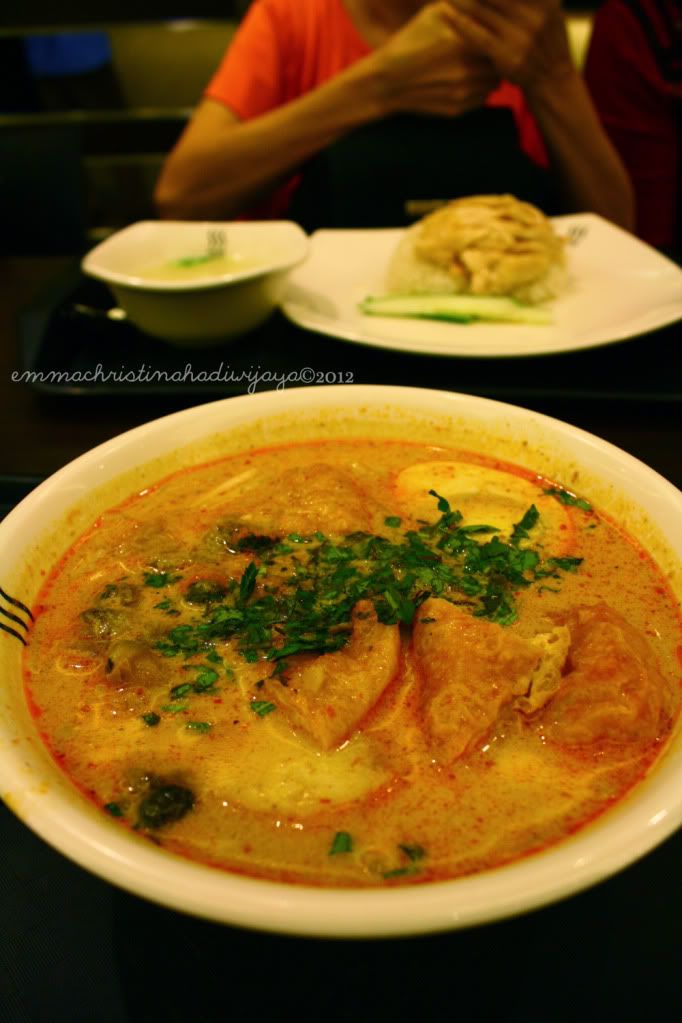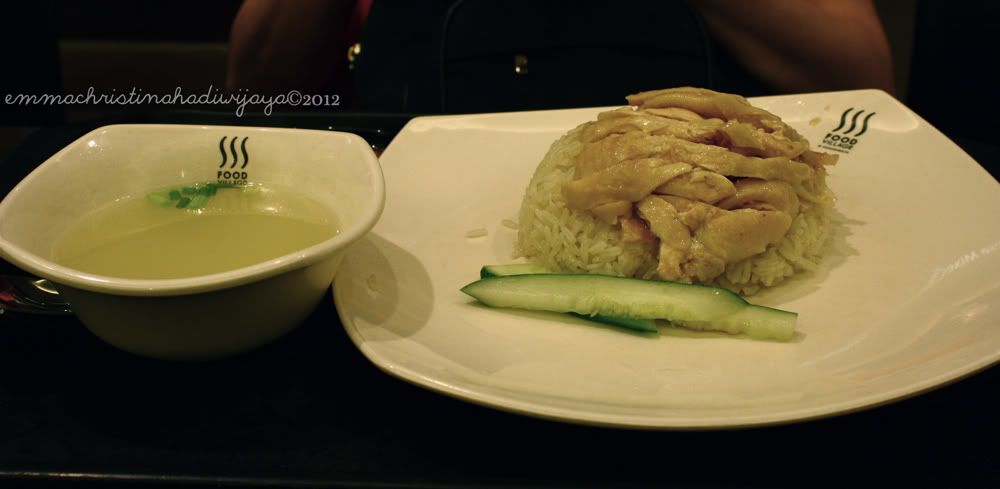 Night, we ate at food court beside OG mall. I didn't know what to order because it's a lot of foods and it's written with Chinese. So….. i didn't really understand which one is worth. The easiest way was, to look from everyone's choice for they dinner at that place. It was 8 p.m so there were still a lot of people at the food court. And my choice was this one.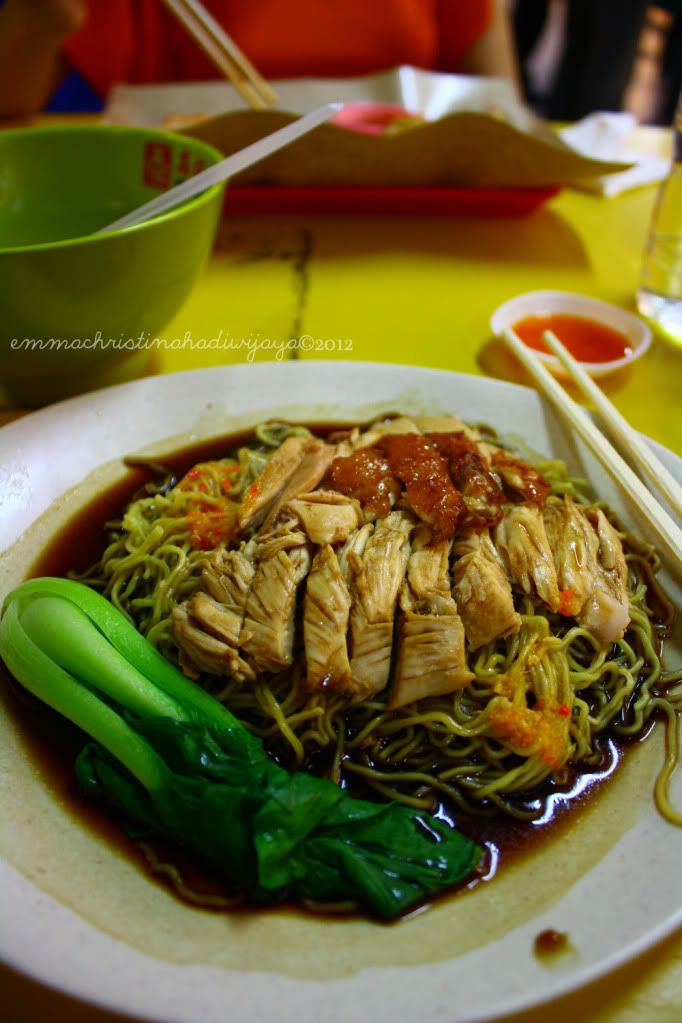 Everyone was seems eating from this green bowl. I tried to look after which one served with green bowl and i found Koo Kee Yong Tow Foo Mee. Really hard to say, right?
It's Roasted Chicken Noodle and it's delicious. Nice.
Then we went to Mustafa, BY MRT (finally!!). Well, i'm really addicted to MRT, i looked so pity. I don't know why, maybe that's the reason why i love Singapore than Indonesia. It's not too big, high self-awareness, clean and got MRT. That means i could go anywhere without i have to bother everyone who will pick up me later. Since first day, we always used taxi, because my aunty and my mom cannot walk too long. But this time they willing to try. Yay.
Mustafa Center opens for 24 hours. It is nearby Little India but we stopped at Farrer Park. It's just the same like usual dept. store but they sell most everything. Ya we went here because we didn't know where to go since it was 9 p.m. already.
The day after, we went home. It was really tiring day but excited too.
Immidiately when i was home, i opened my email and i saw Tang Andrew in Inbox. He is a Taxi driver, who drove us when we landed in Singapore to the hospital. He is really nice and talkative. He said to me my mom got a sickness, but me and my mom should not give up. Then he told a story about his brother's friend who survive till now, for 9 years, tho the doctor had told him that he only had 6 months. He said, don't go back here to waste money, don't take kemo, it makes your body weaker. What you should change is what you eat, your life, keep faithful to God and DO NOT STRESS.
He asked my email so he could send a file about a healthy life for my mom. I really appreciated it, it's really surprising that there's still a stranger who really good and care to other people.
"It's a blessing to have you & your mum on board my taxi. Tell your mum not to worry & trust our LORD Jesus. Ask her to pray everyday to Jesus & ask to take away her sickness. Also she have to play her part as a human to follow this path of healthy life style."




"I am so happy to hear that your mum is better. This is part of our human power call mental control. Our brain is the most important organ. It controls our whole body & tell us what to do or how we feel. However only 1 person is in control of our brain & that is GOD. Ask her to pray & talk to GOD everyday when she wakes up & also watch her diet. Tell her to pray this. Thank You Jesus for your loves & care all these years. Jesus take my sickness away & let me serve you more. Pray this in Jesus most precious name. Amen. You will be surprise 1 day your mum will be back to normal"
I really touched when i read his last email. Yes, we have to believe that there's a miracle. Yes, we have to keep faithful to God. Yes, everything happened is God's plan, everything happened for a reason, Whatever He does, He does it because He loves us and ofcourse He will never drift us apart. I believe my mom gonna be better soon, it's a bless to see the doctor's result and my mom is really fine. Everything will back to normal. Whatever happened in this one year, had happened and we had to let it be. The most important thing is now and the future. Survive, and keep faithful.
PS.
Beatrix, my friend who also on vacation at Singapore, said that Jay Chou will come to Singapore and promote his new movie at Bugis, on 16 January 2012. If that really happen,

I probably have to kill the event organizer.

Last year, i went to Singapore with my best friends, and a week after we went home, Jay Chou came to Singapore to promote Green Hornet. If that really happen, then i will miss him again,

one week after i went home!!

It's really close!! Grrr...