cheesy sauce!
I've been driving by myself lately. Yes, people, i don't used to drive myself because my parents don't let me. I've been trying to ask them for let me drive myself, for a year. And past months, i often try to drive myself when i was with my driver, so he could teach me. And today, i went to college with my friends. It should be the same feeling when i was with my driver, but i don't know, i was just so nervous! Sweating a lot, like seriously, but the weather was very hot indeed. But yea luckily, i went to college and drove home safely. I hope my mom will let me drive haha. I know it'll be so tiring, because my college is so far from home, but i would rather drive by myself than i have to look for a ride to and fro. just feel shame, sometimes.
If somebody asks me to cook something, you should know that i'm surely gonna cook pasta! Actually i'm not good at cooking, but i', good at eating, tho. But i thought i should be able to cook pasta because it's my passion! Pasta is the most delicious food after Nasi Padang, seriously! So far, i could only cook two kinds of pasta, Bolognese and Carbonara, because those two are the most favorite in Indonesia, i think. And from what i'd ate in cafe or restaurant, the sauce isn't too far from those two. But i think i would learn another too, someday.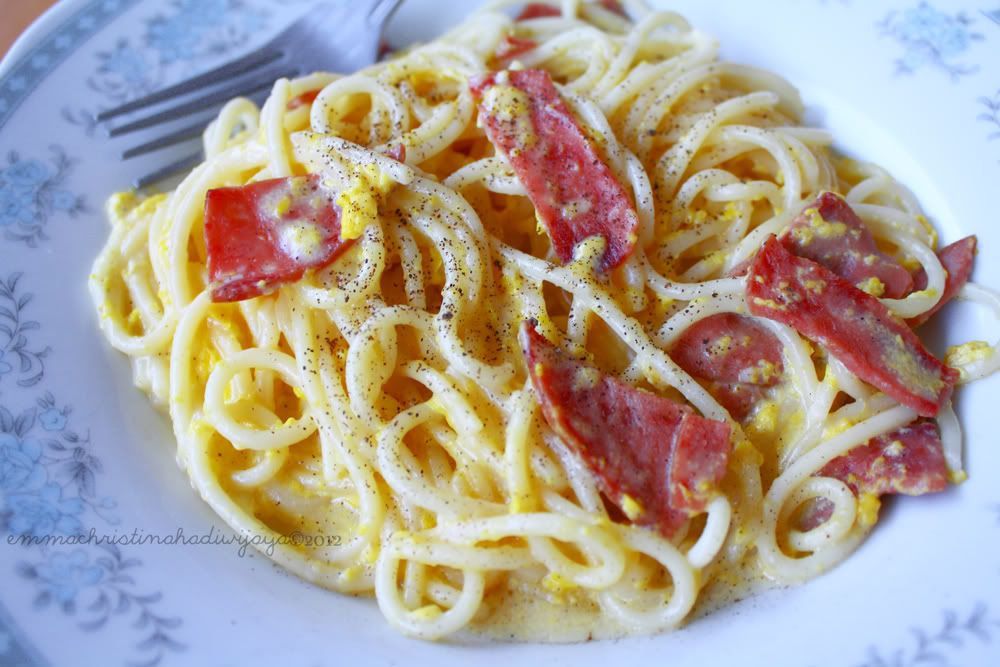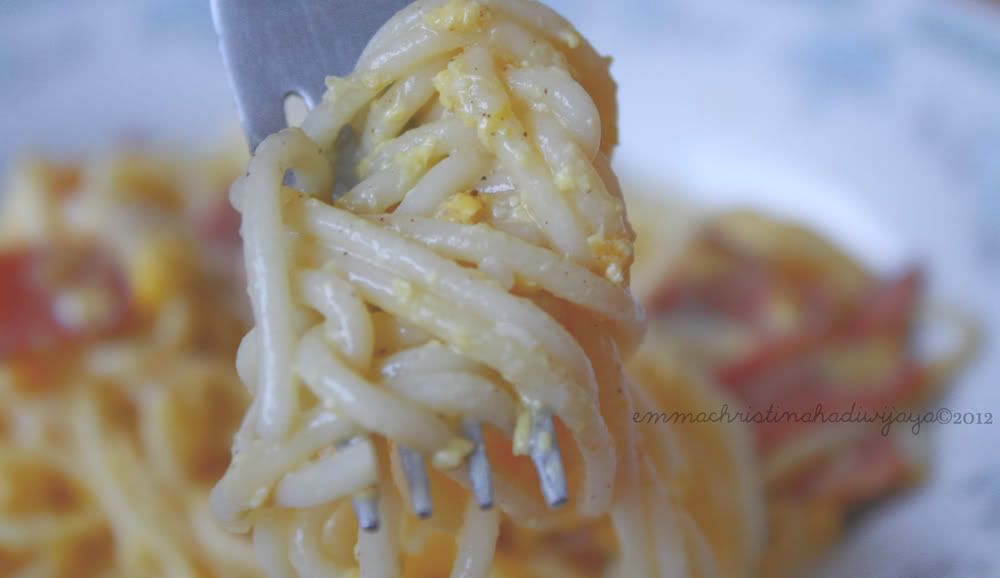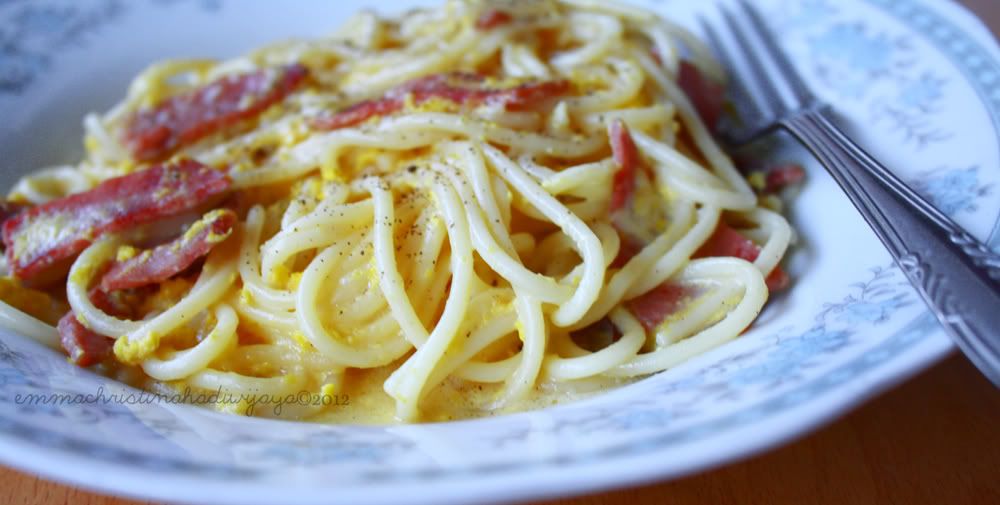 So, i cooked a pasta for my dinner this noon :) I don't know what i should called it, just named it Cheesie Smoked Beef Spagetthi a la Chef Emma.. or without a la Chef Emma.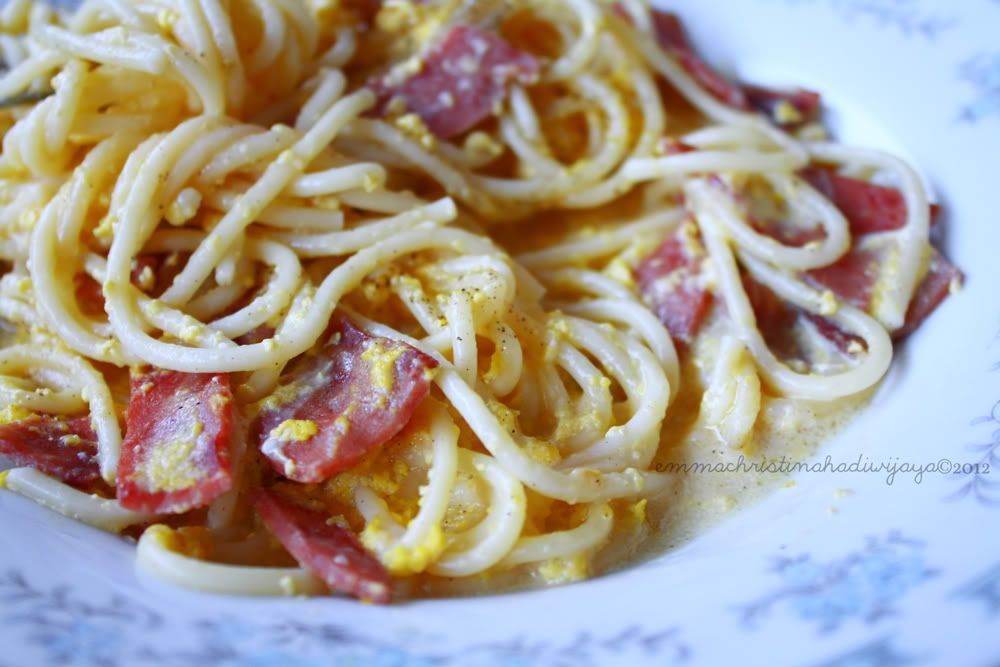 I loooove creamy one than sour tomato sauce. So i would love if i have to cook some cheesy pasta. Delicious or not? I would say it is delicious because i'm the one who cook it, haha. Taste is subjective, right? I just love the smoked beef, because i tried to buy the cheap one and i think it will taste not so good, but it's not. Hehe.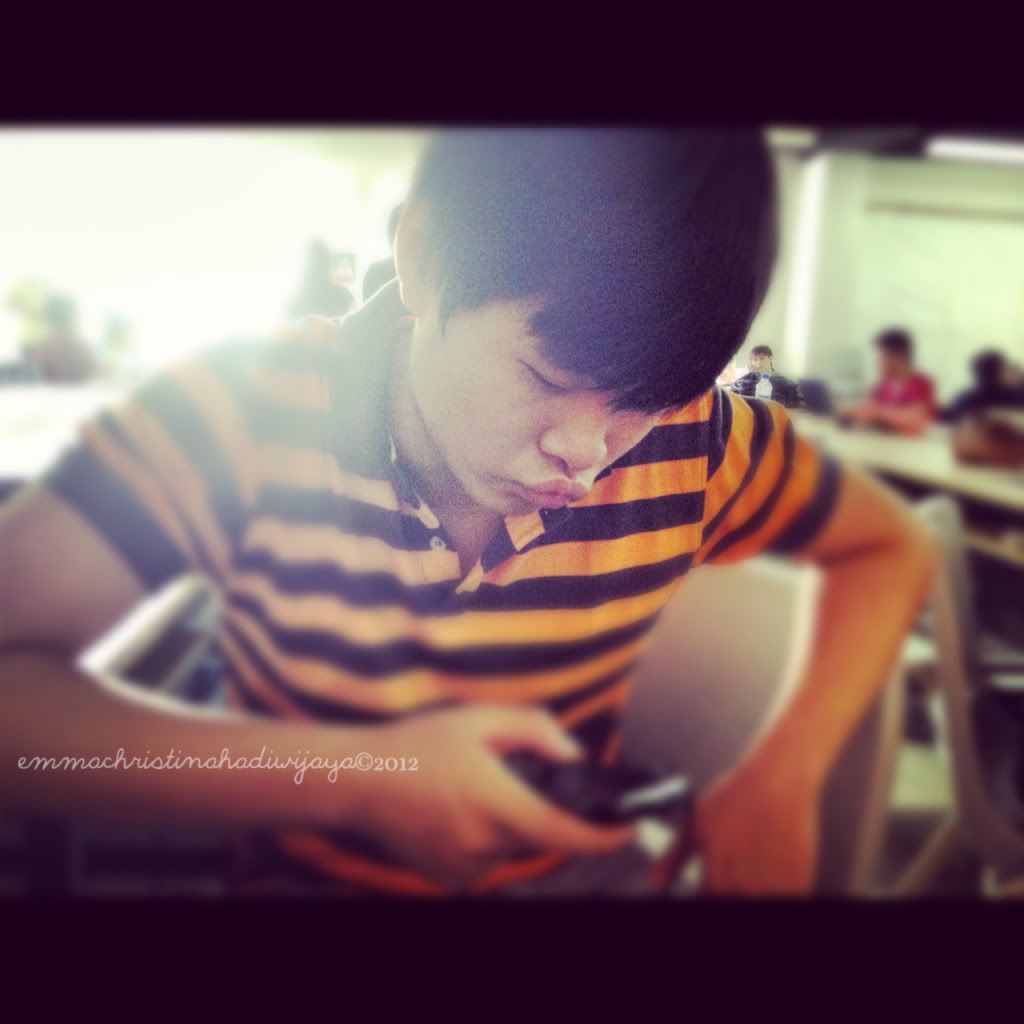 My boy went to Jakarta yesterday with his friends to join a INACRAFT 2012 exhibition in JCC for his business, POSH, and some UC's student also join this exhibition. He'll come back home on Monday, and i already miss him, haha! Ya but he'd ever went holiday for 2 weeks, so i think this one week is okay. I hope so. Just missing the fussy tubby one. Wish you all the best there!
been addicted to Payphone by Maroon 5 ft. Wiz Khalifa! Maroon 5 always create good songs. And Adam Levine, why you have to be so hot, lol.
other song on my playlist :
Safe and Sound (ost. Hunger Games) -Taylor Swift ft The Civil Wars
Call Me Maybe -Carly Rae Jepsen
Born to Die -Lana Del Rey
Live my Life -Far East Movement ft. Justin Bieber
Can't Say No -Conor Maynard
Dance Again -Jennifer Lopez ft. Pitbull