Let me kiss you hard in the pouring rain
I know Rainbow cake has been famous nowadays.
As i know, this cake is rare in Surabaya. I think Dapur Cokelat and Harvest sell it, but some of my friends said that Rainbow cake which they sell isn't too good. Well, i'm curious enough to eat this, but cancelled my desire because they said it isn't delicious. So, one day, my friend, ce Angie, went to her hometown, Singapore, and updated about Rainbow cake which she had been waiting for because it's so delicious. Haha, i'm curious, so i asked her whether it's really delicious or not, and she said it is, she would bring me some when she go back to Surabaya. Oh yay, she really brought it for me!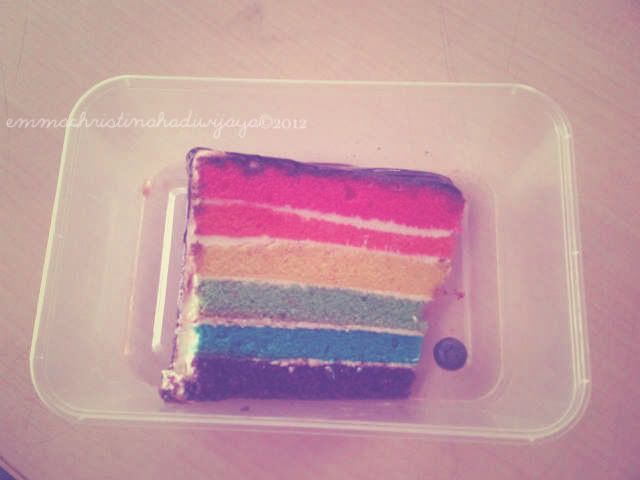 She gave this today. Looks so nice, eh? Colorful ;)
*happy*
Evidently, it tastes delicious. Maybe it has an ordinary cake with rainbow color, but the chocolate is delizioso! She said, the bakery is in the alley, if you're a tourist, it's hard enough to find. Maybe my aunt knows it and i can persuade my mom to go there when i go to Singapore again, someday! :P Thank you,
Ce Angie
!
#
It's Lana Del Rey, guys. As you know, she's a new artist but her songs were booming so fast because she has an unique voice. Well, to be honest, i'm not really like her songs. At the same time, she has typical voice that everyone gonna remember her fast, but i don't really like her voice, don't know why! But for her music videos, Born to Die and Blue Jeans, omg those are very cool videos!
She has a gorgeous hair with sexy lips, and she has a style that really quirky but awesome. I think that roses-headband is getting more booming because of her
(maybe?).
And the setting of
Born to Die
video is awesome! I always see houses like what they used in her video, that's why i love Europe. Old big house, like a castle, with gold carvings, like a great churches in Europe. But i don't want to life in house like that, haha. Scary. Just want to visit it.
In Blue Jeans, the crocodiles attracted my attention. Then i remember she also used tigers in Born to Die. That's quirky, right? but awesome instead. But the first scene of Blue Jeans is quite annoying, like Video Games. I don't like Video Games music video. Just don't get it. But still, she's a gorgeous woman. Love her looks.
"Don't make me sad, don't make me cry, Sometimes love is not enough and the road gets tough. I don't know why, Keep making me laugh, let's go get high, the road is long, we carry on. Try to have fun in the meantime, come and take a walk on the wild side, Let me kiss you hard in the pouring rain.You like your girls insane, choose your last words, this is the last time, 'cause you and I, we were born to die."