being a philatelist
Another day with no plan and schedule, i usually spend it with reading Mockingjay, the last sequel of The Hunger Games, or maybe looking for another activity with my mom. Then she demanded my promise to tidy up and clean her old stamps. I have nothing to do, so i fulfill my promise.
My mom was once a philatelist when she was young. Some of the stamps were got from her pen pal, and some were from my Aunty who likes to travel to other country and now she is staying at Perth, Australia. My mom ever told me that she had a lot of pen pals. It's funny when i remember, i had ever tried to have a pen pal, once. It was between Elementary School and Junior High school when i searched a good-looking person from Bobo magazine's profile corner, a very famous children magazine at that time. I had ever sent a girl that similar to my age too at that time, and we corresponded each other just about two or three mail, since i realized i wanted to collect some stamps, not making friends. And if i mailed a person in the same country or even same island with me, that i would got the same stamps like i used to buy. I asked my mom if it is expensive or not to send a letter to other country. She said it was expensive at that time, so i stopped mailing each other and think maybe this is not my passion because i was so lazy to find the way out, lol. Shallow thoughts.
Back to this morning, i cleaned up my mom old stamps because they sticked on the envelope paper and my mom cannot put it in to her stamps album. She taught me how to do it and it was very easy.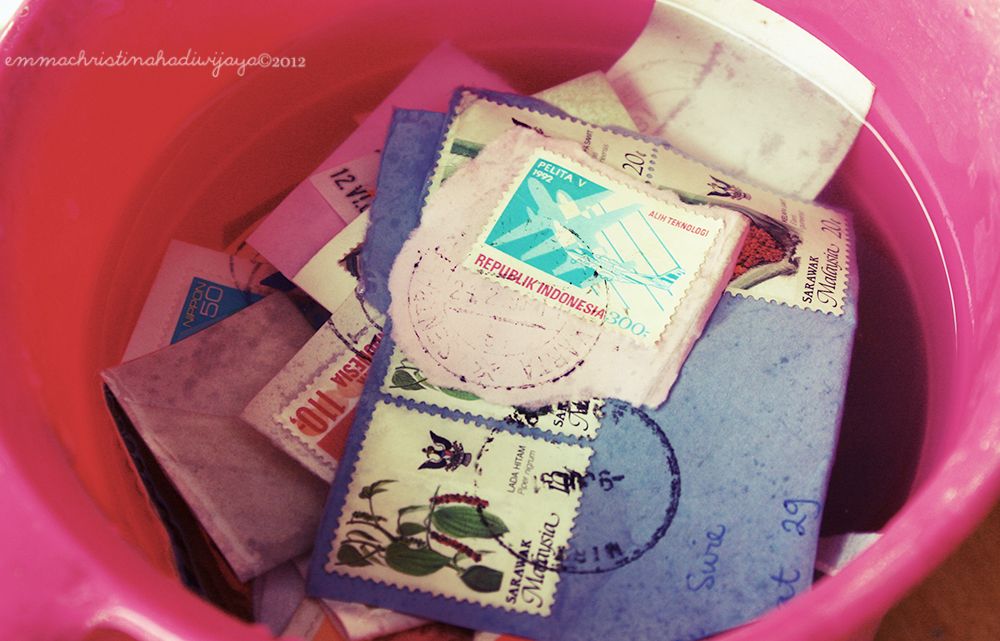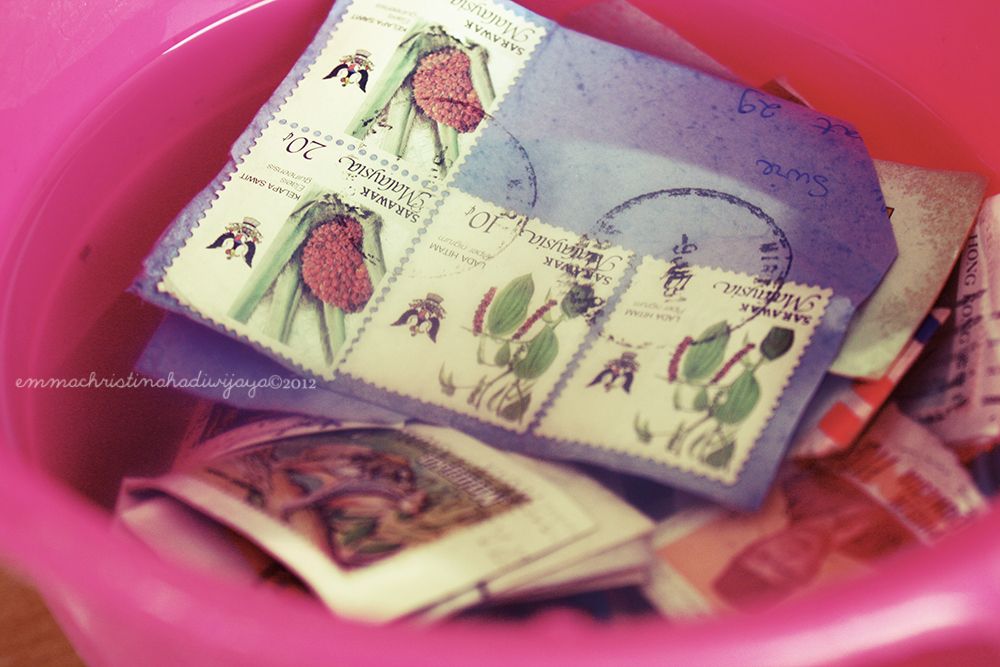 First, cut the stamps from the envelops paper, just make a rim around the stamps, the put them in to water. Make sure you stir very slowly with your hand so they will not stick each other. Wait a minute until you find the paper and the stamps are limp already.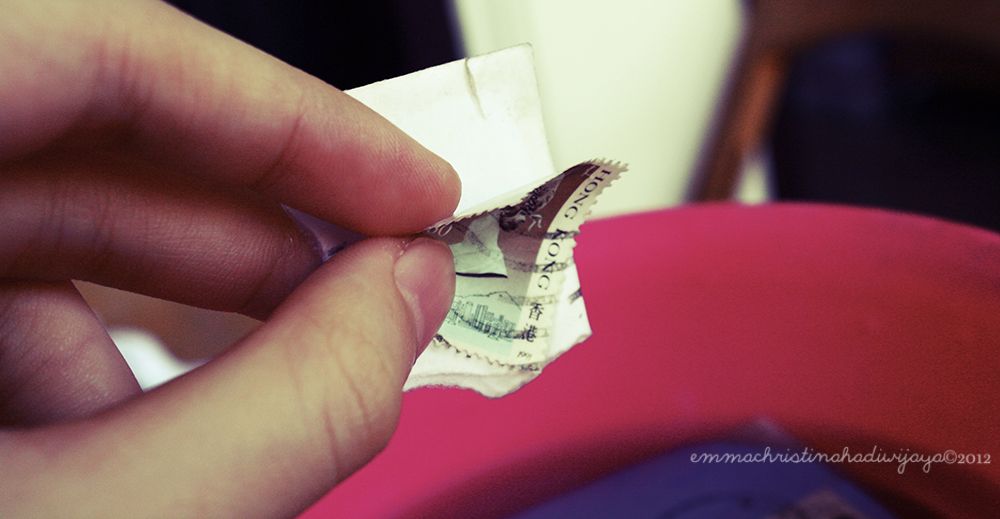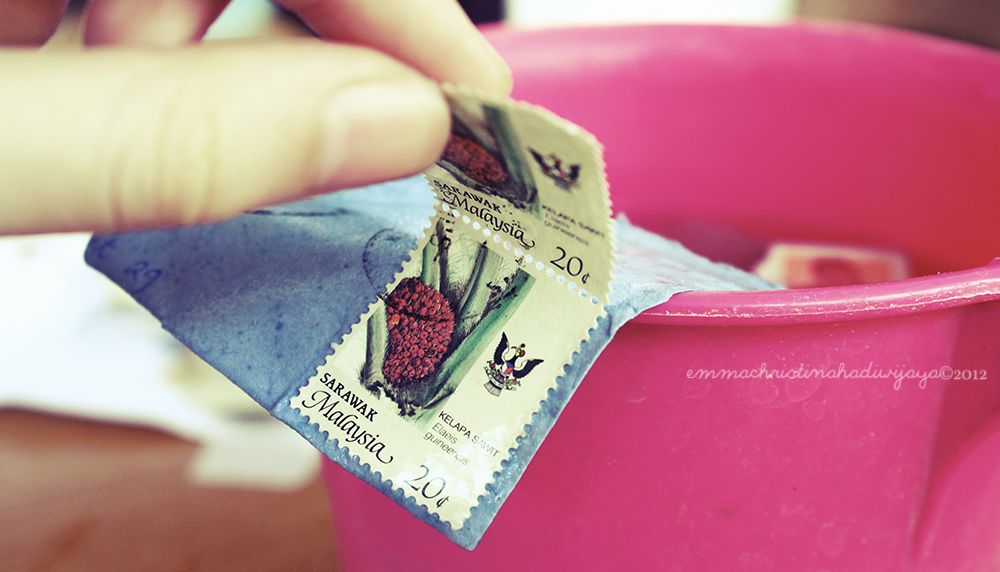 Second, gently pull the stamp from the paper. Be careful, if you find it is still stick to the paper, don't compel to pull it. Put it again in to water and wait until they can be separated.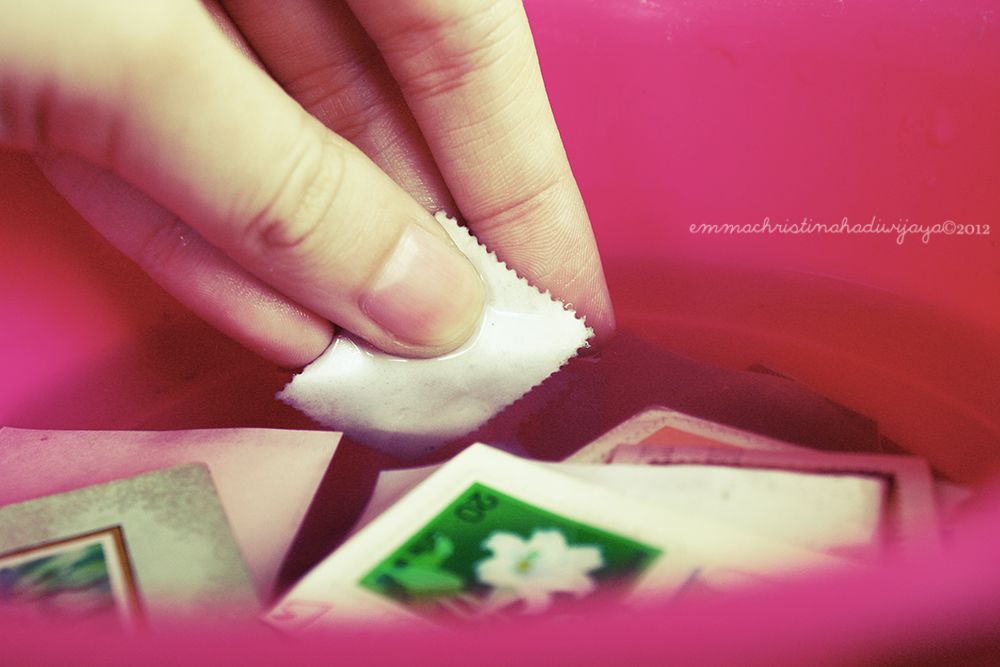 Some stamps still sticky with their glue on back of it. Rub carefully in the water so it won't be sticky again.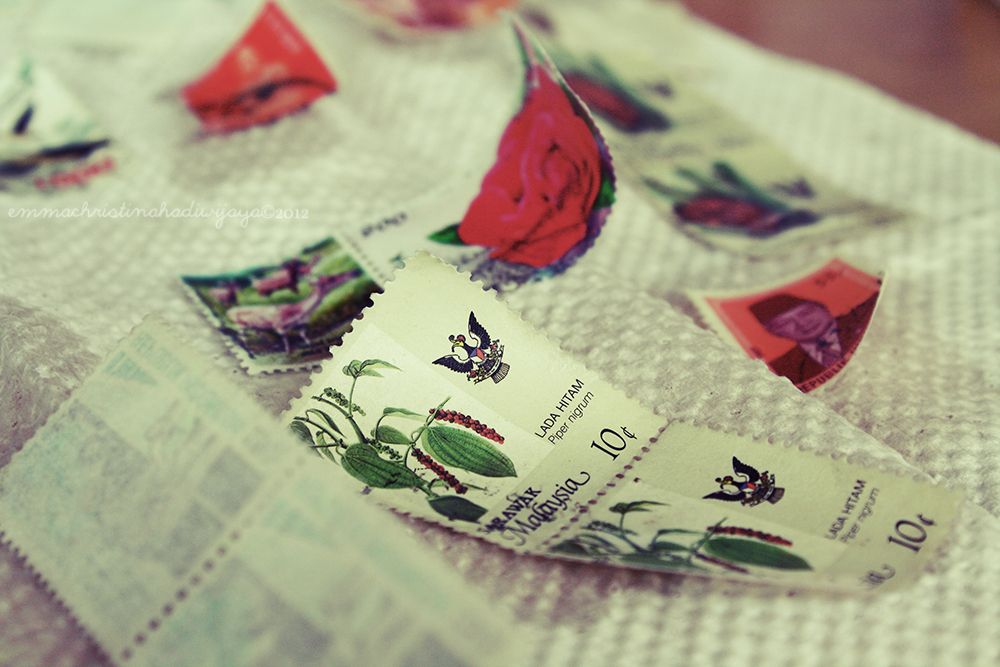 Put the stamps on the tissue paper to dry up. Better put it inverted, so if the stamp is still sticky, it will not stick on the tissue paper.
wait until all the stamps are dry and put it into a place. Then, put them in your album ;)
And this method works for everything that stick because of glue, just depends on how careful you are and the condition of the paper too. But it won't work for stickers. And remember to do it quickly. Soak too long gonna makes it wrecked and becomes pulp.
The only thing that last until now and i can be proud of being a very-short philatelist is my Harry Potter stamps. It was when Harry Potter was booming in here and i super duper love it, my mom when home from post office and brought me this stamps.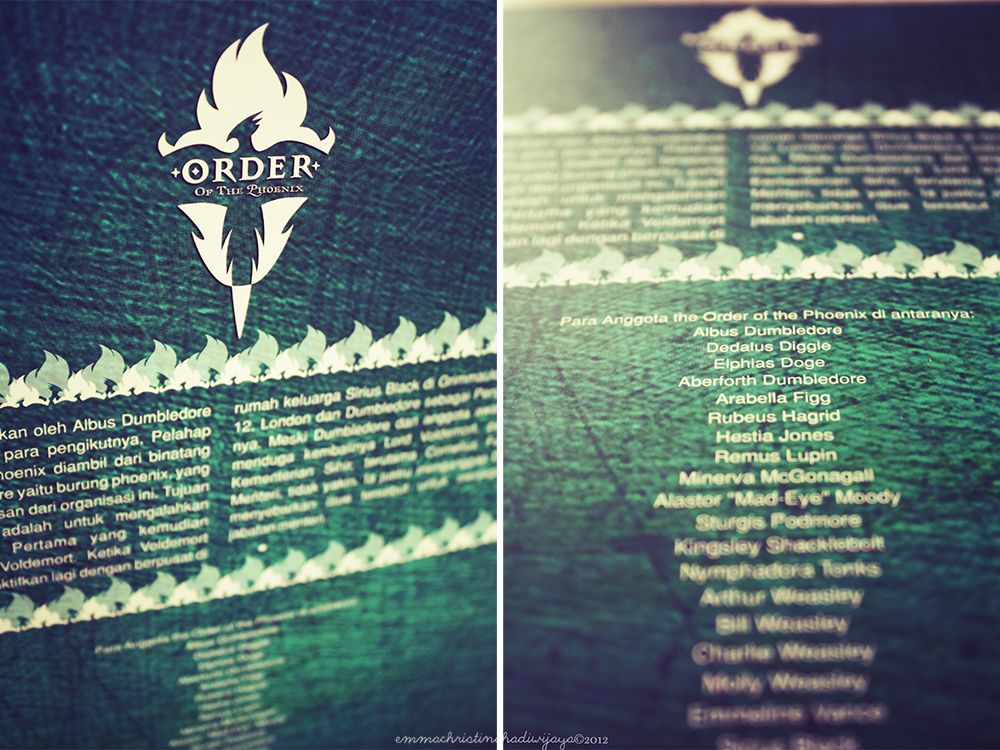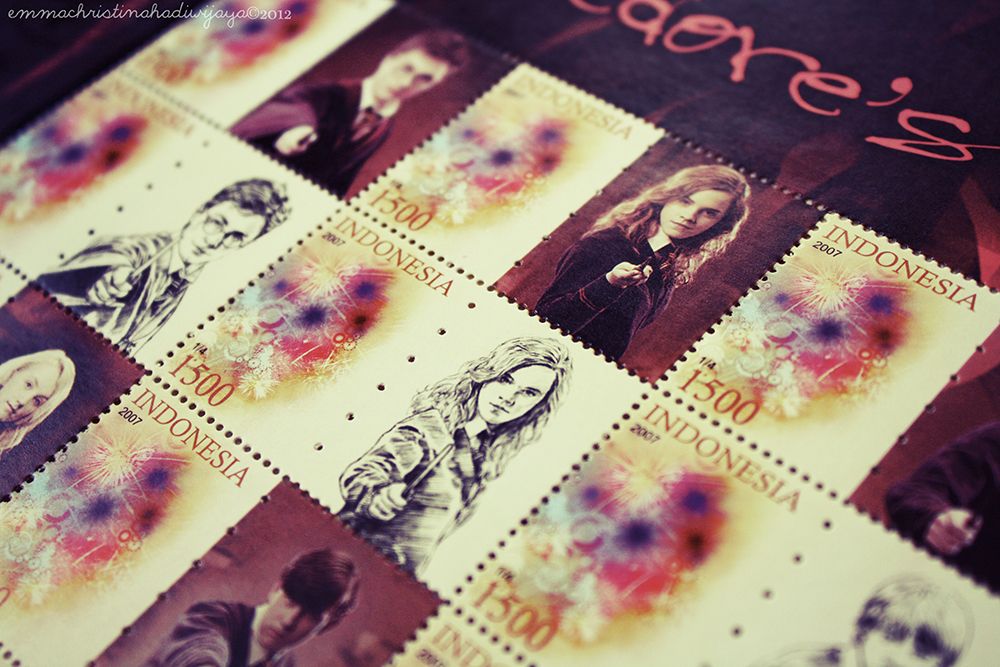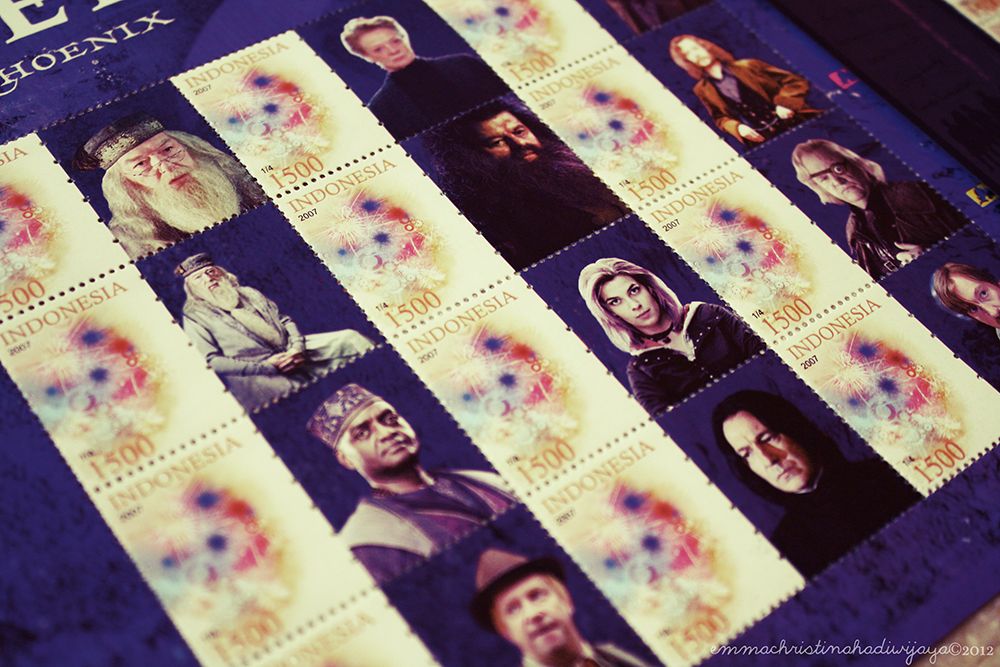 It has two sheet of stamps. The first one is the Dumbledore's Army and the second one is the part of the Order of Phoenix. I forgot when i got this, maybe Junior High School. But it's absolutely when Harry Potter and the Order of Phoenix hadn't aired on cinema yet, because i have no idea what Dumbledore's Army was and i didn't read the books. The only thing i remember is how happy i was and asked my mom to buy me some again but she would not, lol.
Now, i will back to Mockingjay ;) will finish it soon!
have a nice day, people.
Buon pomeriggio.