vincent : the birthday exchequer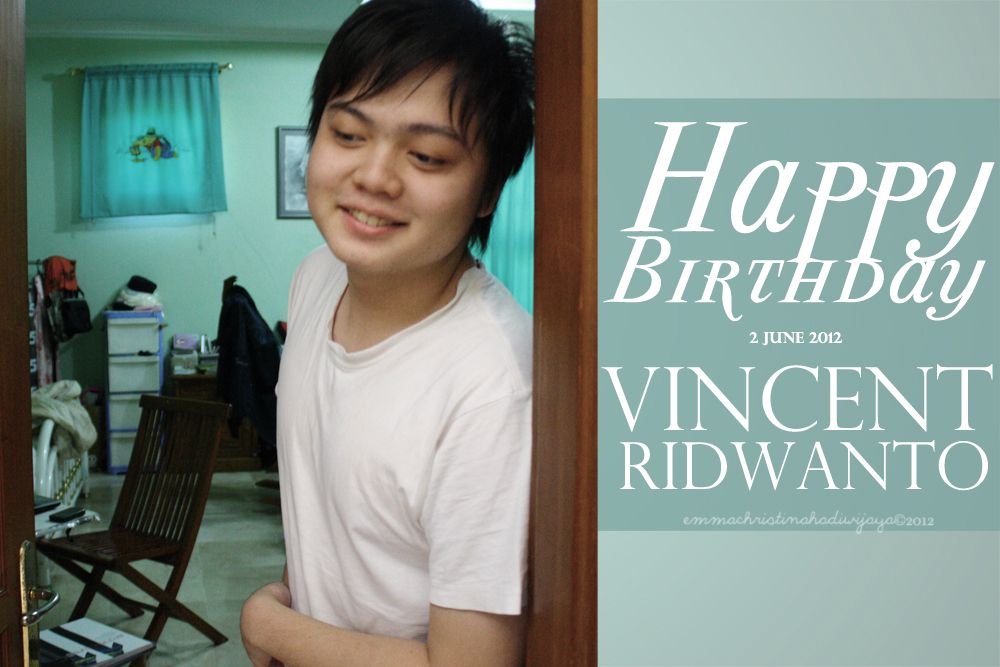 June 2nd is my classmate's birthday. He used to be the boss in our class, that's why he was a exchequer when we were in high school. He ever treated me Sushitei once, and i hope this time he will treat us Sushitei again *fingercross* lol kidding. I wish he had a blast and in this new age, he'll be wiser, nicer especially to us, not stingy especially to us :P, and always keep contact. Yayy, happy birthday, VR!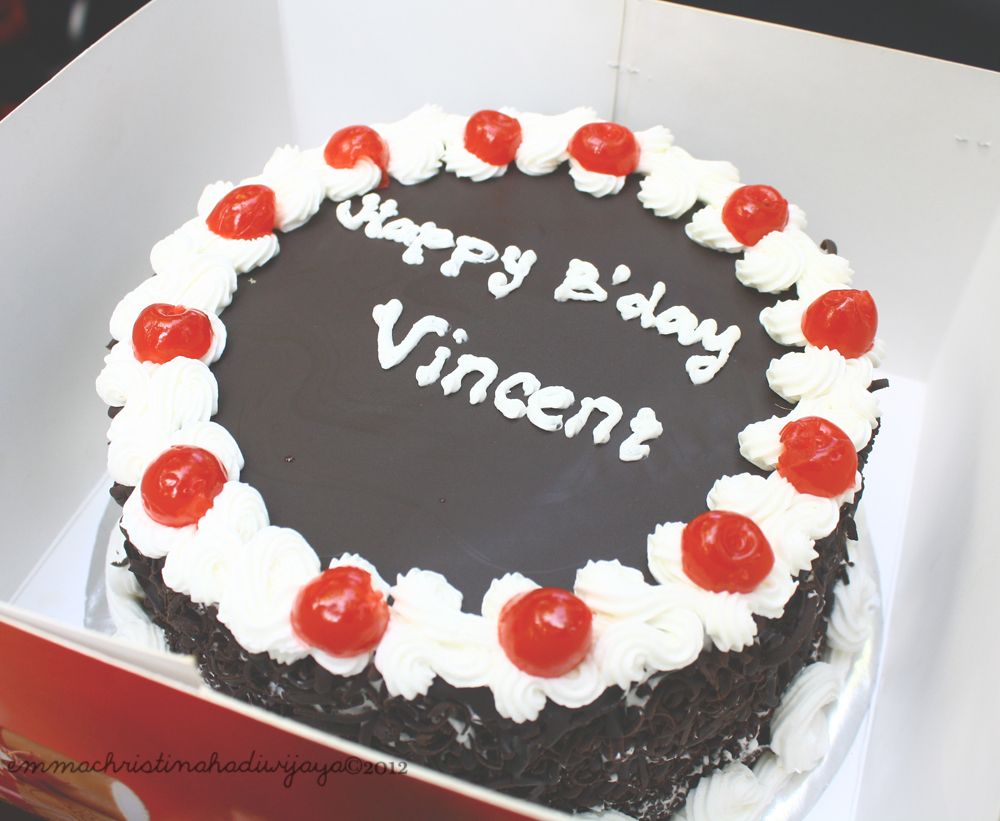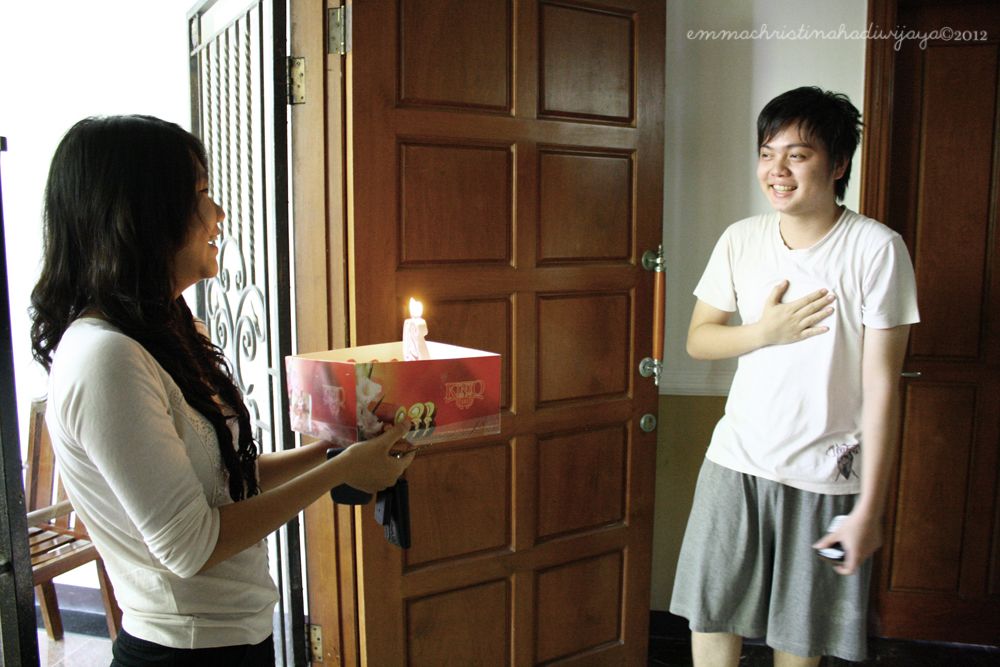 we have no idea what we were doing, lol. The plan was woke him up when he was sleeping, tide him, and shortly brought him to Doho street, behind our ex high school. But the plan was defeated when he already woke up and his mom had already prepared some meals for us. According to every birthday surprise's plan, we couldn't make him curious, so we ate for a little while, then immediately brought him to Doho.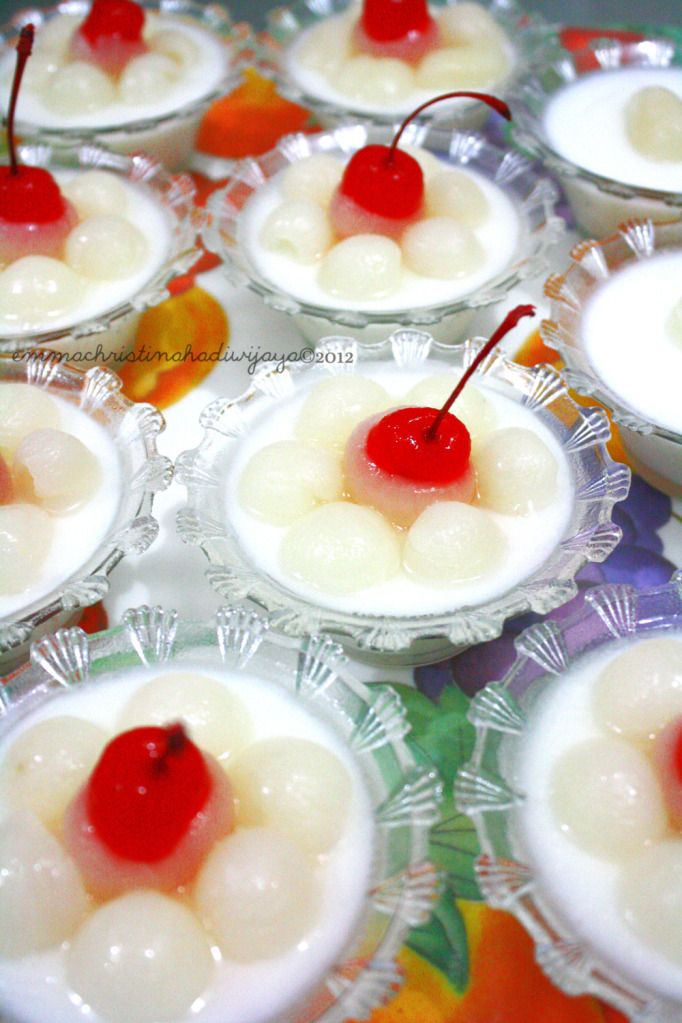 Pudding by Vr's mom. Yummy yummy.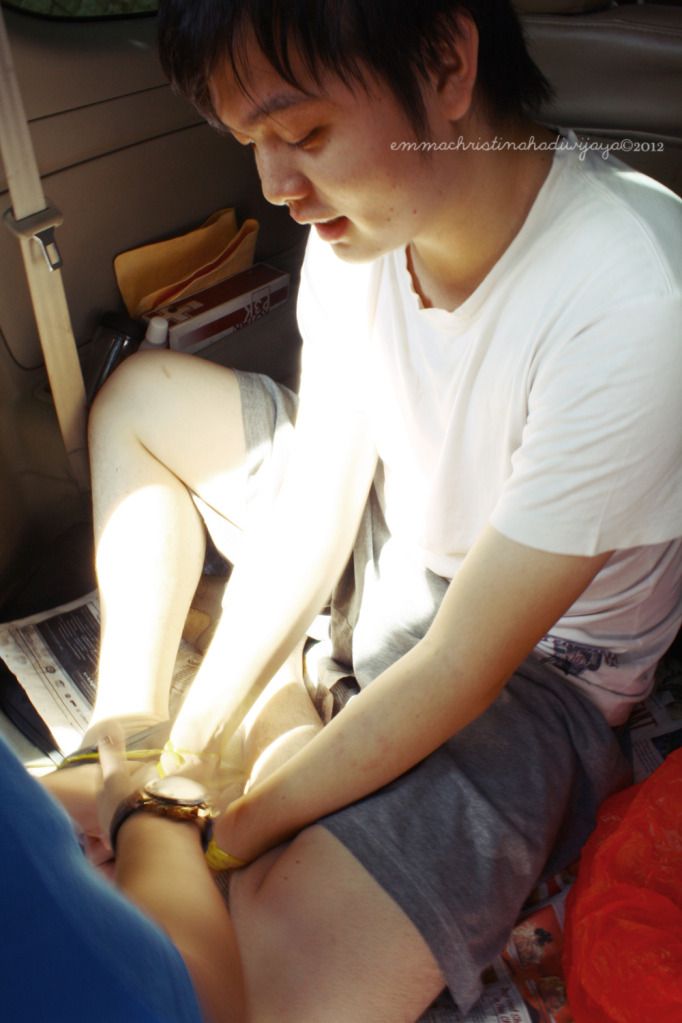 He tied and sat in the back of the car, and we went to Doho. When we got there, we said that we were going to eat Ai Doho. But actually, after that, we were going to do some execution for him *evil laugh*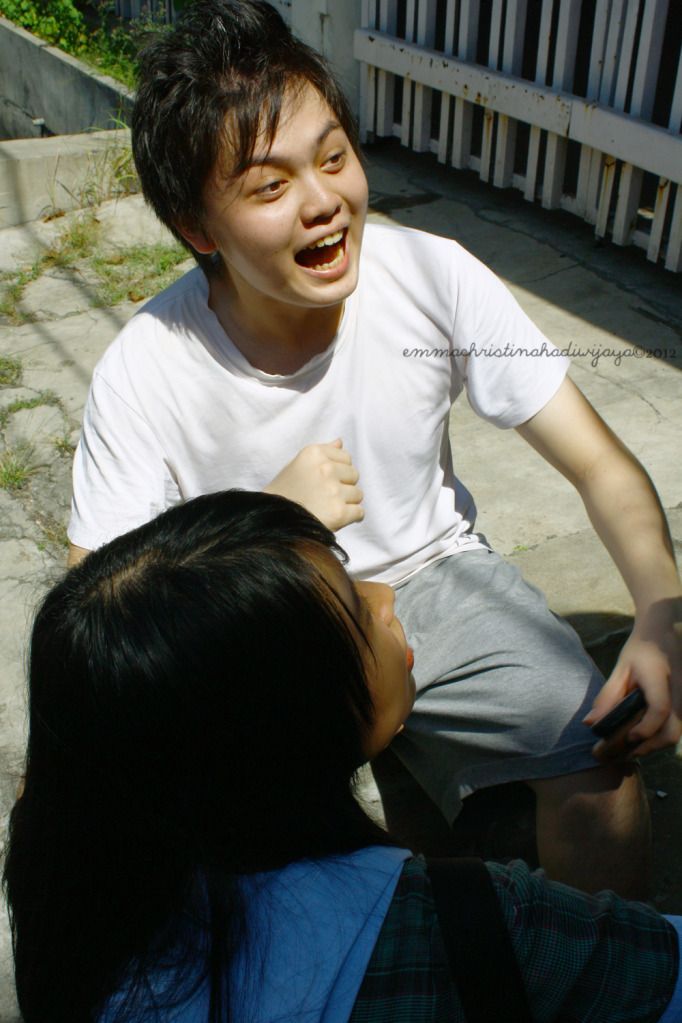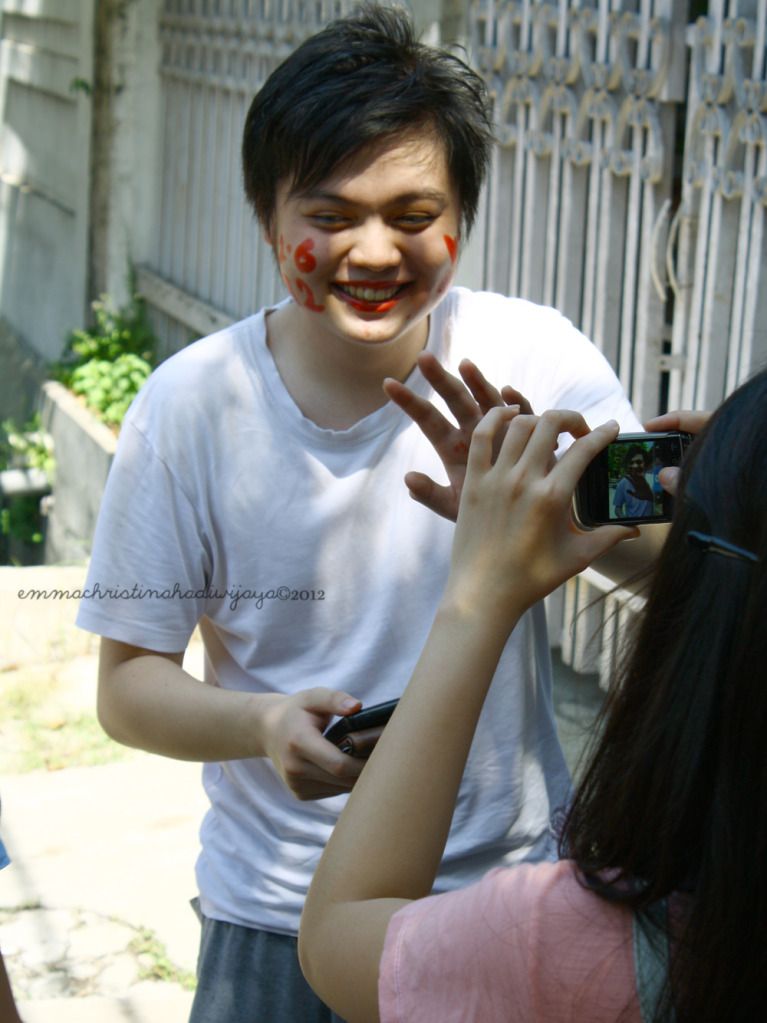 lipstick, tacky parfume and hair gel were the culprit! We are not really that mean, eh? No flushing with some freak mix, just want to prettify you ;)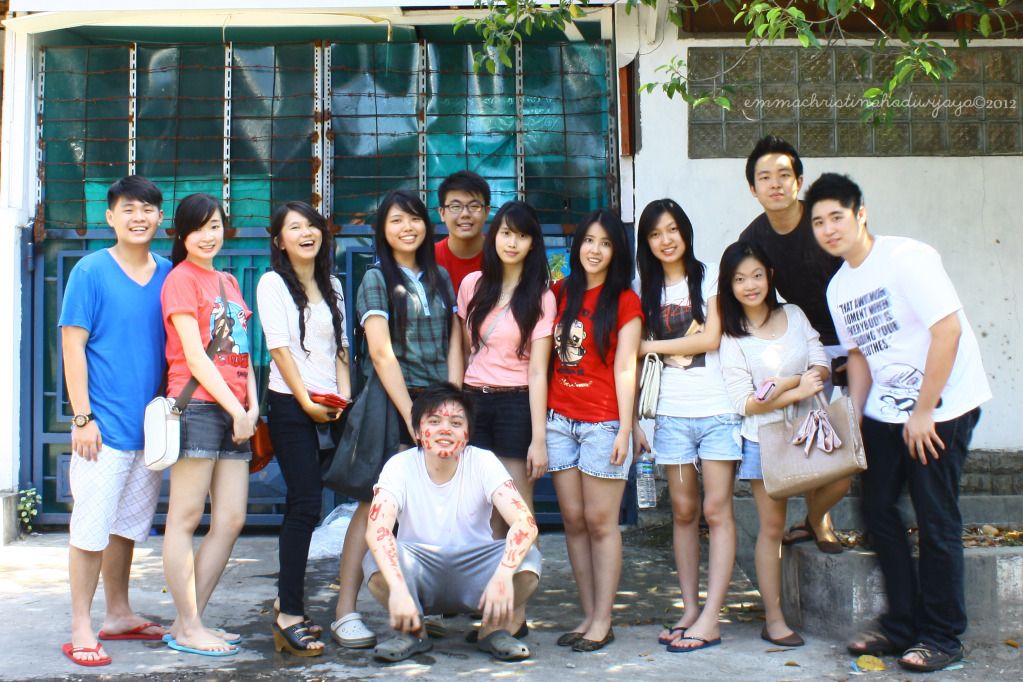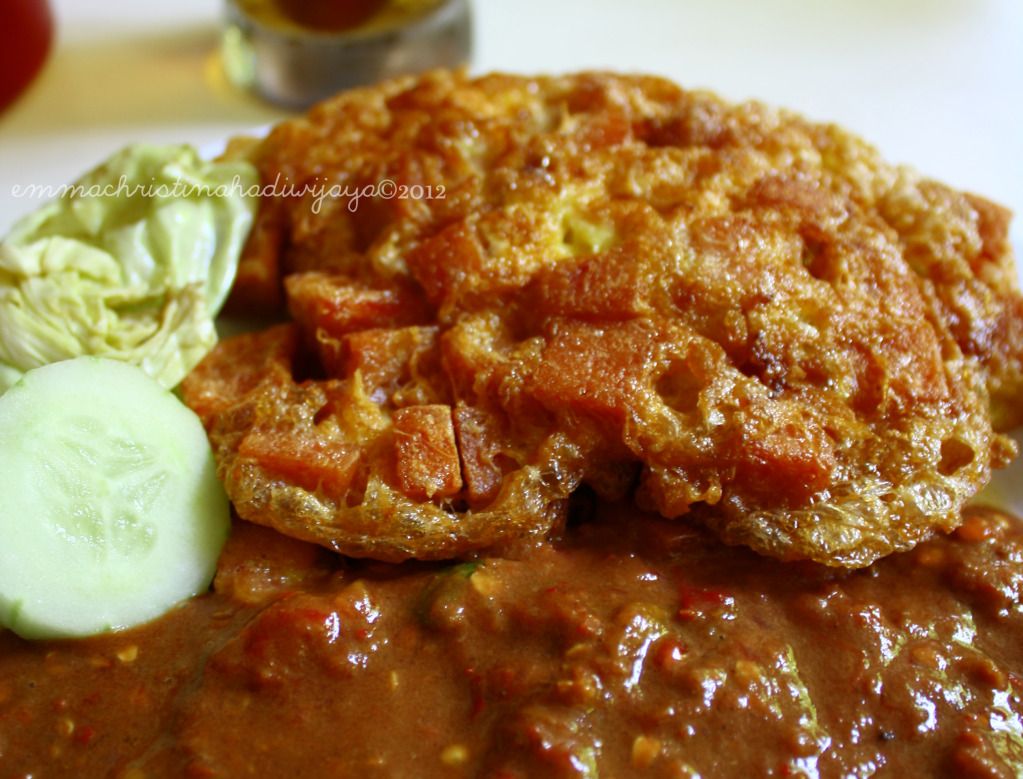 The super-famous-delicious-yet-yearn Ai Doho's ham and eggs! For you who don't know what Ai Doho is, it is a small place to eat behind our High School, Sinlui. Doho is the name of the street and we called it Ai Doho because she's the one who cooks it! I'm sure all of Sinlui's students know this place, even some of other schools' student. You must be curious, how delicious the cooks do, because however, it's just ham, eggs, and super hot chili. I don't know how to describe to.. but i became addicted since my first time i ate it. Maybe it's because the feel, how i miss high school and how fun when we ate together in there like we used to be.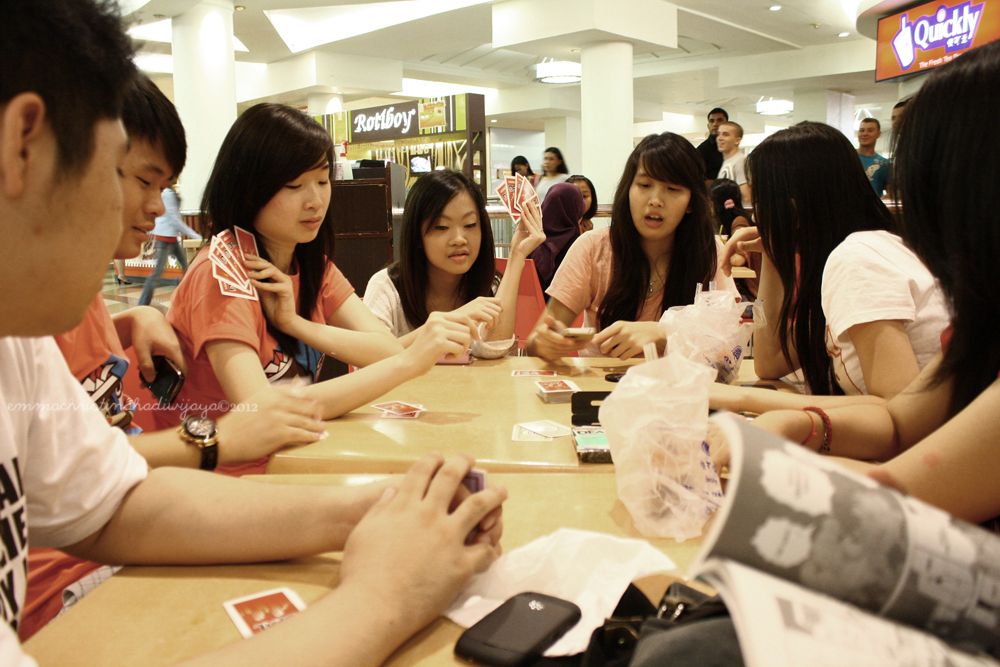 After having a super pleasure of ham and eggs, we went to Tunjungan Plaza to spend time before we went to DBL Arena. Unfortunately, the birthday boy didn't join us, because he was too pretty and he need to take a bath :P Just hanging around and playing cards, very-old-but-forever-entertaining game.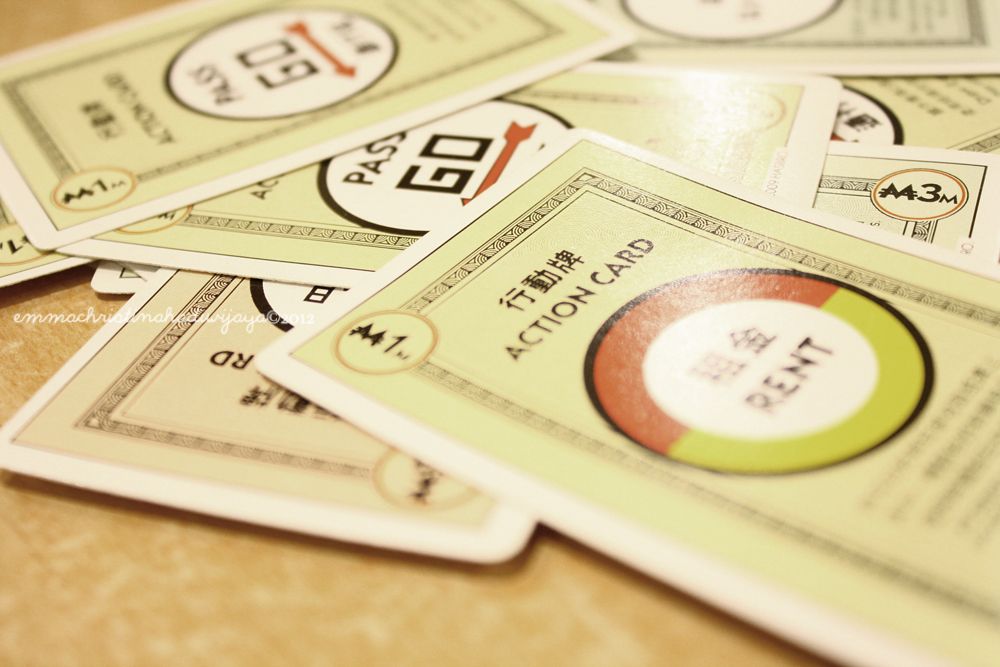 Blackberry rules the world, ugh. I want iPhone, still.
The Ladies, minus Gita.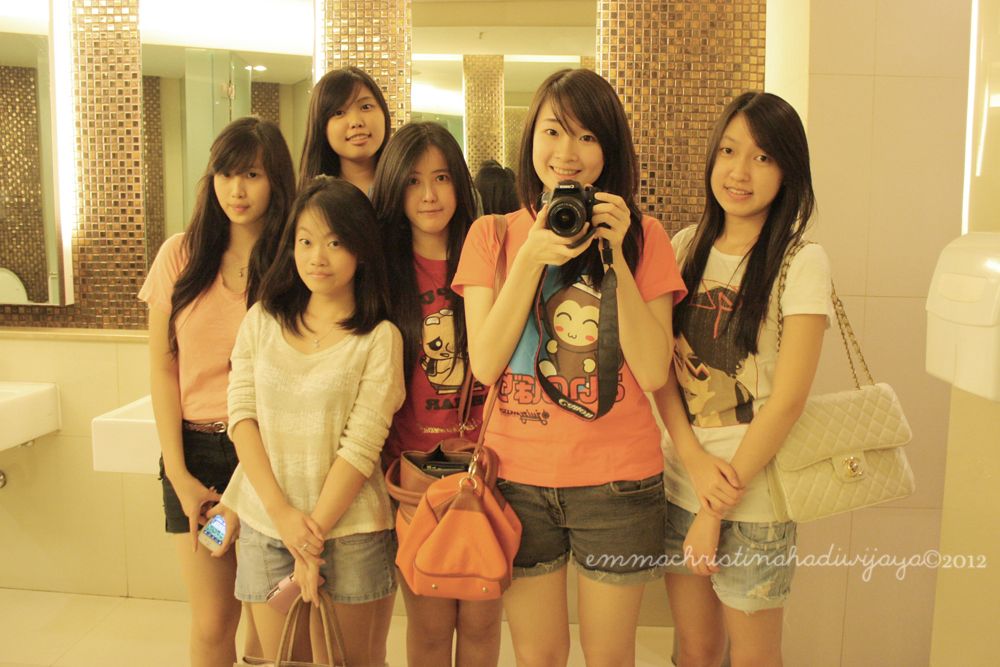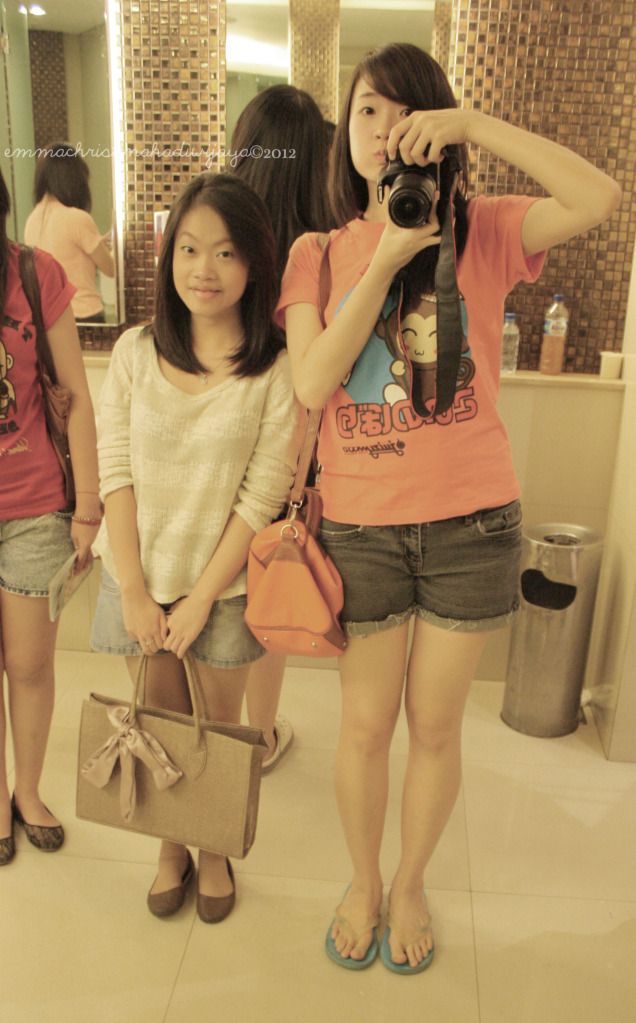 Introduce my little friend, Liany!
Yeah she's so small, lol.
Then on our way to DBL Arena! Phew, it was traffic everywhere. My boy had to be super patient. But he wasn't.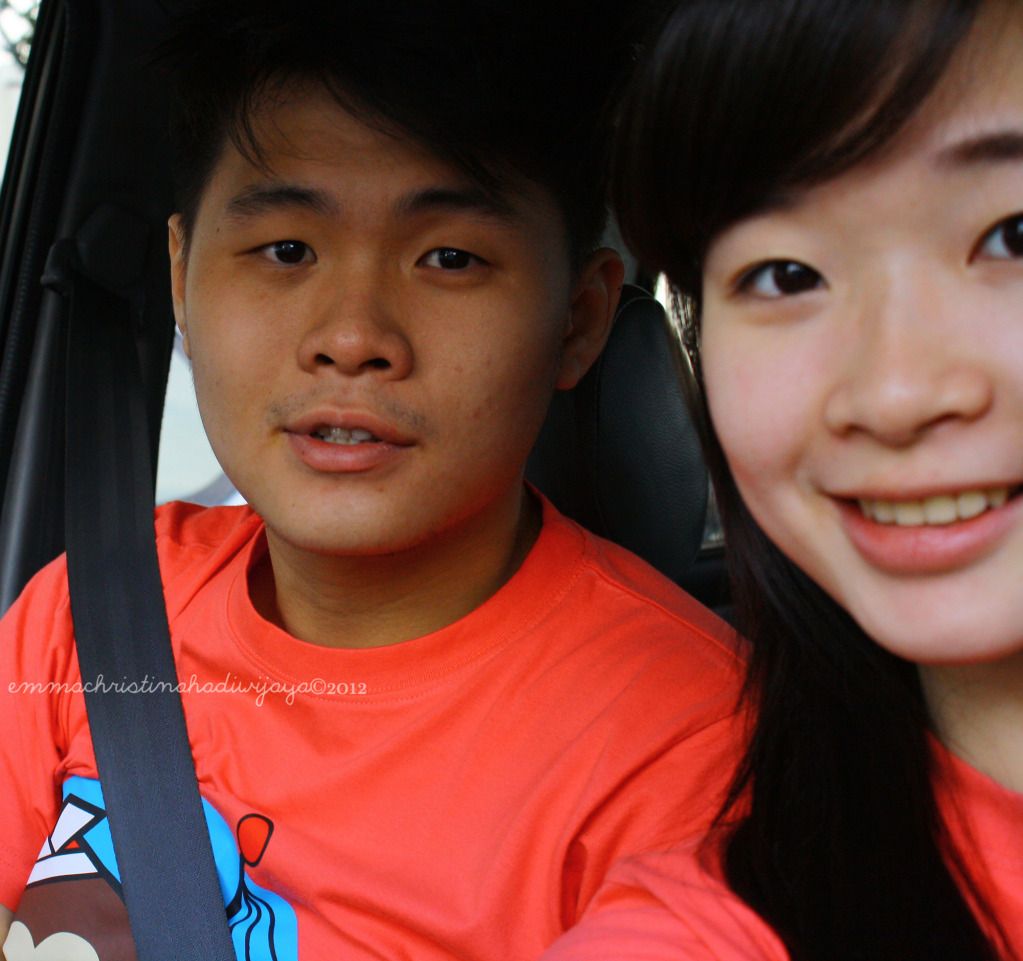 Then finally arrived at DBL Arena! Not as crowded as i thought, considering this was a semifinal.
This Basketball league which Deteksi-Jawa Pos held is one of example why i'm proud to be a Surabaya citizen. I thought before DBL was started, Basketball league kinda rare to hear. But nowadays it becomes popular since DBL was booming in high school. Jawa Pos built a great DBL Arena, made it more popular. Since that time, this game always eagerly awaited by a lot of people, especially for high school student. As a true Sinlui 1's supporter, this match always catch my attention! Even i don't know anything about basketball ( i'm a natural disaster when it is about basketball, and i keep guessing why physic teachers always think that tall people always able to play basketball, until they saw me play the ball ). You may think i'm a very proud former student of Sinlui 1, because yes, i am.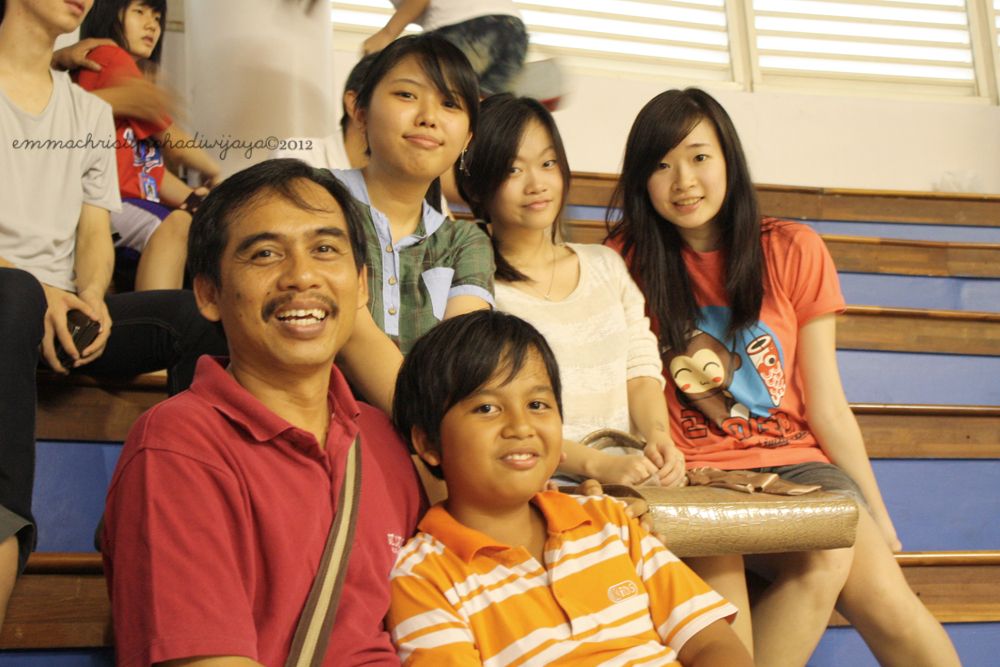 met the best homeroom ever, Mr. Budi!
It is written that Sinlui vs. Stelma match gonna start at 3.00 pm and it was very late!! We came to the DBL Arena at 3.10 and it was still the previous match.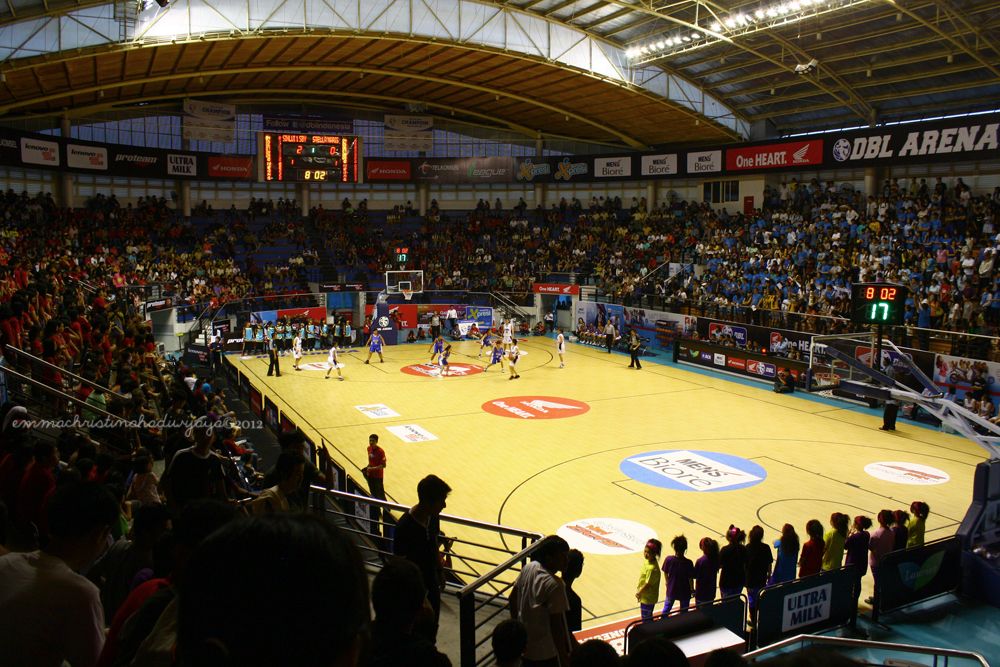 The Arena.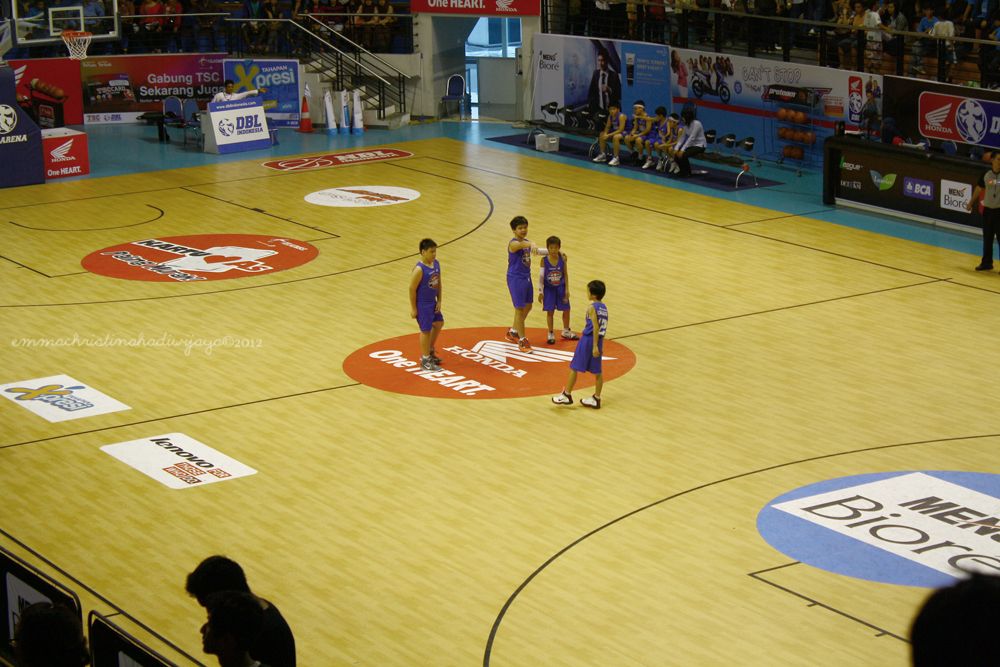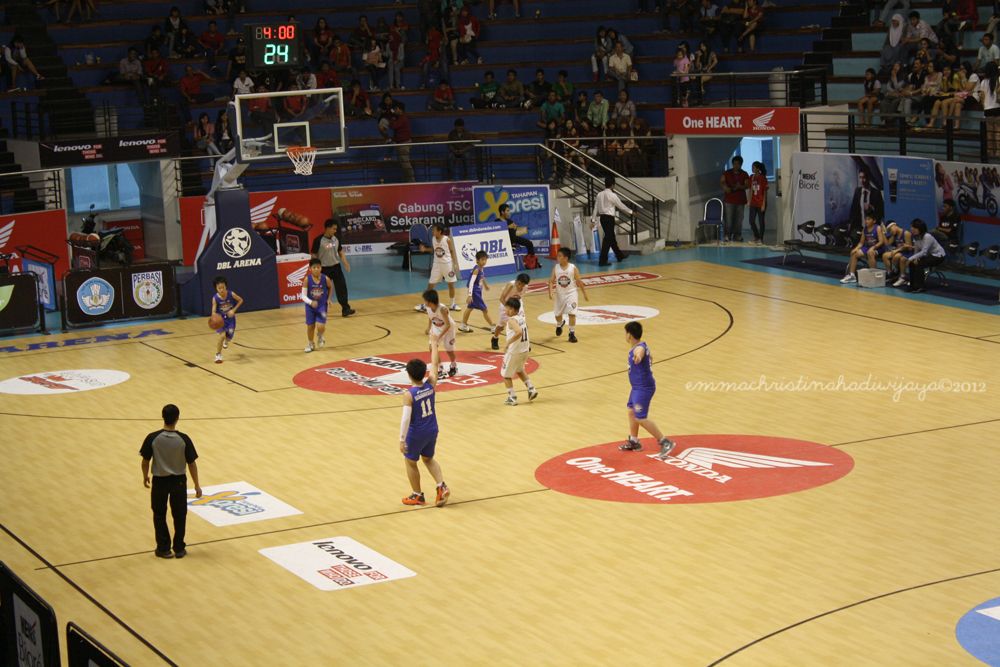 between the matches, they got Elementary School Basketball match. Look, they are so tiny!! Kinda hysterical when saw the match because their cuteness overloaded. Are they gonna cry if some of the player hit them? awww, Sooooo tiny. Some are big and fat, some are so skinny and tiny. looked so funny. An elementary student can play basketball already.. i'm absolutely defeated...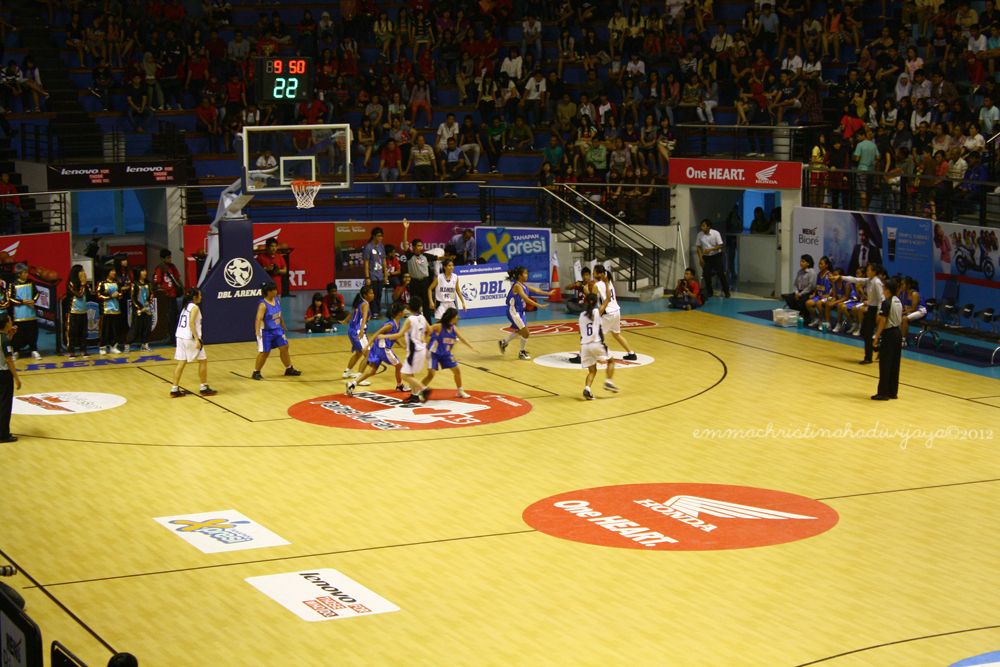 Here it comes, Sinlui vs. Stelma! Sinlui win the match with score 65 - 14. Good Job Sinlui! They will against Gloria this Wednesday. I think me and my friends gonna go watch the match! ;) They also be a finalist of yel-yel competition. I forgot to take a pic about their costume, but it could be described in one word : sexy.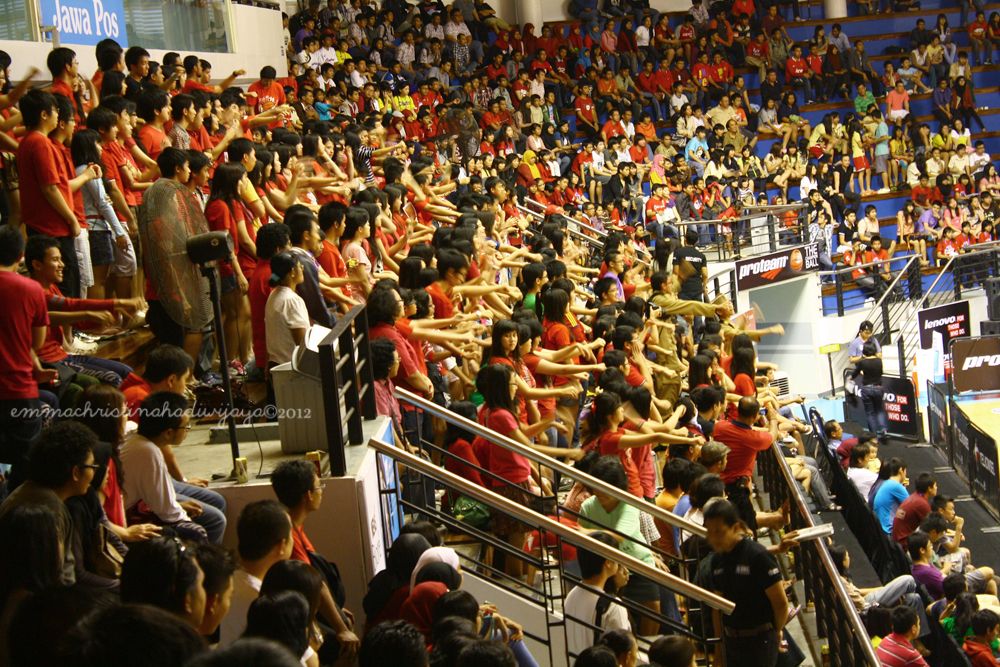 Sinlui's supporter in red
Stelma's Supporter in blue
So that's all.
Here, the best photo of the day.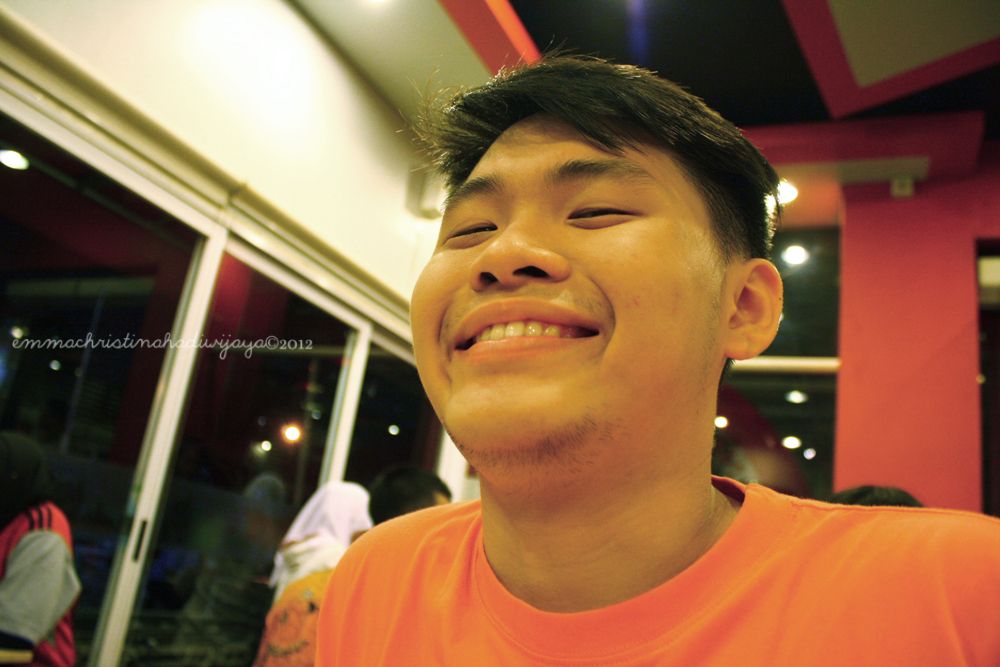 He's away to his hometown, Tarakan, now D; Heading to next 10 days without this fussy guy </3 miss you boo!