Happy Birthday!
Tuesday, 28th August 2012.
THIS IS A SPECIAL DAY! Of course, it was my boyfriend's birthday. There's a huge willing inside me to make his day special or buy him a good gift. ¼ of it was guilty feeling after what I gave to him last year. Like seriously, I'm really bad in planning surprise, because I'm bad at lying. So last year, I just came to his house in the morning, drove by myself. Yeah, it was THE FIRST TIME I drove alone, and it was because I was whining to my mom to let me drove alone because what he asked for his birthday last year was when we woke up, he wanted to see me there. Challenge accepted. Even at that time every time there were cars or motorcycles one after me, I would unconsciously screaming.
I should say that his birthday never coincide at a right time and day. So frustrating la! Last year I though I would woke him out with brought a cake. But the truth, his birthday was coincide in Lebaran or Eid Mubarak holiday, that his house servant went home to her hometown. Without driver and servant, I also could not do things easily, despite it was when I was still not able to drive alone. I don't know, I feel I haven't gave him a good gift yet.
And this year….. quite frustrating, his birthday was coincide on Tuesday, when i had a very tight schedule for my class. I only had spare time like about an hour and not suitable with his schedule. So, if I want to make a surprise, the choice were in the morning before 6.30 a.m. or night after 10.00 p.m, because he said we would have dinner together with his family. Of course I cannot do the surprise alone! Most of my friend not sure whether they could or not, but they will try. Finally, in the noon, before I went dinner, they said they can't. It was too late and tomorrow we had morning class, their parents won't let them. It's okay because I didn't know if we could make it or not either. I always think we couldn't because the schedule is too tight. Then, no surprise for him at that day and I just gave him his gift. Little bit disappointed, but I relieved when he opened the gift and he seems like the gift. Thank you for my dearest BFFs, Beatrice and Cella, who accompanied me to look after the gift for him! ;)
My gift for him, edited by boo. Yea, sadly, me myself didn't take any photo!! I totally forgot. Damn.
Saturday, 1st September 2012
It's better late than nothing at all, right? Yesterday was my senior high classmate's birthday, Gita. His boyfriend, Vr, that also a friend of mine and my boy, asked me if I will surprise my boy too or not. I didn't know what to do, or what to bring, because he doesn't like eat cake at all. And I didn't know what to do because I had to accompanied my mom. But last year birthday cannot recur again. So in a rush, I bought him a burger and made an arrangement of candles. Better to buy him what he likes, right? Finger crossed, I hope he likes it. My friends helped me to arrange too. Before Gita's surprise, we decided to have dinner at Andre, near the place where I have to accompany my mom. So i gave the burger to my friend first and wait for my boy to pick me up. When we arrived there, my friends had already light the candles for him! ;) Maybe this is not the best surprise idea ever but I hope he would like it!
Everything went well and he likes the burger. Of course, it was the burger that he always said that it is delicious and yummy, but he hasn't bought it yet. Yay, finally ;) a surprise for my boo!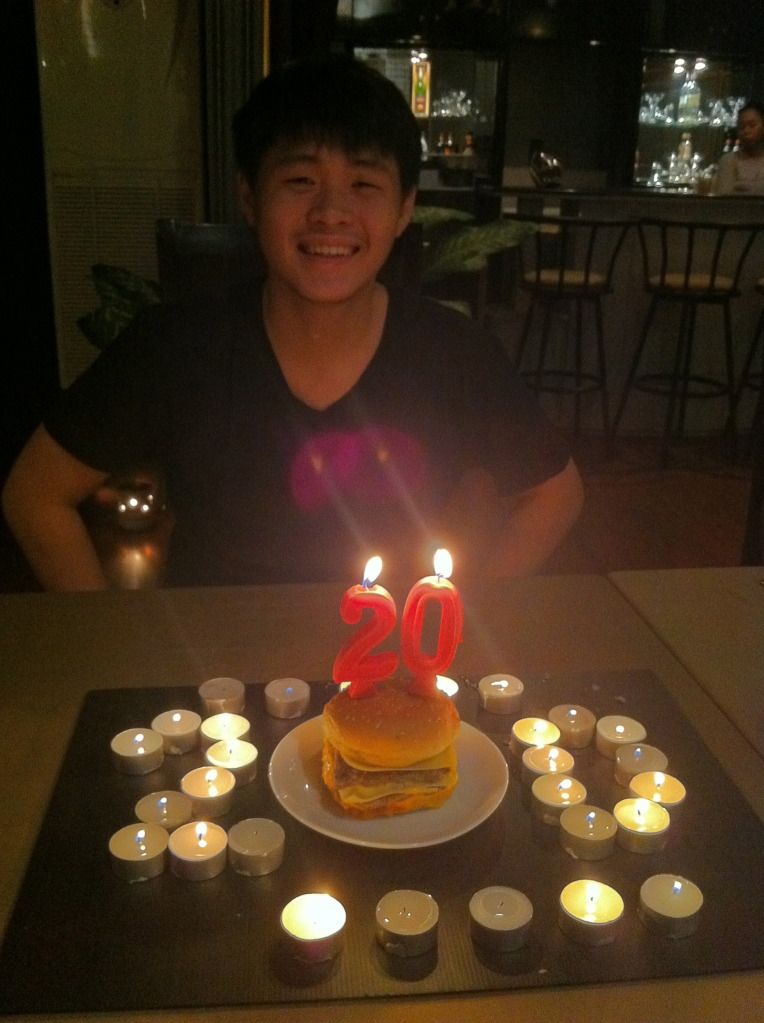 But surprises from him in my birthday last year still the best. Nothing gonna beat that one, lol.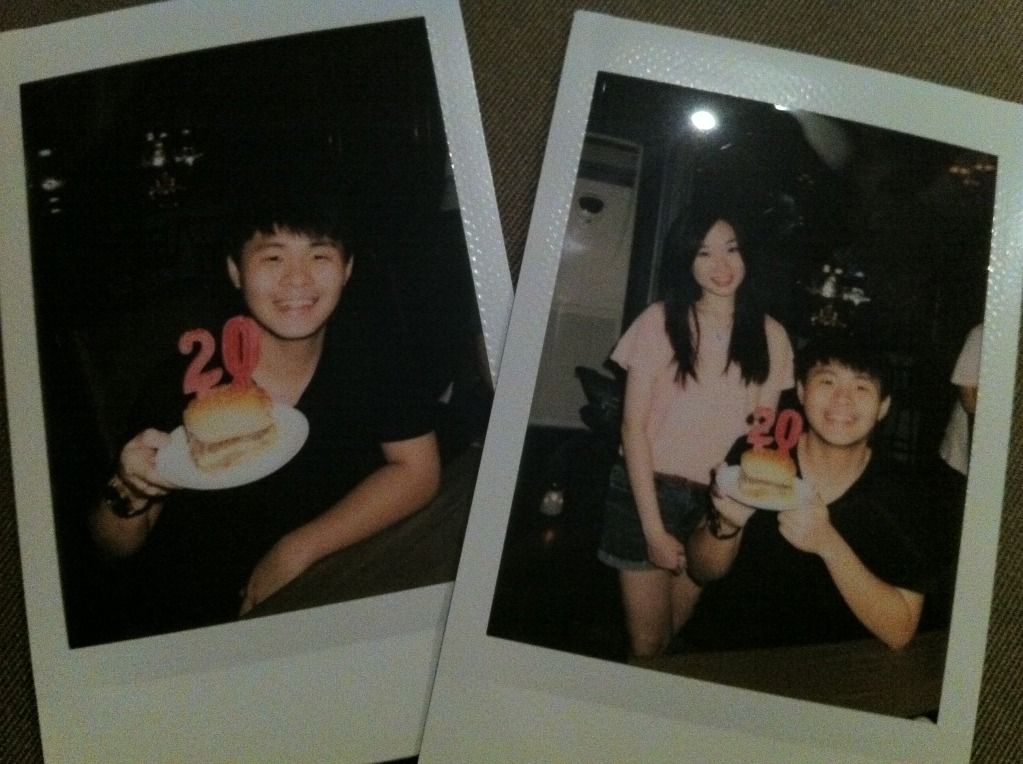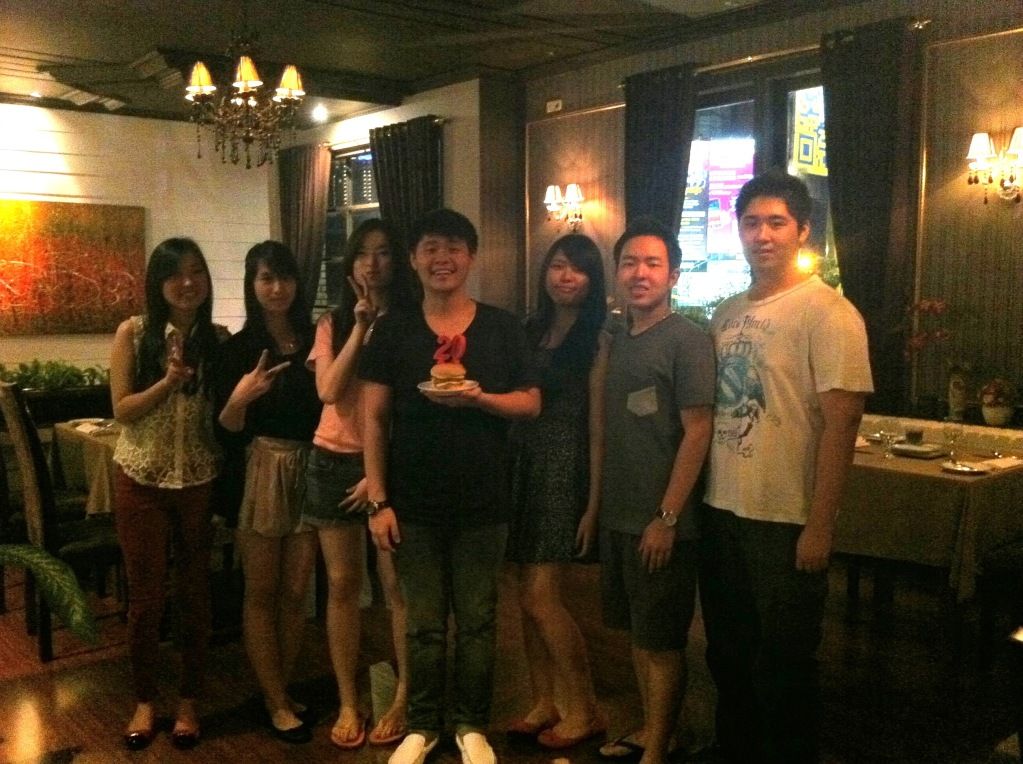 Sorry for bad photos :( Taken with my iPhone 4.
After that, we went to Gita's house and wait there, as what Vr asked us. And when they came home from they dinner, suurrrprisee!! Your friends were here!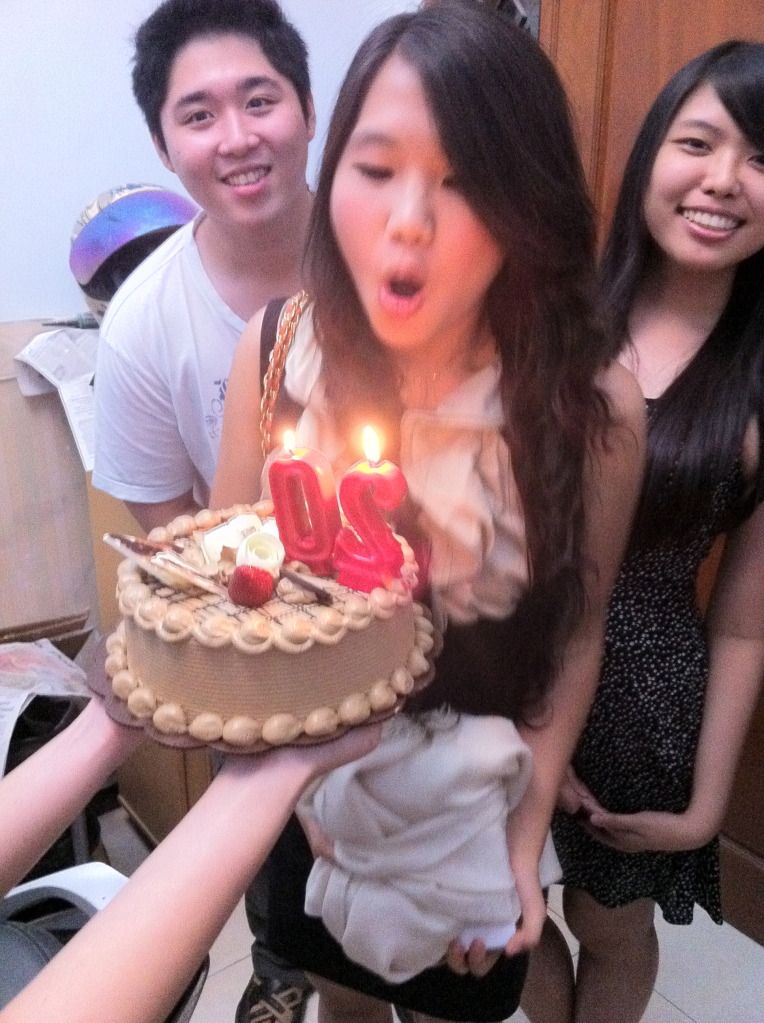 Look what At and Milla were doing (ʃ⌣ƪ)
I wish everything good for you, my friend. Everything best, and a success ballerina. I'm sure she will make it ;) And I wish everything perfect for you, my boy. Everything you wanted, and every people wanted. I love you, boo. I really do! ☺
Happy birthday!