Twentieth!
Saturday, 15 December 2012
A date that i remember for my whole life. Yes, it's my birthday :) yippie.
Happy birthday to me!
I'm officially 20 years old now, the first year for my twentieth. There's a lot of wishes that i make for myself, it will be wasting time and pages if i write down in here. Too many resolution that i should make for the first year of maturity.. like, yea, i am not teen anymore ); little bit sad, lol.
I hope i could be better and better, a better daughter, a better family, a better friend, a better girlfriend, a better student, and a better person for myself. Big thanks for all wishes you all made for me, and for the surprise, of course!
I was not trying to wait at 12 a.m in the middle of the night until i ended my 19th, but i am kind of sleep-late-wake-late-too, i usually sleep above 11 a.m on the holiday. I knew, my boy will come up in the middle of the night -woa where i got that confidence la. But it was just my feeling so i was not hoping. 11.30 pm on the day before, i was already sleepy so i wanted to sleep and whatever with tomorrow. My boy kept asking me to awake and texted me, but unfortunately, 15 minutes before 12 a.m, i fell asleep.
Suddenly someone knock my door. I was hardly open my eyes and looked at the clock, already 12 a.m. That someone trying to open my door, but i locked it. That's why i woke up but i was just starring at the door from my bed, until my boy called me that he's outside, asked me to opened the door because he was getting tired with tons of mosquitoes out there.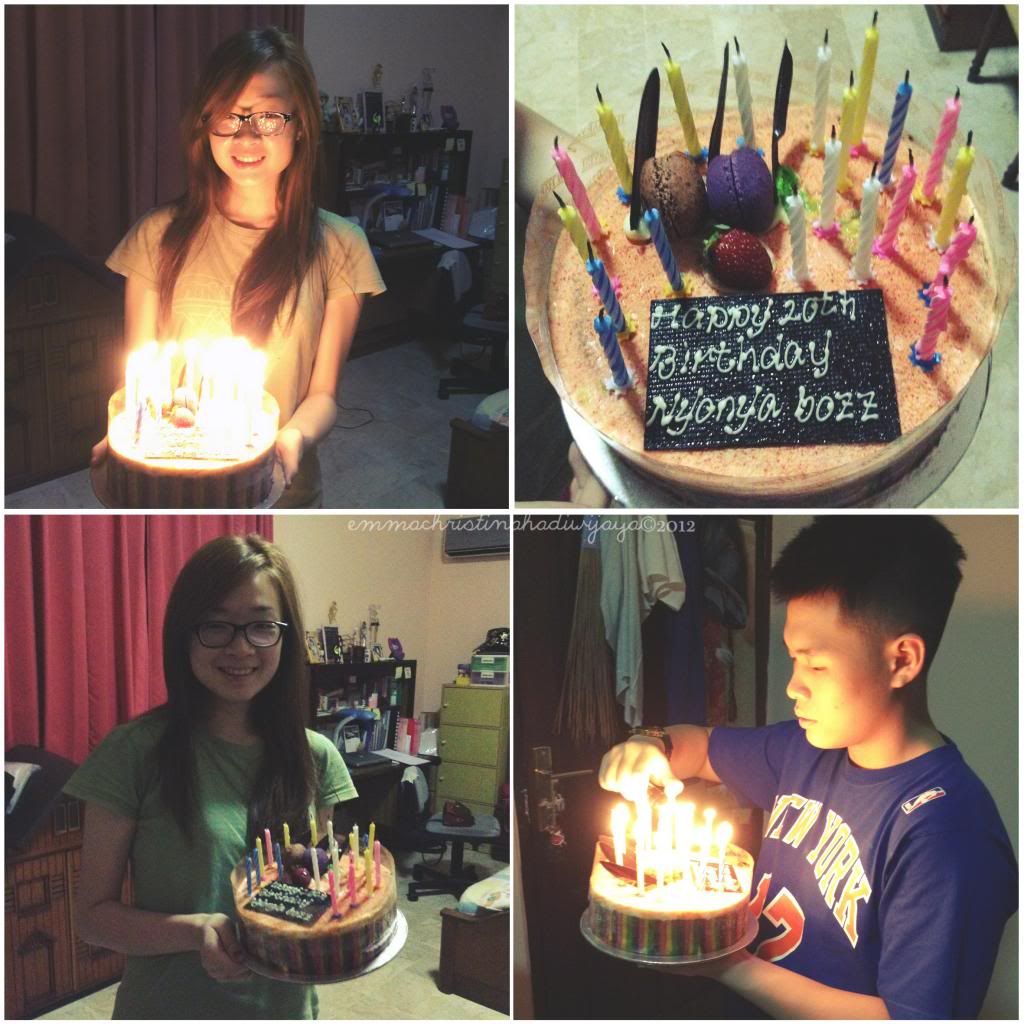 Taadaahh!
My boy was bringing my birthday rainbow cake. Looked at my sleepy face, i swear i had gone to my dream even only 15 minutes. Whatever, i am his lady boss.
I appreciate his effort to wait at my house since 11.30 downstairs, watching TV with my servants and struggling with those mosquitoes. My house has tons of it. Me myself cannot handle it when i have to be outside my room at night. Absolutely going to be really itchy.
at 1 a.m, he went home and i continued my sleep.
Somebody was trying to open my door again. It was about 7 a.m in the morning and i just starring at the door again without moving my ass from my bed. Cleverly, my boy had brought my key that night, so he could open it. I knew it was him, because i realized my key was gone and he brought it. Weirdly, i usually don't hear everything happen outside my room, but if it is about opening my locked door, i will always wake up. Like, automatically.
So he came in, and i just looked at him from my bed. Aw he looked disappointed because i was awake already! -sorry. He asked me to closed my eyes with my blanket and he said he would be mad if i peered because this one was going to be awesome. So i hid under my blanket and some of people were going in to my room with some strange sounds around me. Wondering what happened..
Suddenly, on of my friend singing Happy Birthday to me and so the other friends too. I opened my blanket and all i saw was balloons, tied on mineral water cups, and my friends, bringing a banner i couldn't see, and a birthday cake. That's funny. My face was absolutely looked funny. And stupid.
But yes it was awesome like my boyfriend promised me. Who doesn't love balloons?
After i satisfied and enough with the balloons above my floor, we decided to tidy up the mineral water cups so we removed the balloons and let them adorned my ceiling! They put their wishes for me in blue balloons so i had to pop them one by one. I hate popping balloons, because it'll hurt my hands. So i would not popped them but deflated them lol.
I brought all the balloons except blue balloons to release them outside. Unfortunately we didn't take any photos with complete colorful balloons together because i had already released them before taking photo together. Sorry :x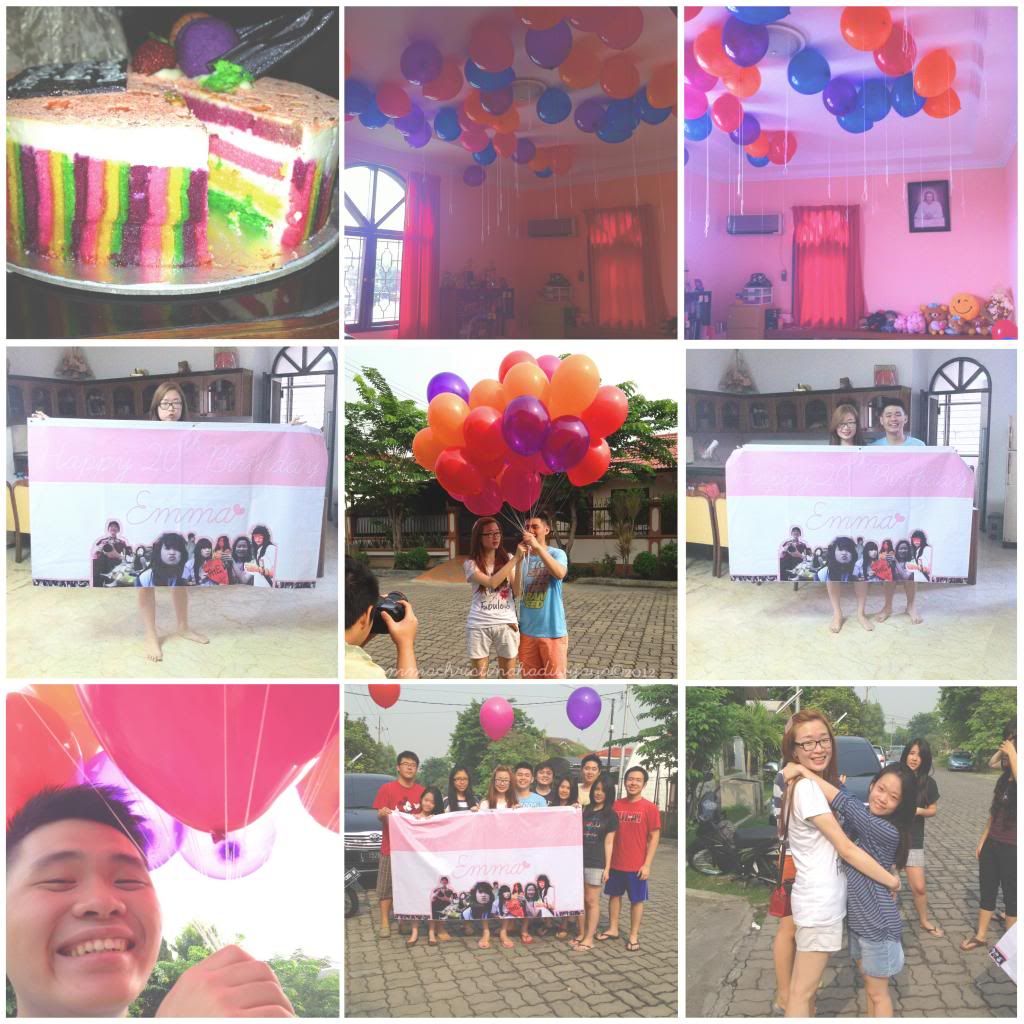 Releasing balloons to the sky is always fun, yes?
Oya, they gave me banner of myself which have to be 3 meters long, if i'm not wrong. Like.. where i will put it on, lol. I can use it for my blanket.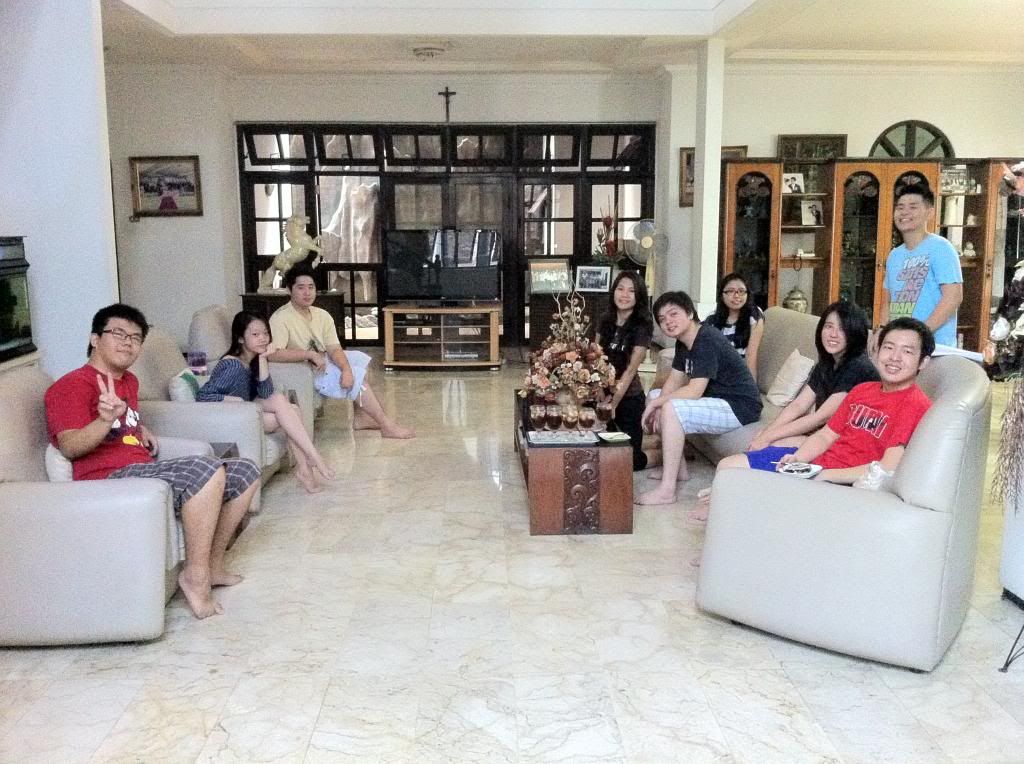 The you-know-what-it-is gang.
After that, we went to breakfast near my house, and then they went home. My boy stay to accompany me shopping at the mall. Not literally shopping, just some stuff i wanted to bring for my trip the day after. He looked soo exhausted. That night, after he surprised me, he went home at 1 a.m. and still did things for my balloons surprise until dawn. He decided to not sleep and playing games, afraid if he couldn't awake. And he still willing to accompany me that noon. So yes, my booboo was so sweet like a candy.
I had planned to have dinner with my lovely friends. While i was preparing myself -i always spend like 2 hours before the time i have to go. I am kind of a very-coquettish-so-i-have-to-do-my-make-up-very-well-which-i-take-a-very-long-time-that-i-cannot-tell-why-it-is-taking-me-so-long-like-please-it-is-just-make-up person- one hour before i should go, i saw my lovely girls downstairs lol! They bring me ice cream, thank you!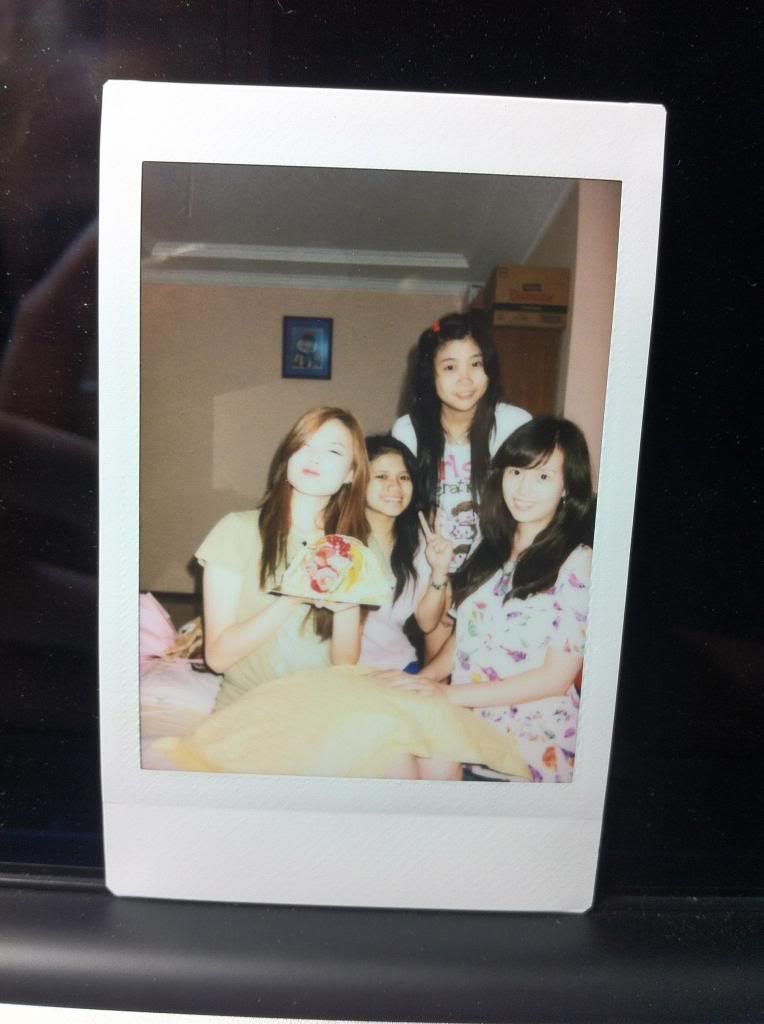 Why i always own lack of photo on my birthday. Maybe i should write it down on my hand next year and bring my camera all the way lol. I swear i had asked my friend to send me some surprise photos for me but he is on holiday now.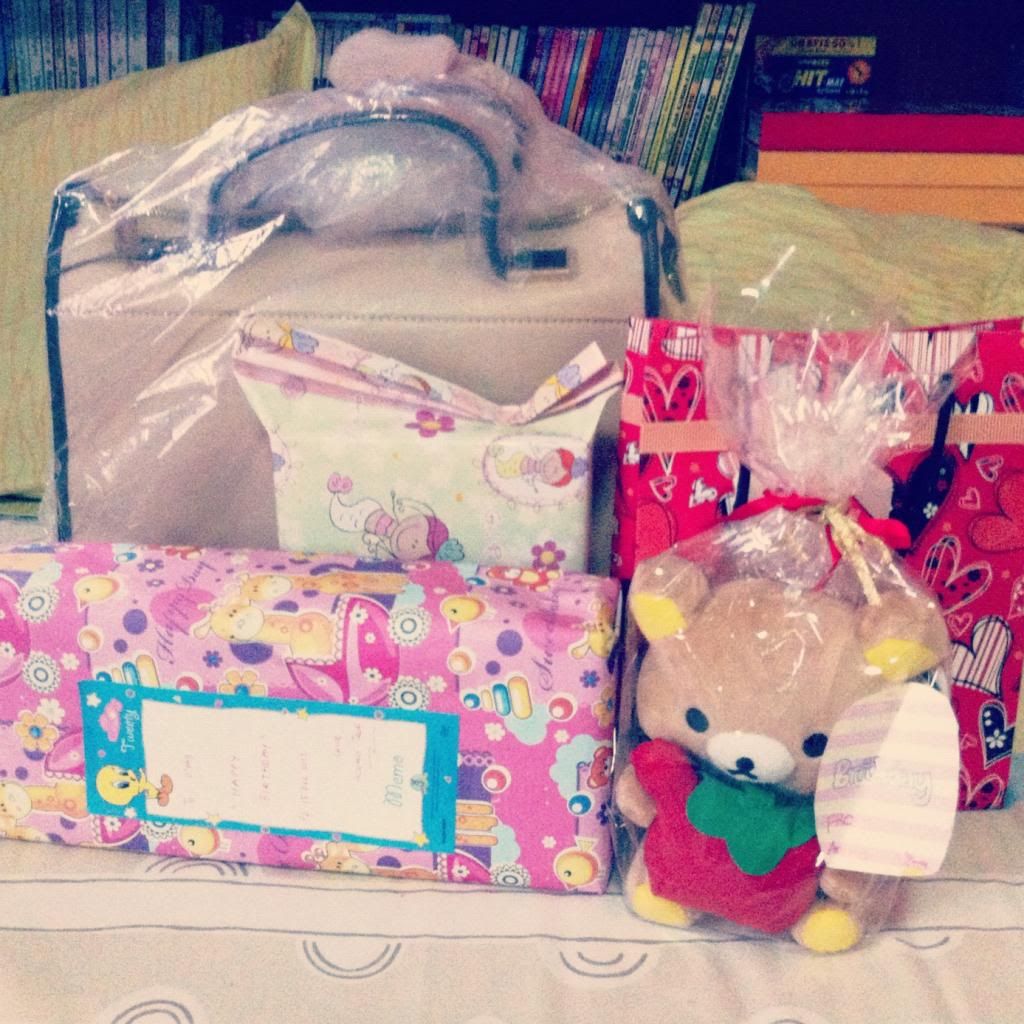 So yea. All went well and thank you, thank you, thank you so much for all surprises, wishes, presents, sweets and care. I am not lucky, i am blessed!