Bali Day 1 : Rock Bar and Jimbaran
After a year i've been craving for Bali.. finally we went there! It's been like years since me and my friends planned to have holiday together, and never made it to Bali. So, my sweet friend, Winny, volunteered herself to organize and plan all things that we need to do and book before go to Bali, since it was only five of us and she was the only one who not having exam. Finally we made it because of her help! 16 - 19 December 2012, holiday in BALI!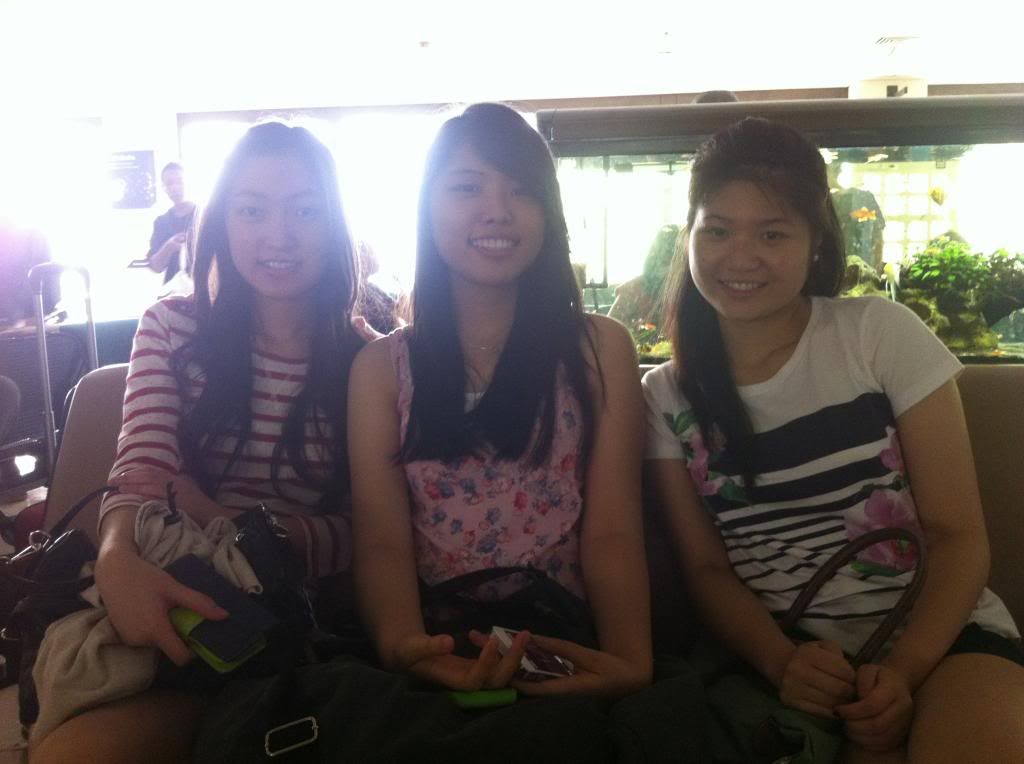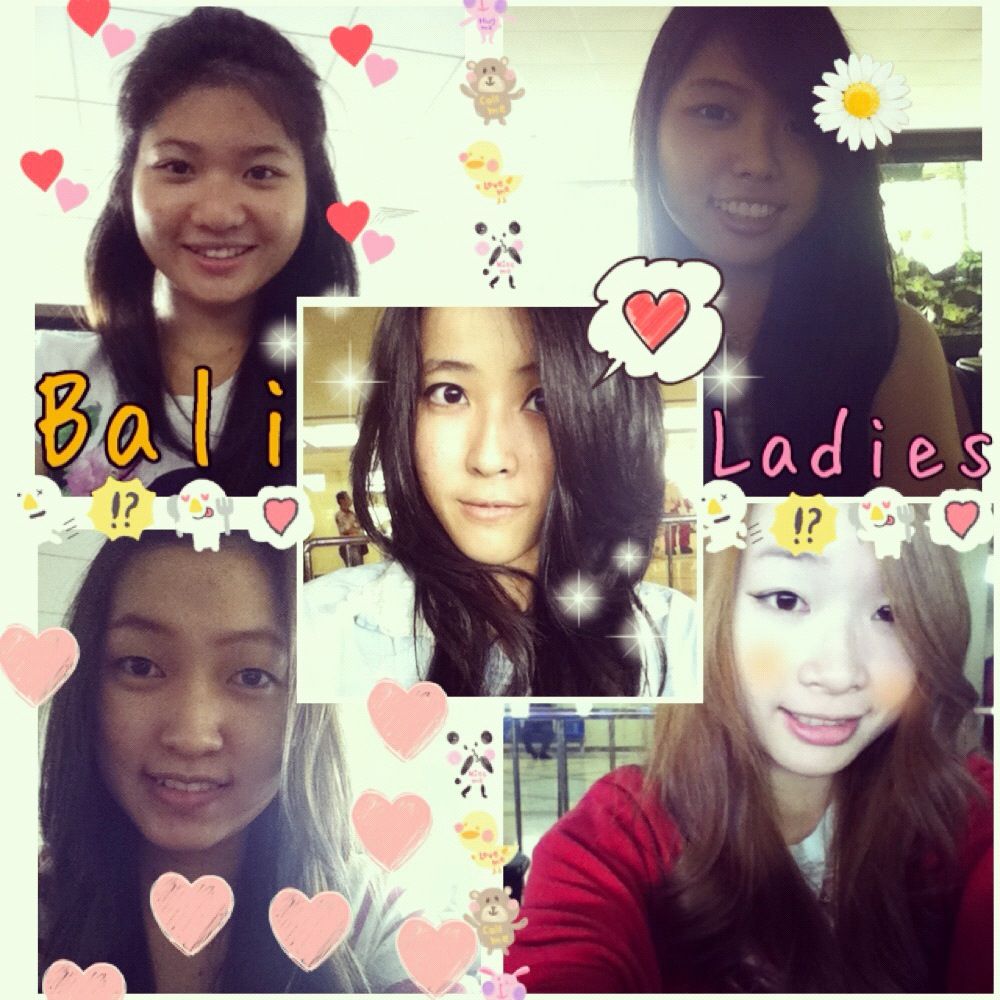 Here we are the last survivors of holiday-trip-to-Bali's members. We had blackberry messenger group for this trip and it should have about 12 members and just five of us who able to go. YOLO.
So excited, was camwhoring at the airport.
Bali may be my favorite place in Indonesia, since i never go to other beaches. I just loooove beach and Bali was my routine holiday destination when i was a little kid for every years. But we rarely come back there lately, that's why i always craving for trip to Bali!
We took a morning flight and reached Bali in daytime. There was a driver who already waited for us and ready to drive us anywhere. I was so glad Bali was sunny at that time! Bali without sun means damnification, lol.
First stop was for lunch. We went to Sate Plecing at Arjuna street. We were starving and the queue was long enough. The place is too small for lot of people who want to taste this famous satay. They should renovate it and make it bigger!
Milla, Beatrix and me with my swelling eye........ so that morning i woke up and found my left eye was swelling, not because of crying but i think a stupid retarded insect or something like ant had bitten me on my eye. So frustrating i couldn't put the right eye tape grr.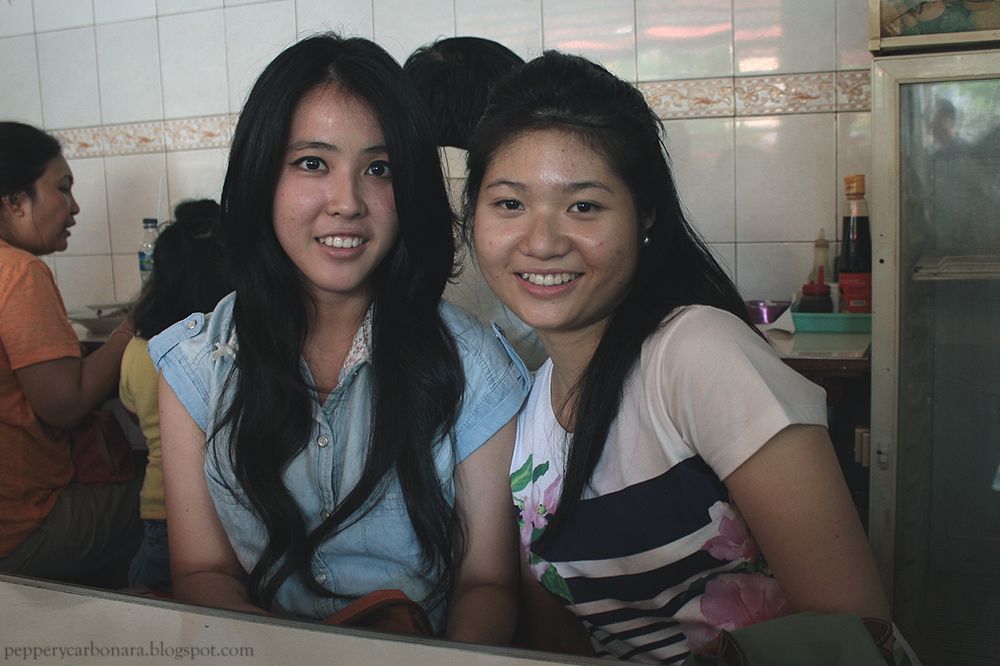 The sweet and lovable party planner.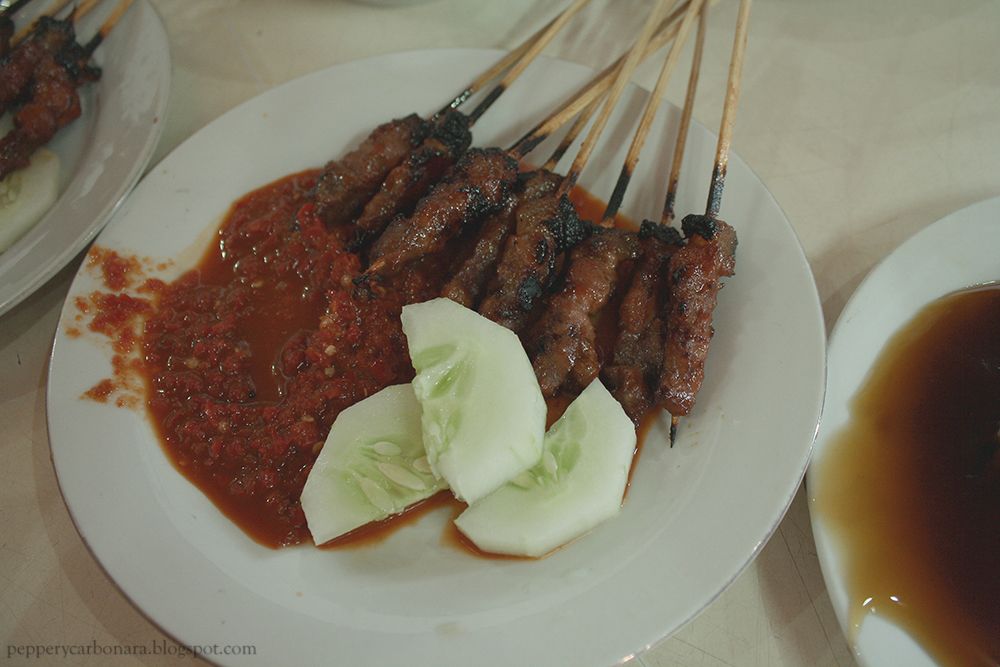 After a long wait -YES they served VERY SLOW. Not slow maybe, but not enough waitress, too small place and lots of customers, they got confuse. We had waited for a long time, tho. Kind of stressing because we were hungry to death lol- finally the satay were served!
The chilli sauce looked scary but it wasn't that spicy, tho.
We were planning to go to Rock Bar after this, but it was too earlier. So we decided to take a walk first at Discovery Mall.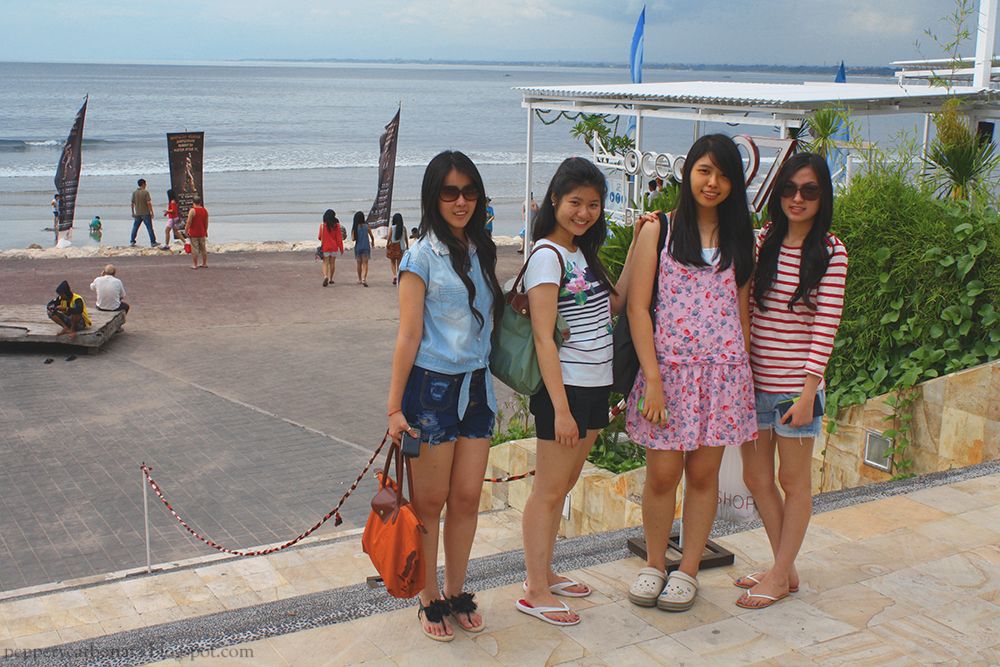 The beach behind Discovery Mall! Too bad it was a little bit gloomy ;(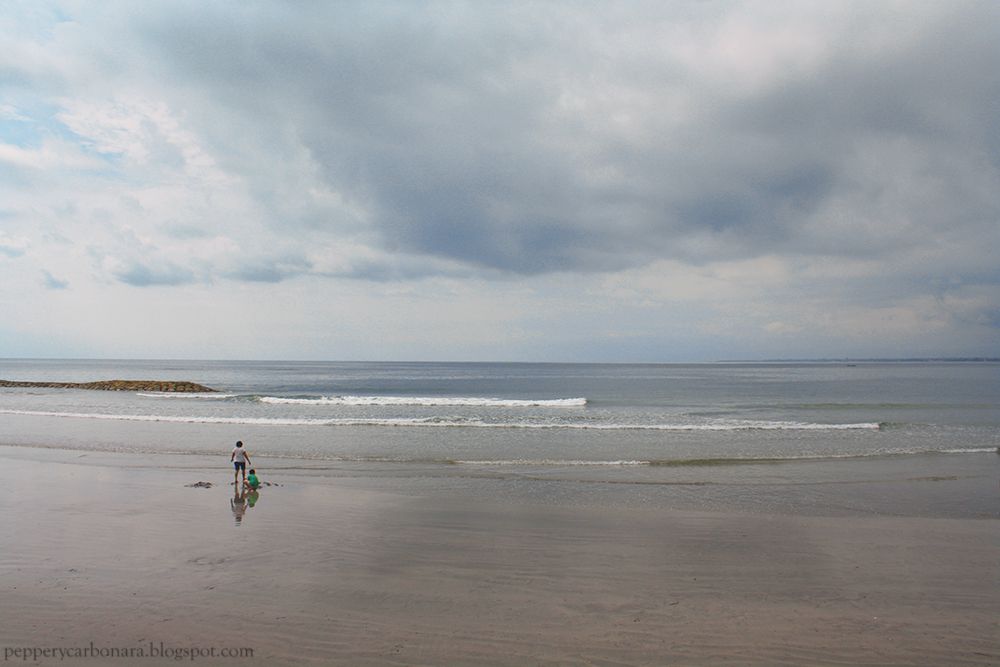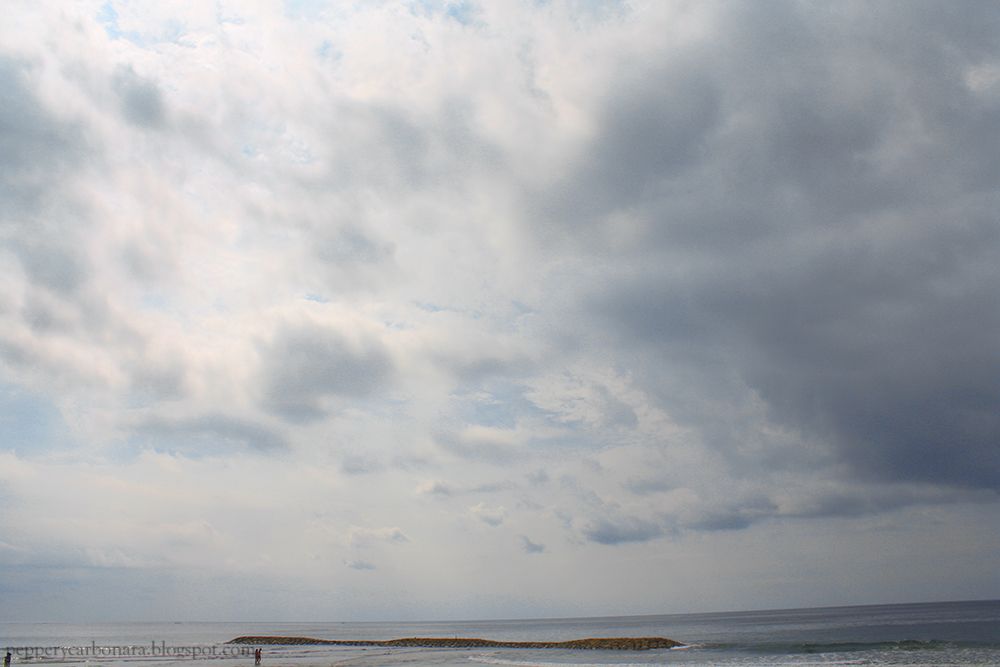 covered with gray clouds huh ;(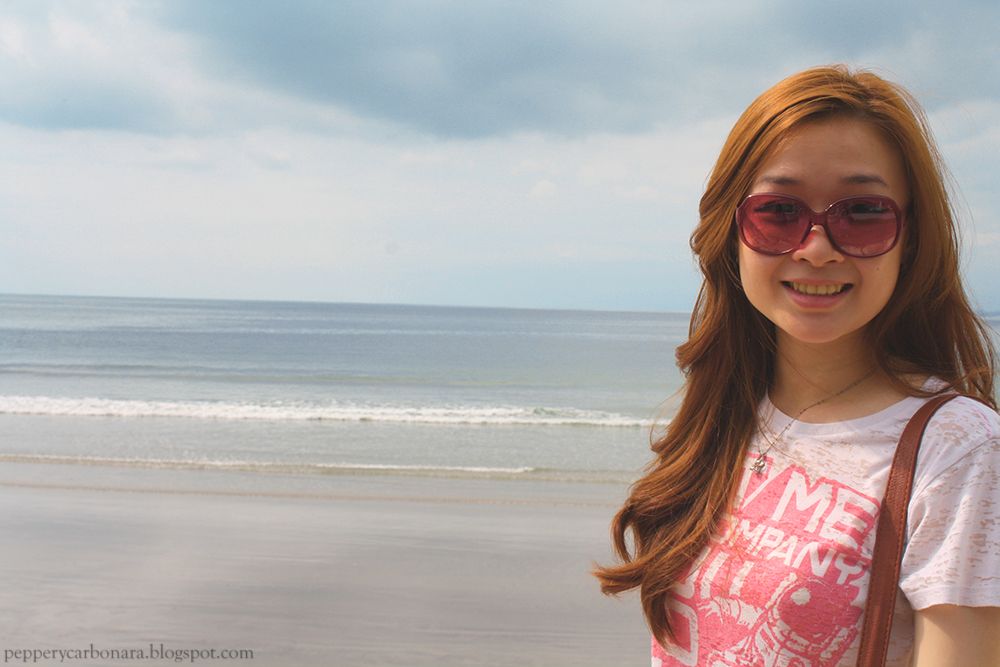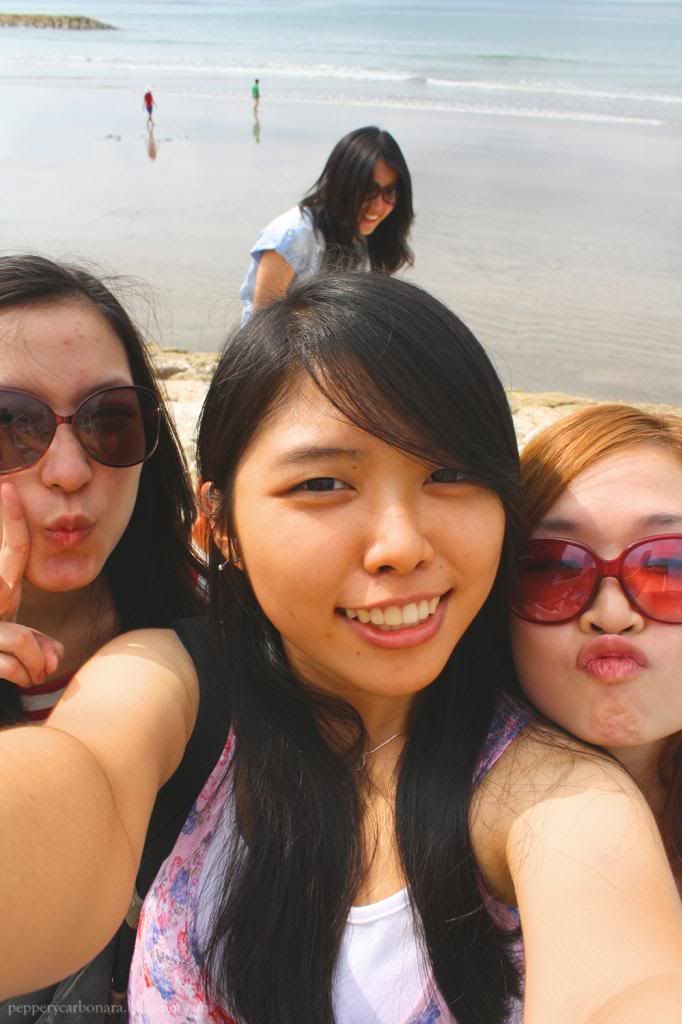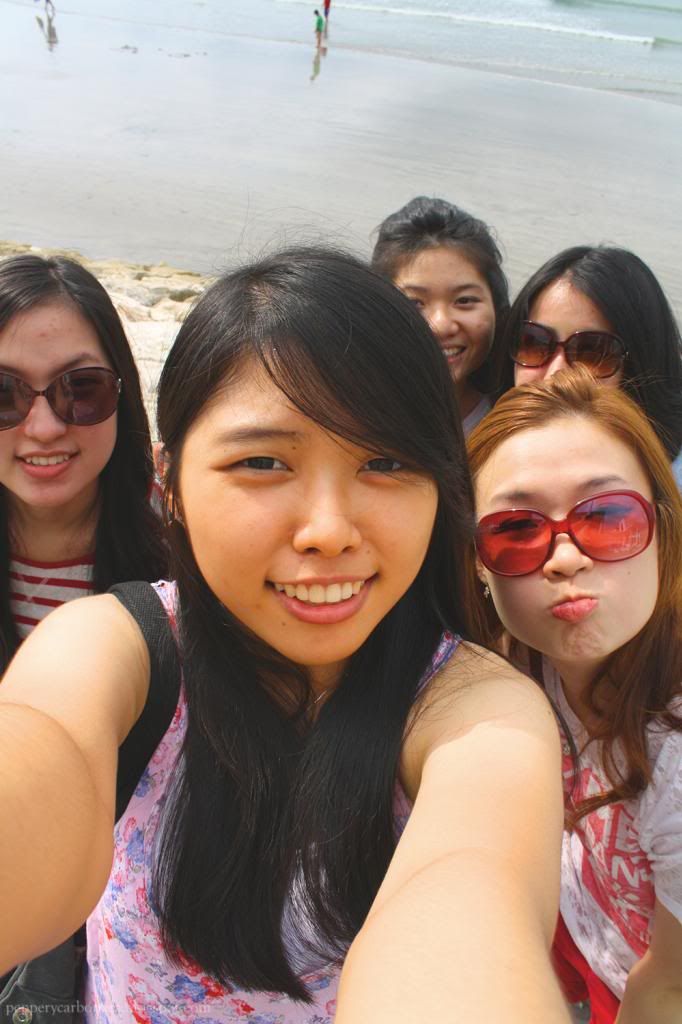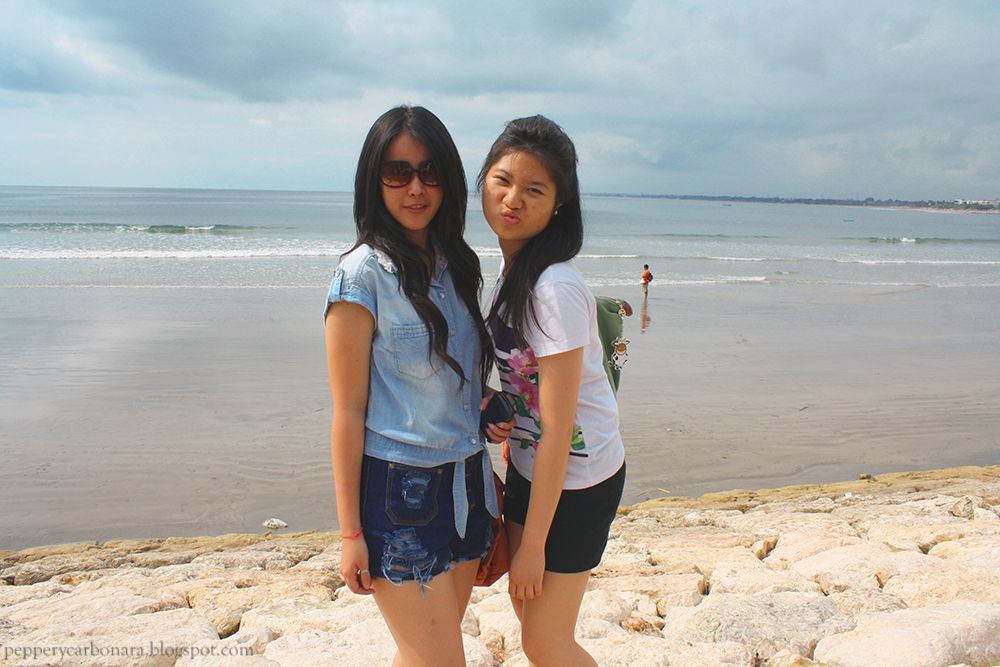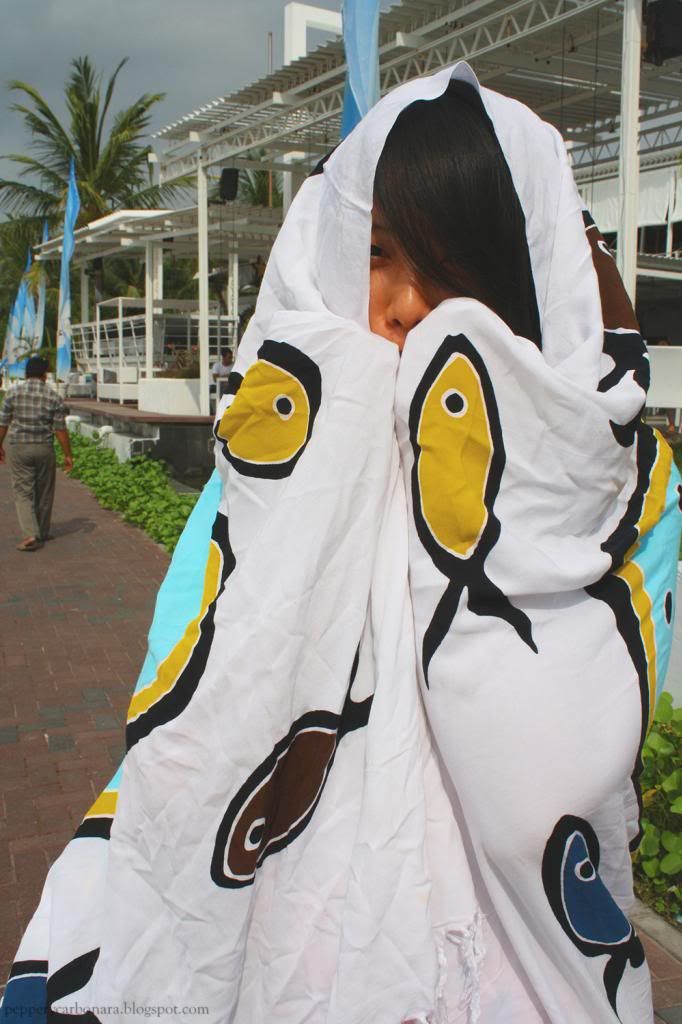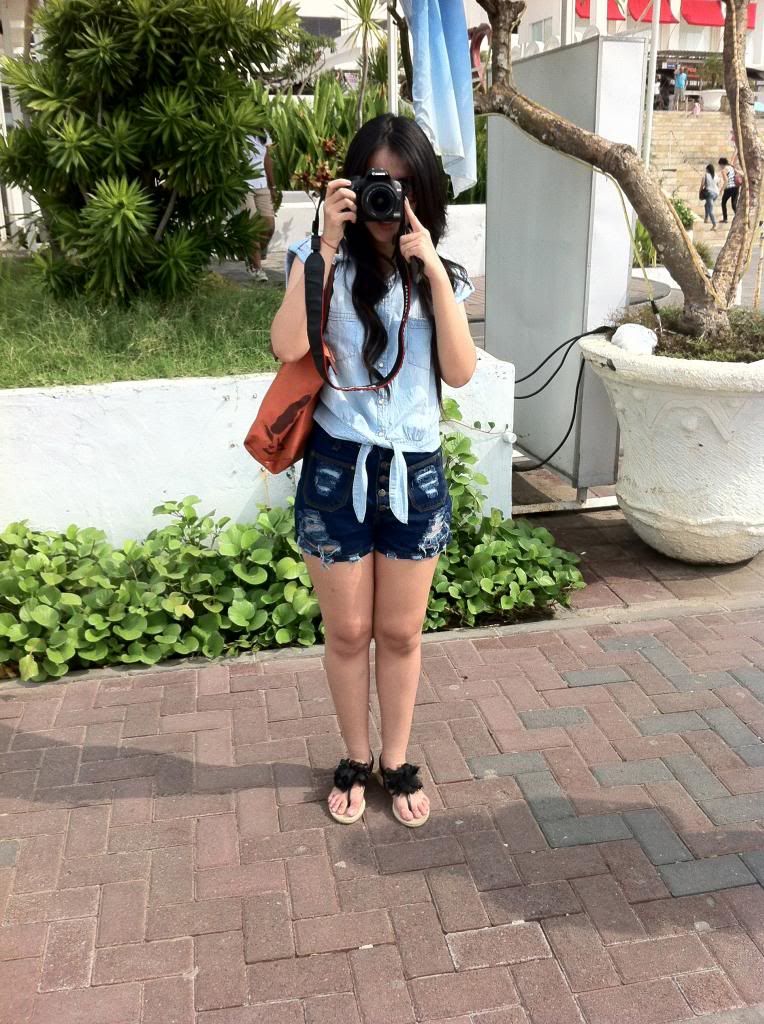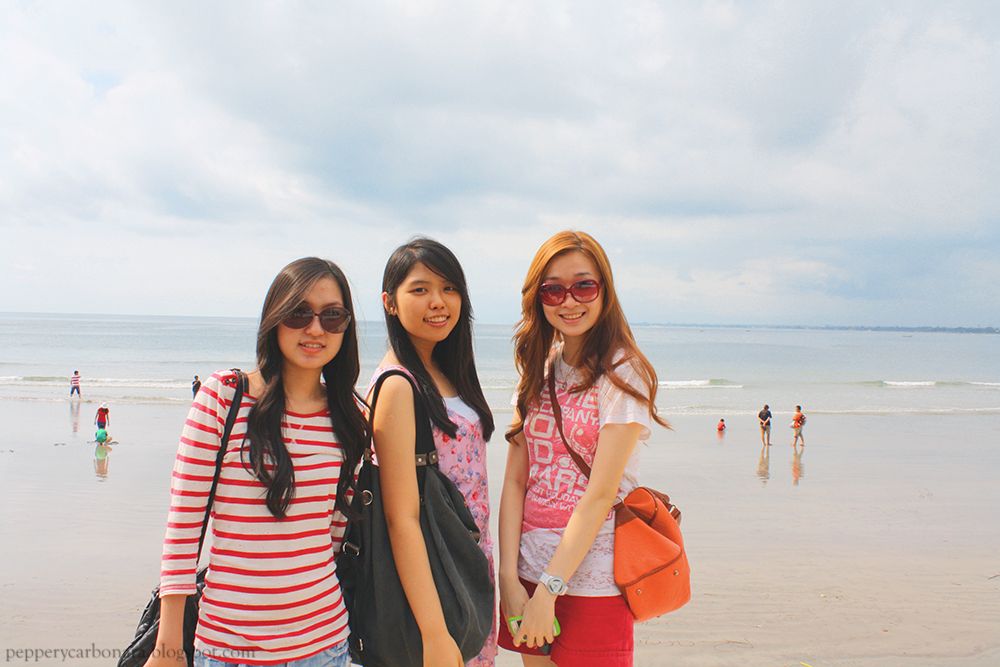 Okay enough with camwhoring.
Then we went for shopping in the Mall. Excited to find some branded stores which Surabaya doesn't have. But i still didn't buy any, lol.
It was already noon enough to go to Rock Bar in Ayana Hotel & Resort. Why does it called Rock Bar? Pictures will explain everything soon!
When we got to Ayana Hotel & Resort, this kind of hotel is the one people will relax. Maybe if i stay in this kind of hotel at Bali, i would not go out and spend most of time in the hotel, lol.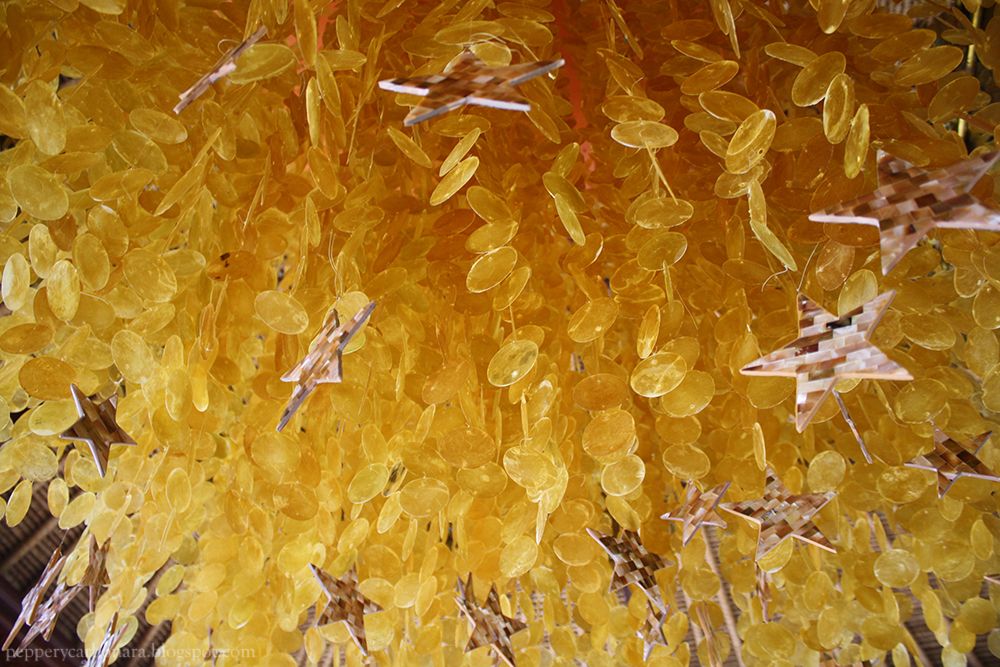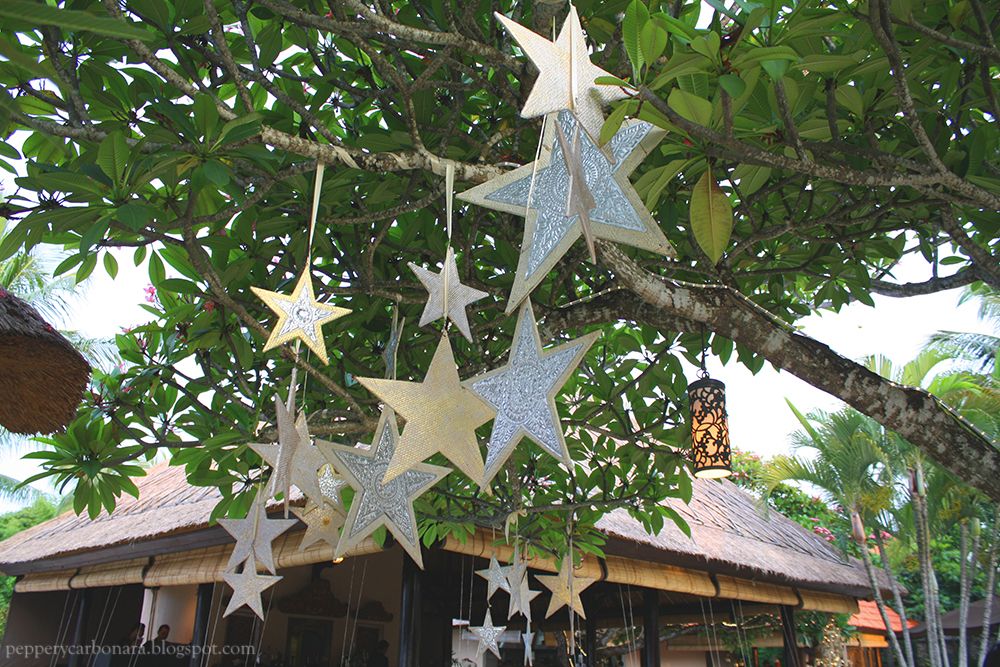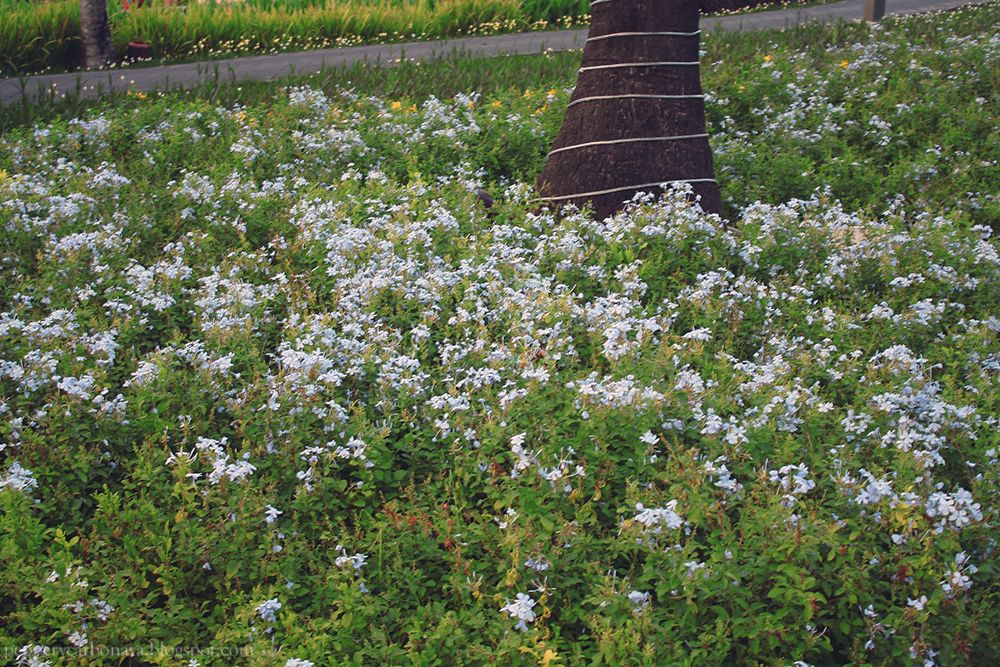 Christmas decoration everywhere! ;) Christmas in tropical without snow isn't that bad, yes?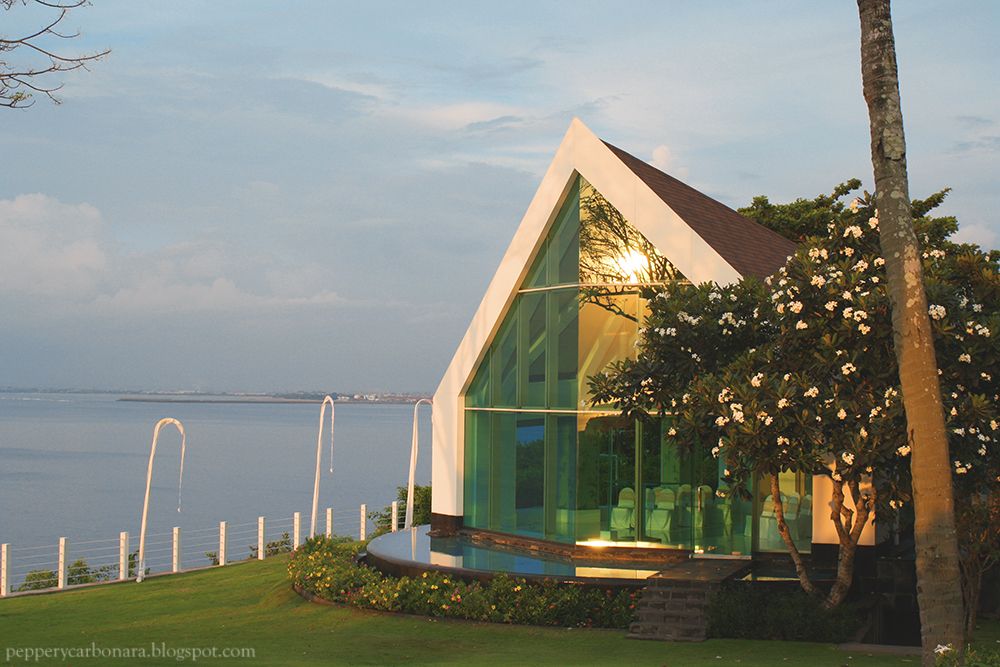 One of the famous wedding ceremony place. Not really my favorite one because has seen more cool places for wedding ceremony in Bali! But don't know the place, tho :x
Ready for Rock Bar!
So glad the queue hadn't been so long, because when we went back to the hotel, the queue got crazy (because we left right before the sunset). People surely won't miss a good sunset in Bali.
So this is why the place called Rock Bar.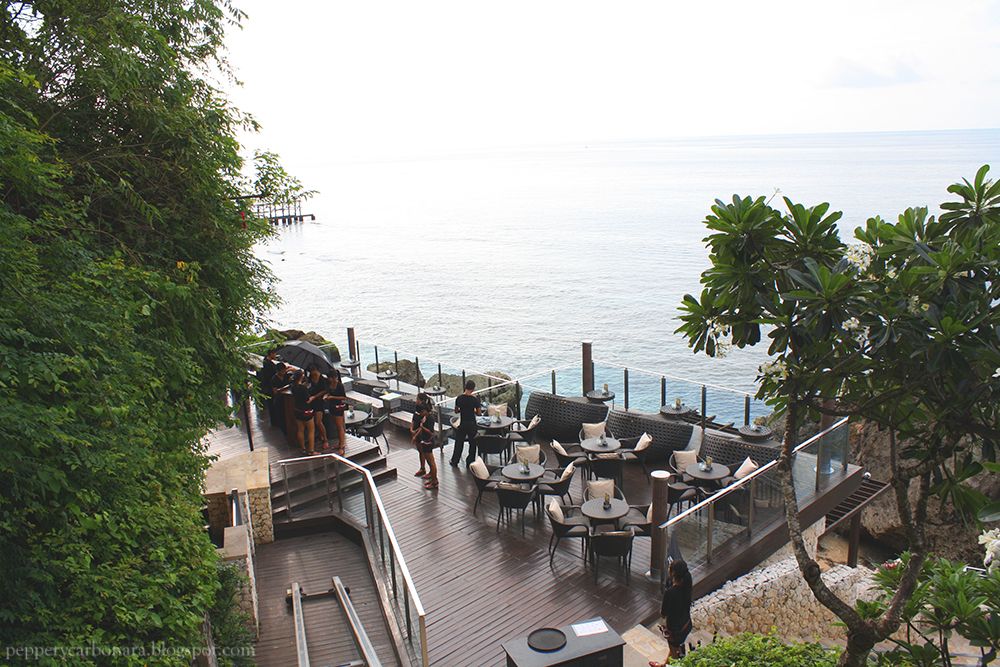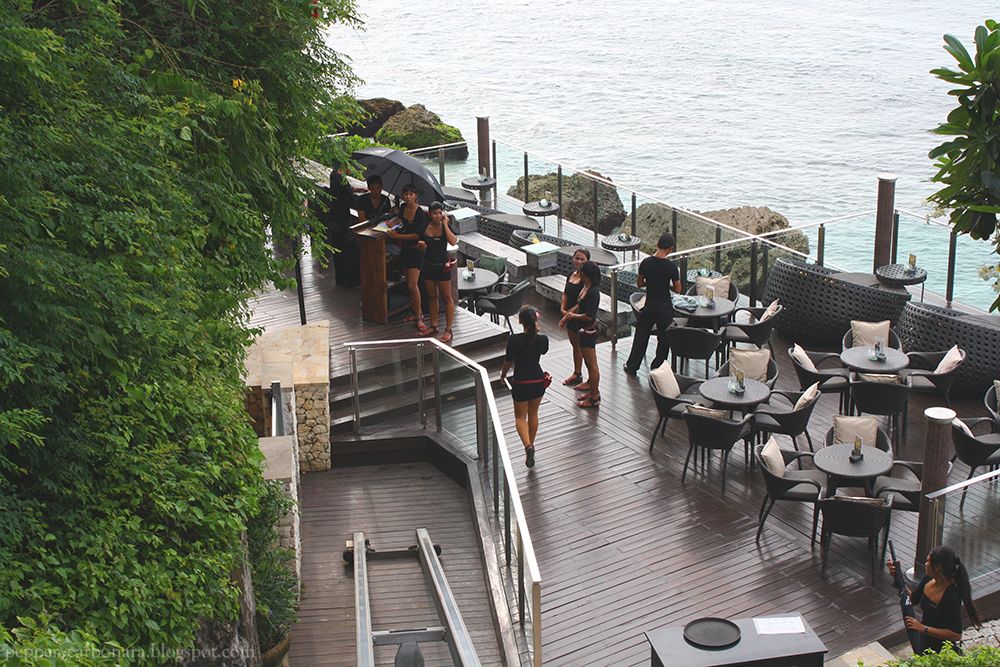 The bar is in the foreshore above a big rock, so the view is extraordinary. A bar that very close to the sea!
I actually took those photos when riding that white cabin. It's like a elevator from up above, from the edge above (the guards if you can see, behind the wooden fence), so we could go down to the rock because the hotel is actually on a very high place from the beach. Very nice idea.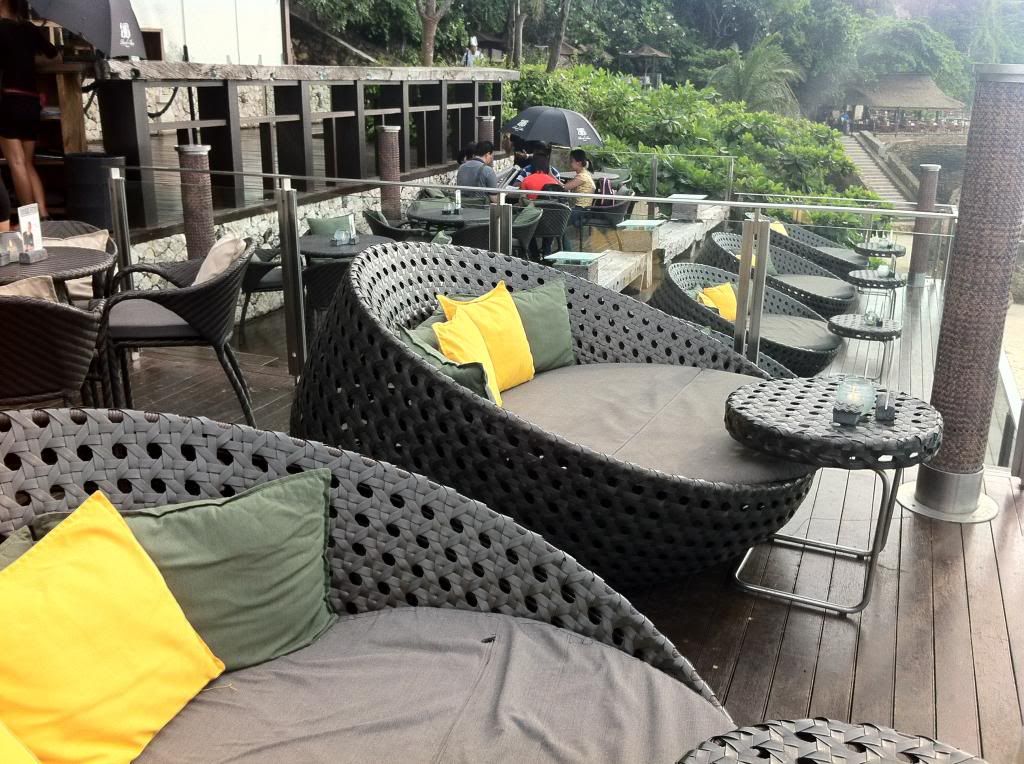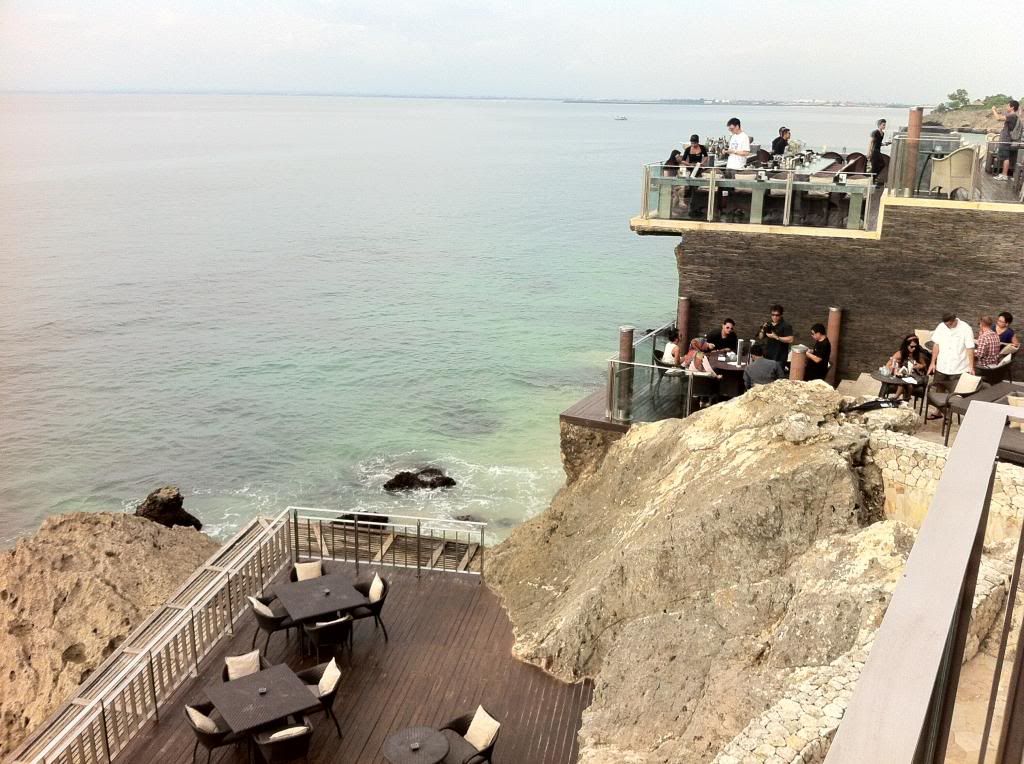 Unfortunately, i think this place may be a private place for hotel's residences, so there is a different place for hotel's residences and for outsiders. The second photo, the place higher, is the exclusive place for hotel's residences. The lower one, in the middle, can be book for outsiders too IF we purchase drinks for 1.500.000 IDR. The first photo, the round sofas, is for couples, that i forget how much they should purchase for drinks. So we just sit at round table there for 4-5 outsiders and HAVE TO purchase 500.000 IDR for drinks ONLY, not including food. Expensive, yes.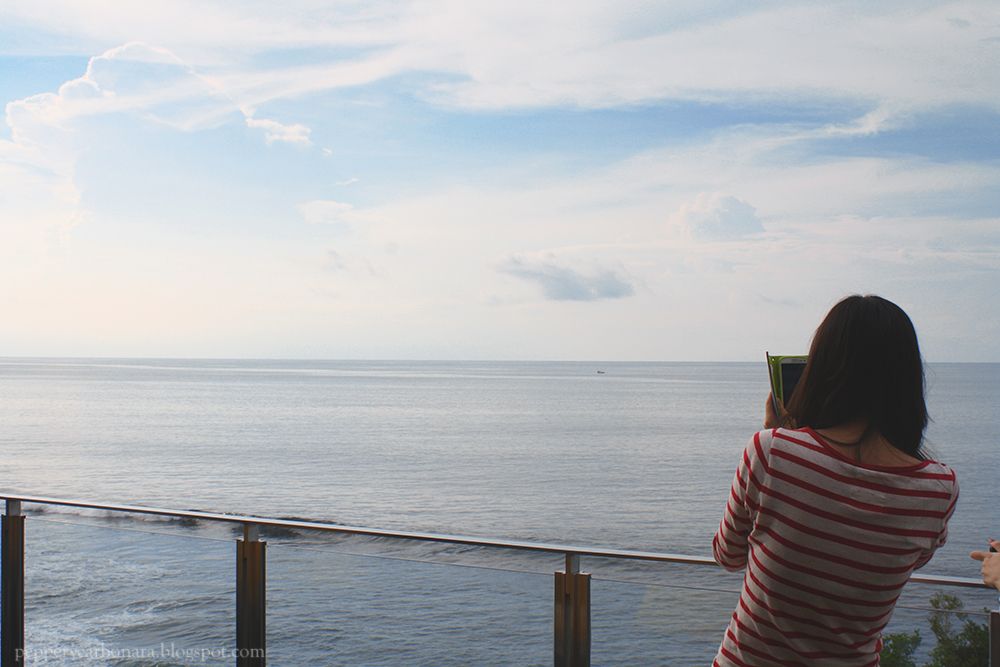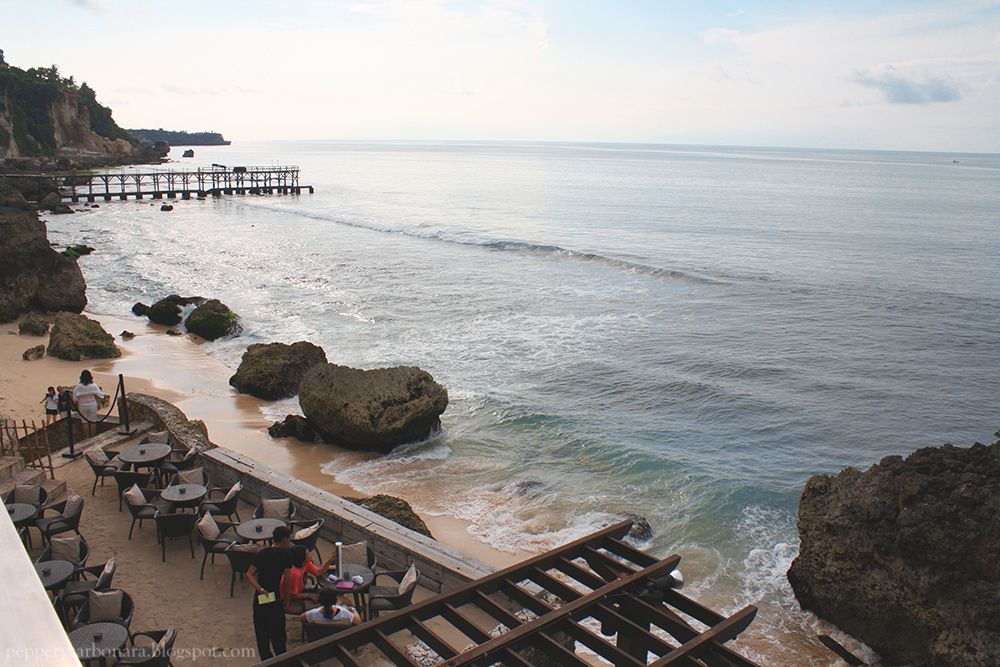 Good things don't come free, people. So, yes, we bought this once in a while scenery!
And yea, it is beautiful don't ask why.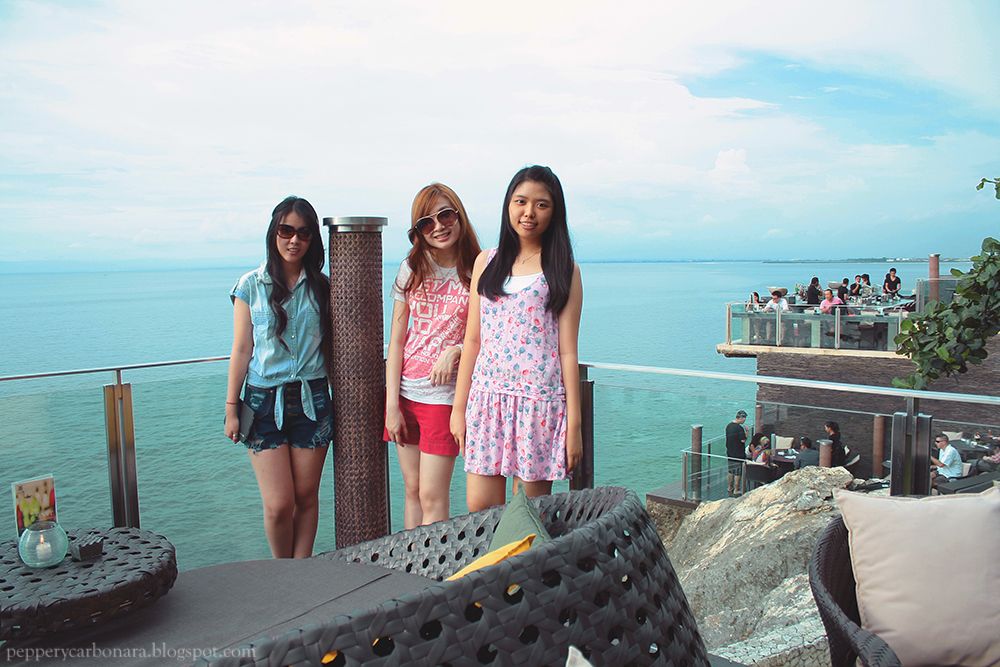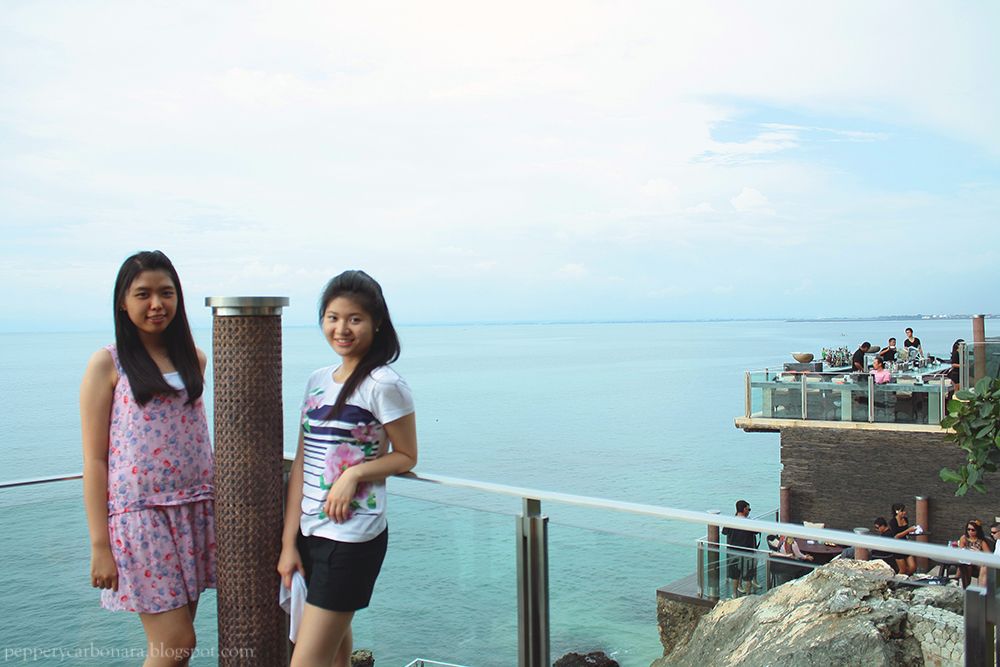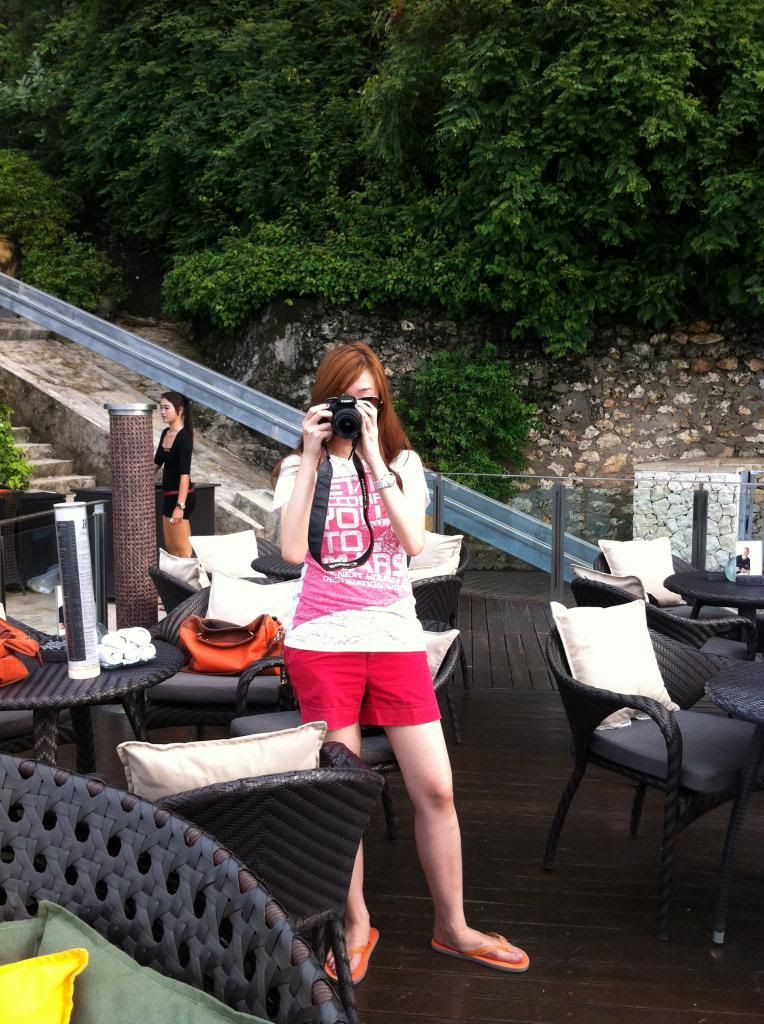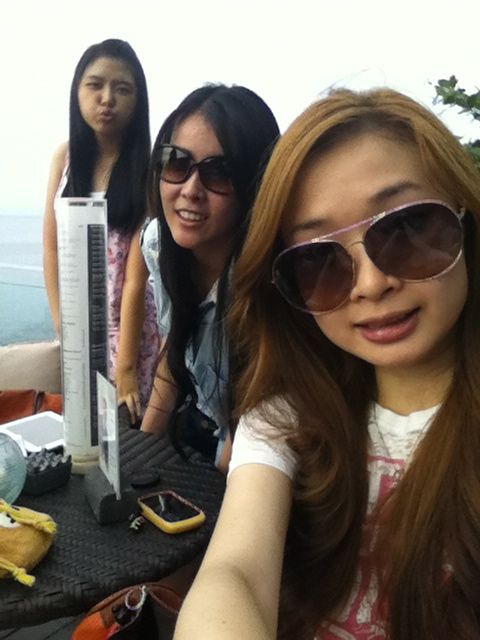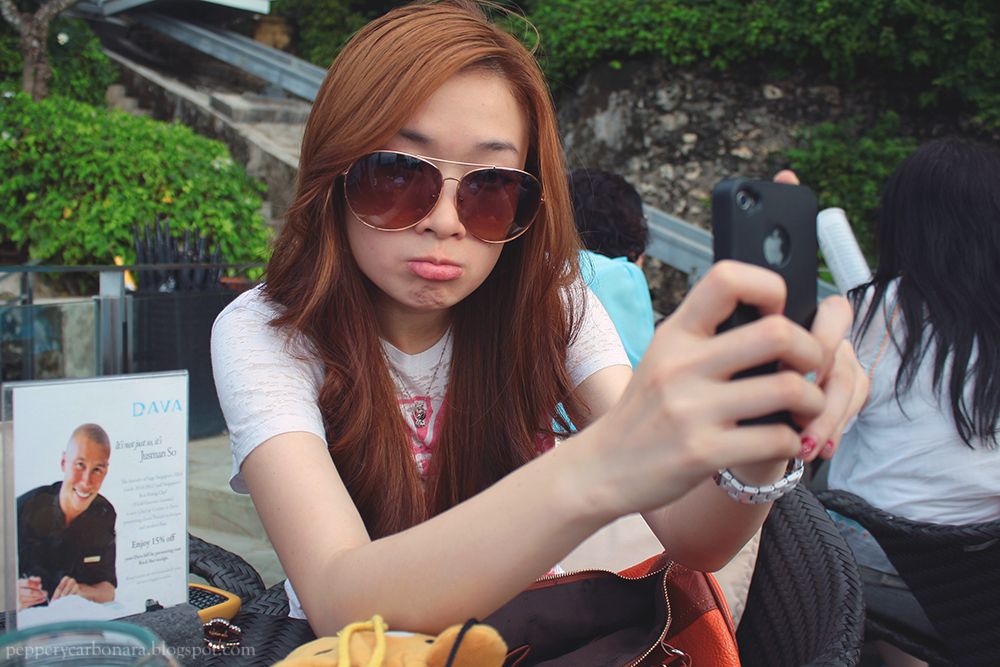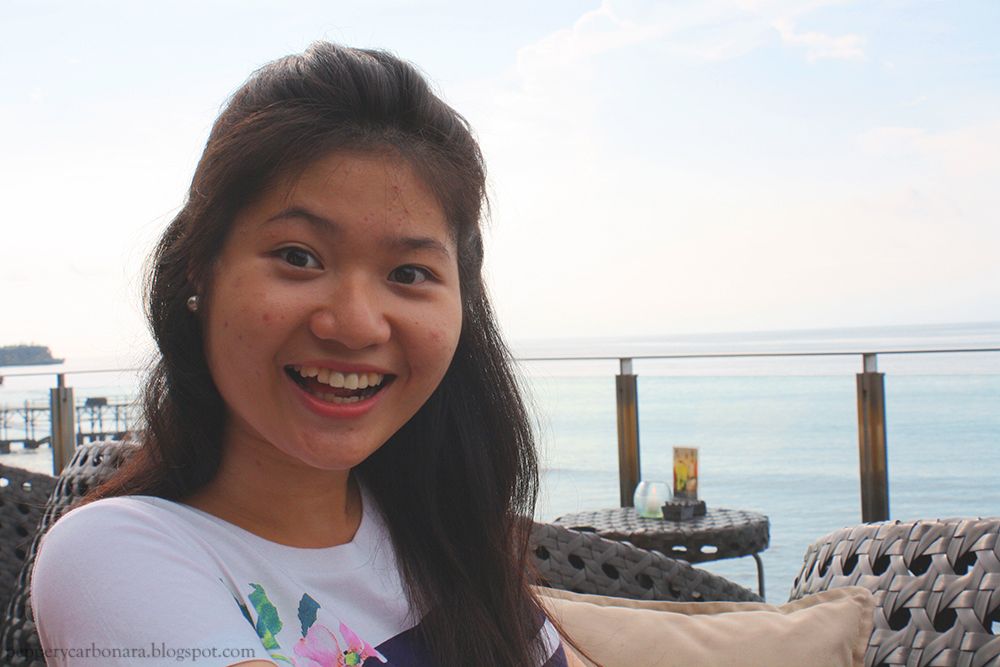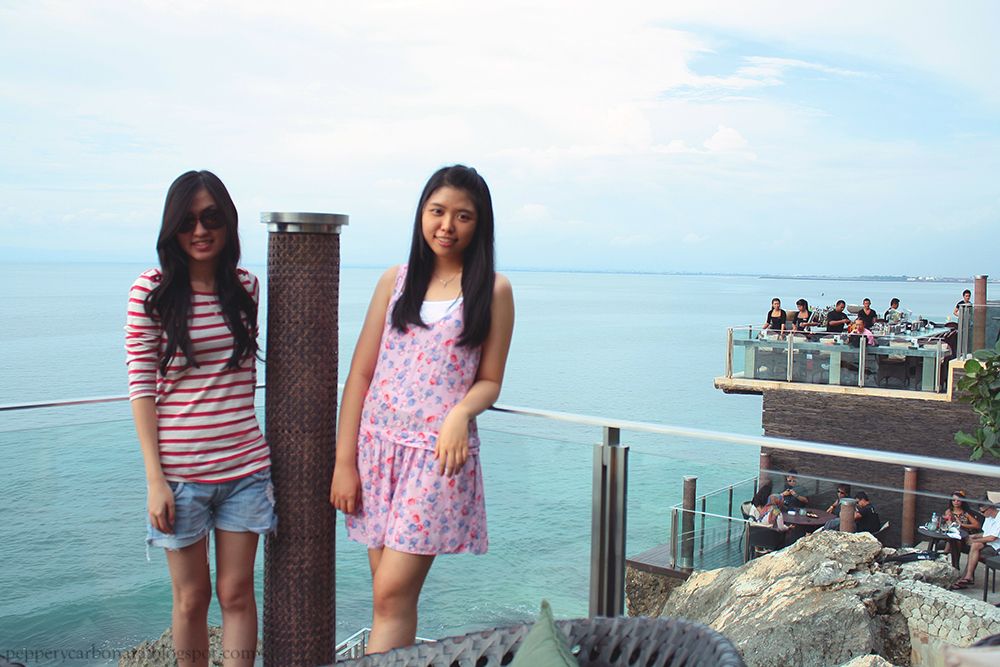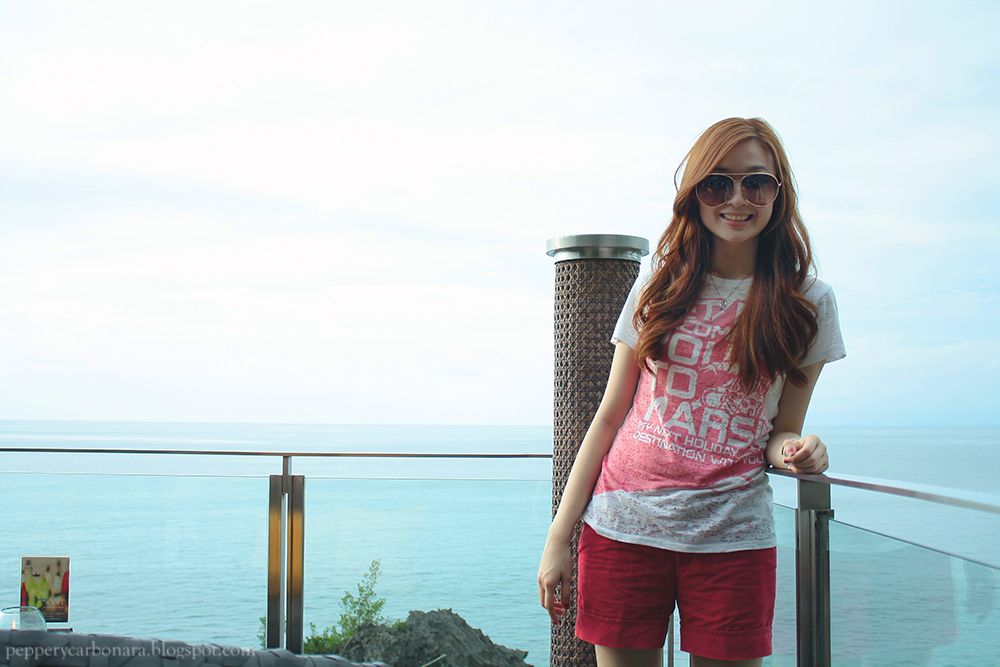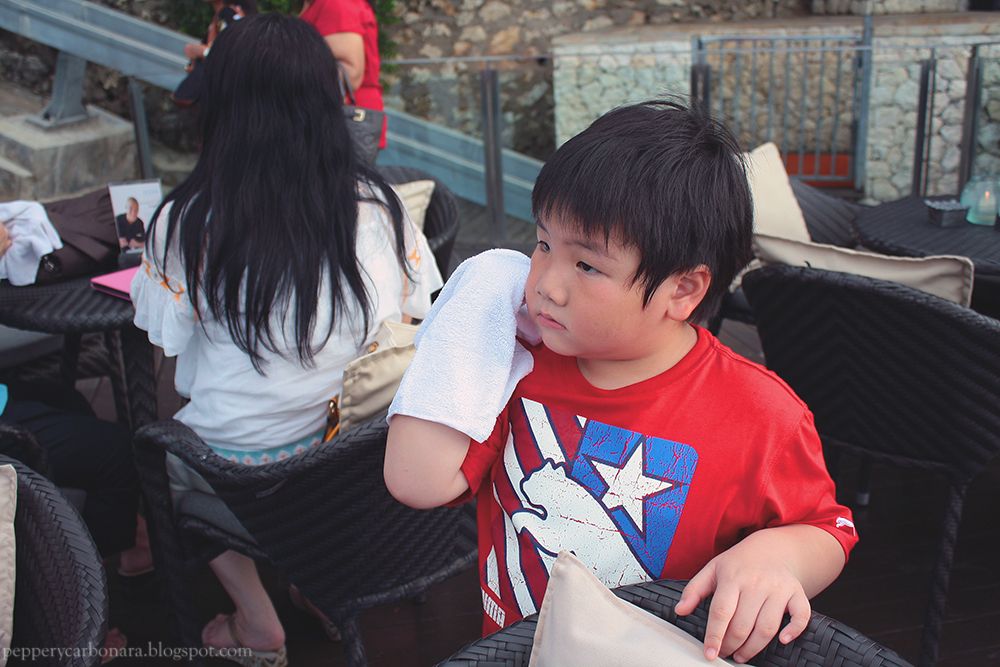 Cute kid that starring at us for a minute. Maybe we were too absorbed with taking photos.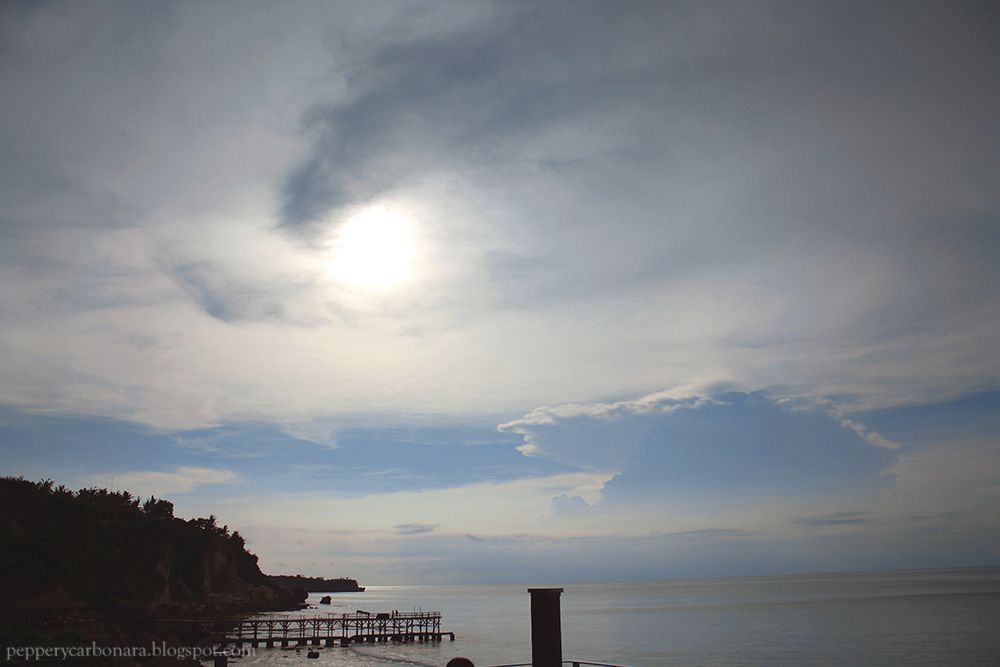 Gloomy please go away!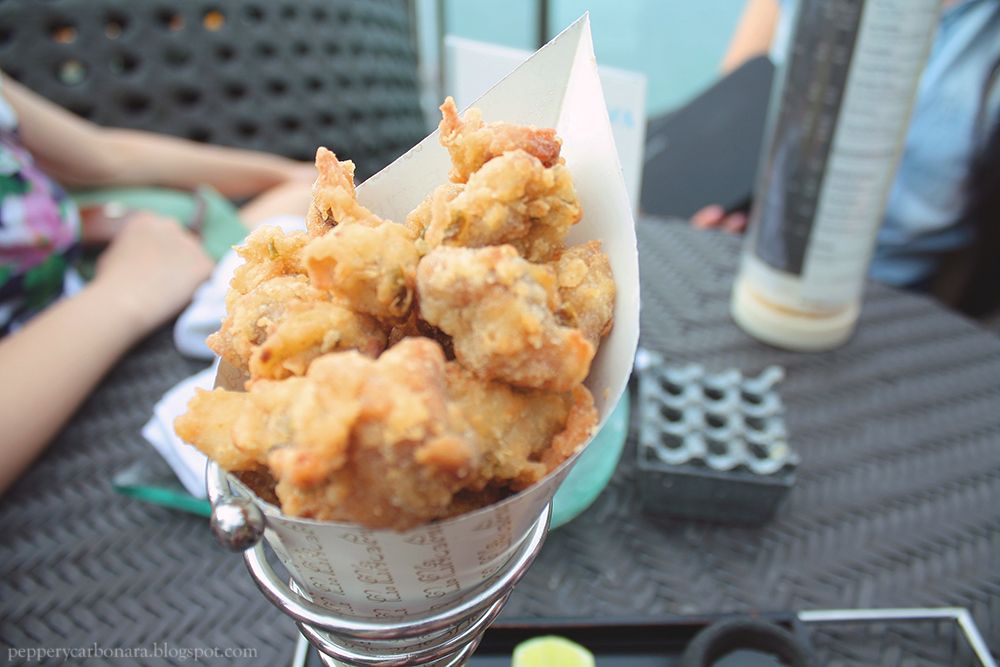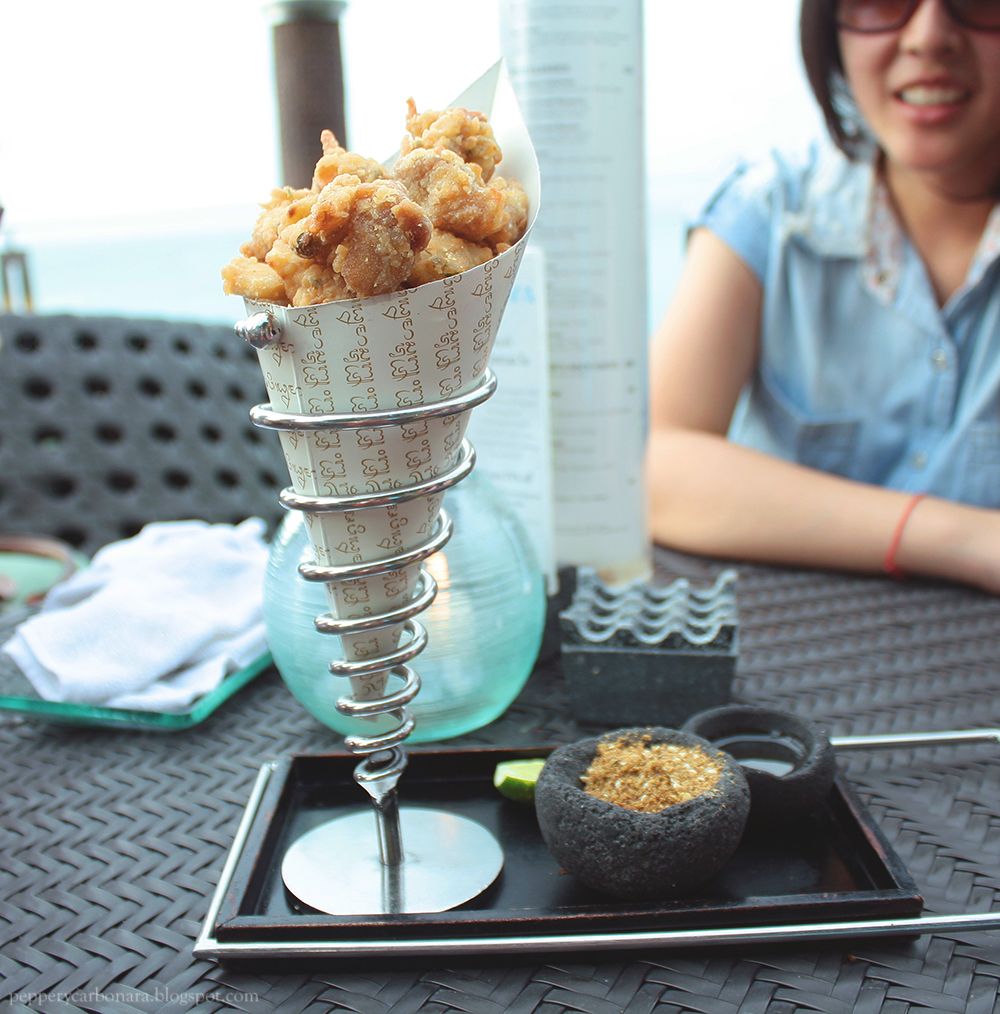 We were starving again and ordered Chicken Popcorn, something like Pok Pok Chicken, but hundred tastier. Or we were just too hungry.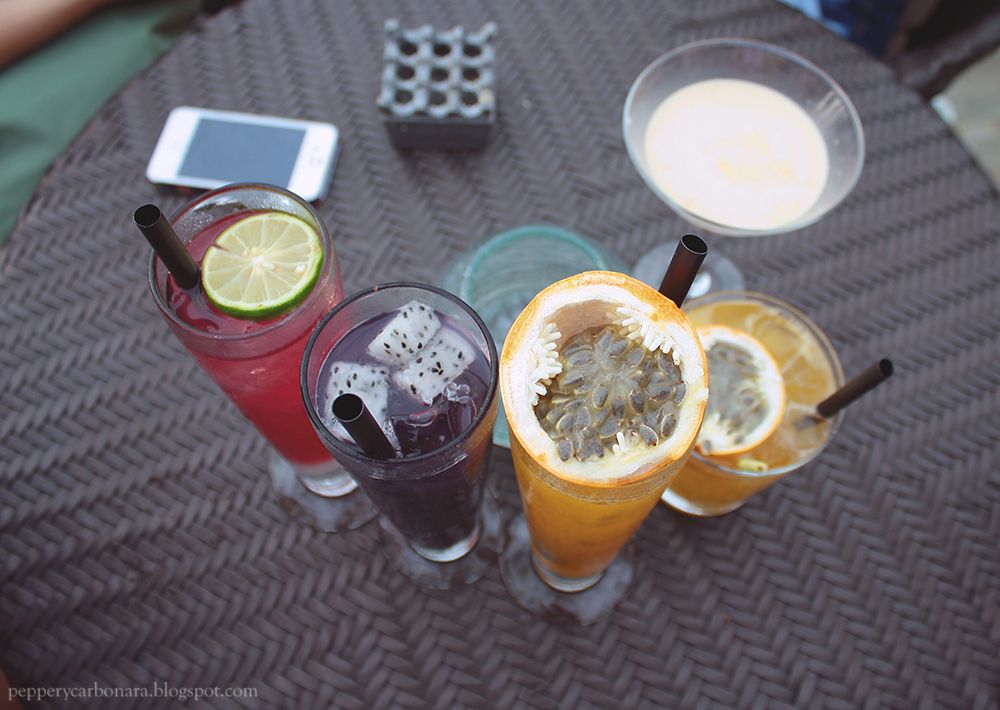 the drinks. They have cocktail, mocktail, juices, beers and some alcoholic drinks. I don't really like drinks with alcohol in it, tho. It always taste hundred times bitter and i don't know why people have to like them.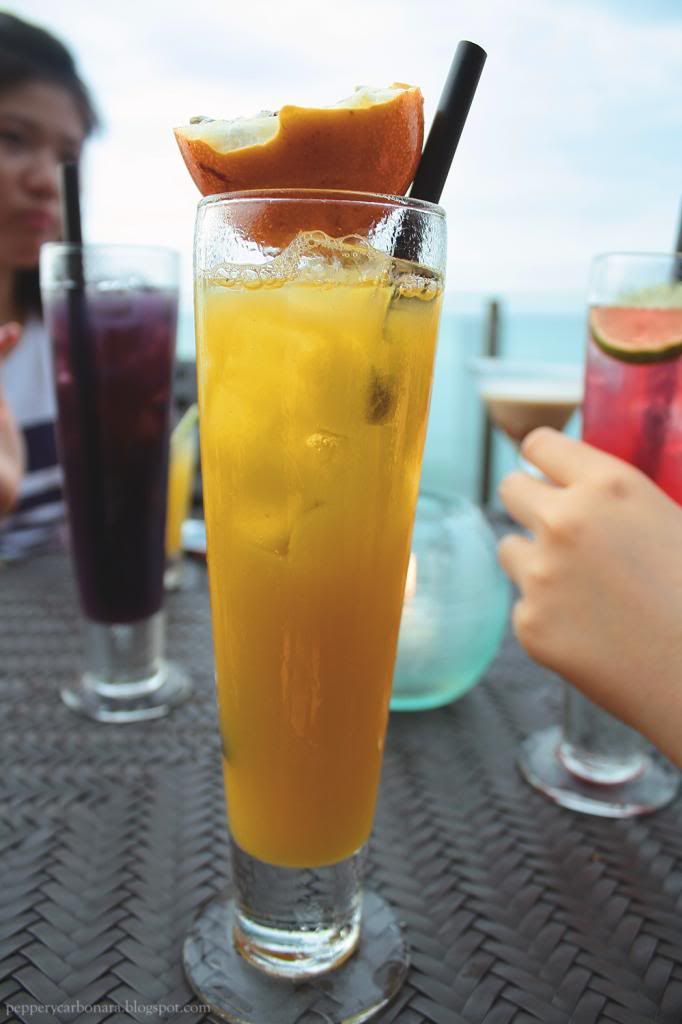 My drink, pineapple with passionfruit and lemon (or orange, i forgot), as my favorite drink than the other 4. Sour but very tropical, lol.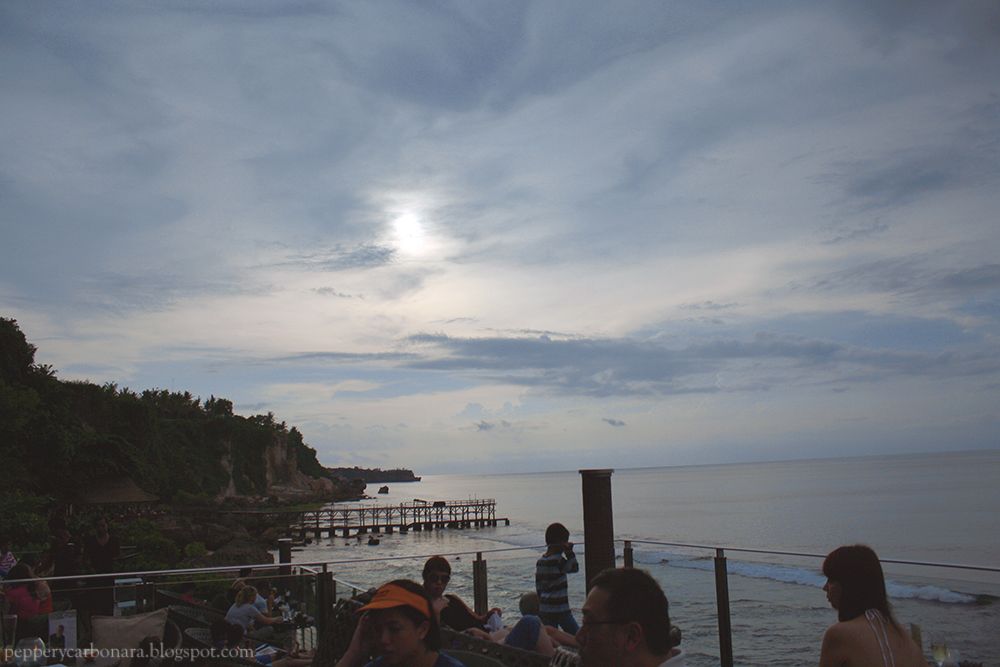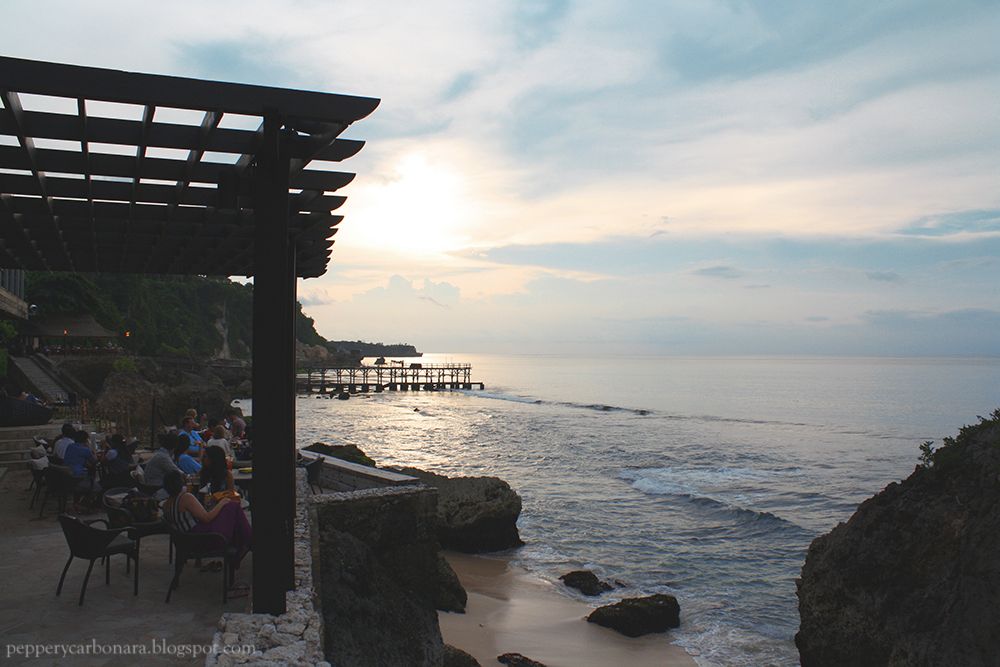 The yet-to-be sunset sky. Well we didn't make it until sunset because we were starving already and it was getting hotter and hotter, so we went back to the resort before sunset. Ya at least we have seen closer to sunset!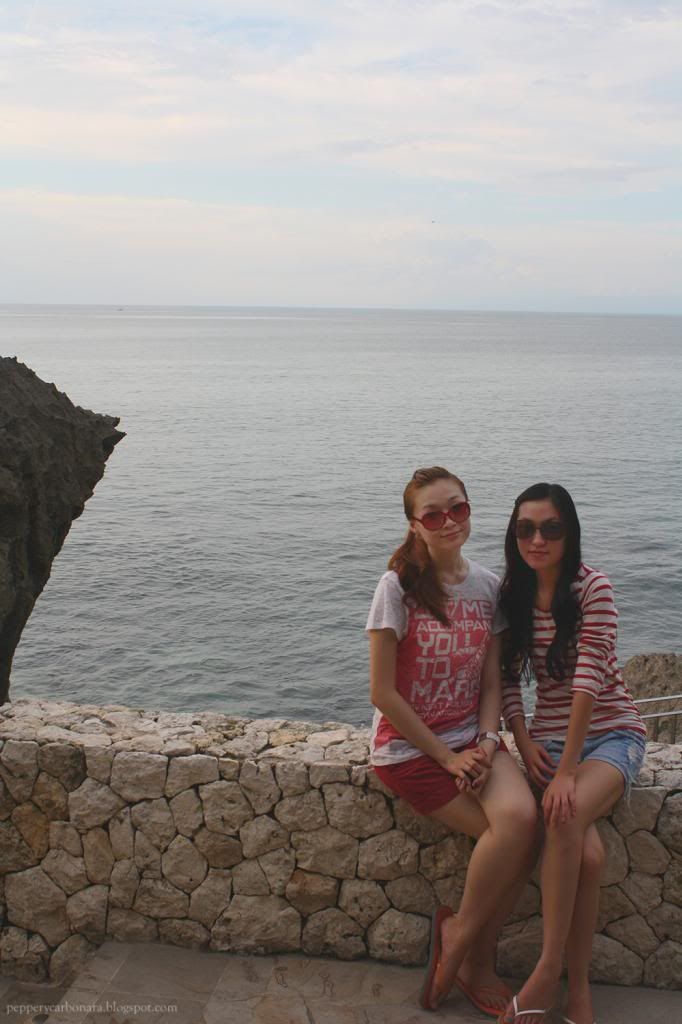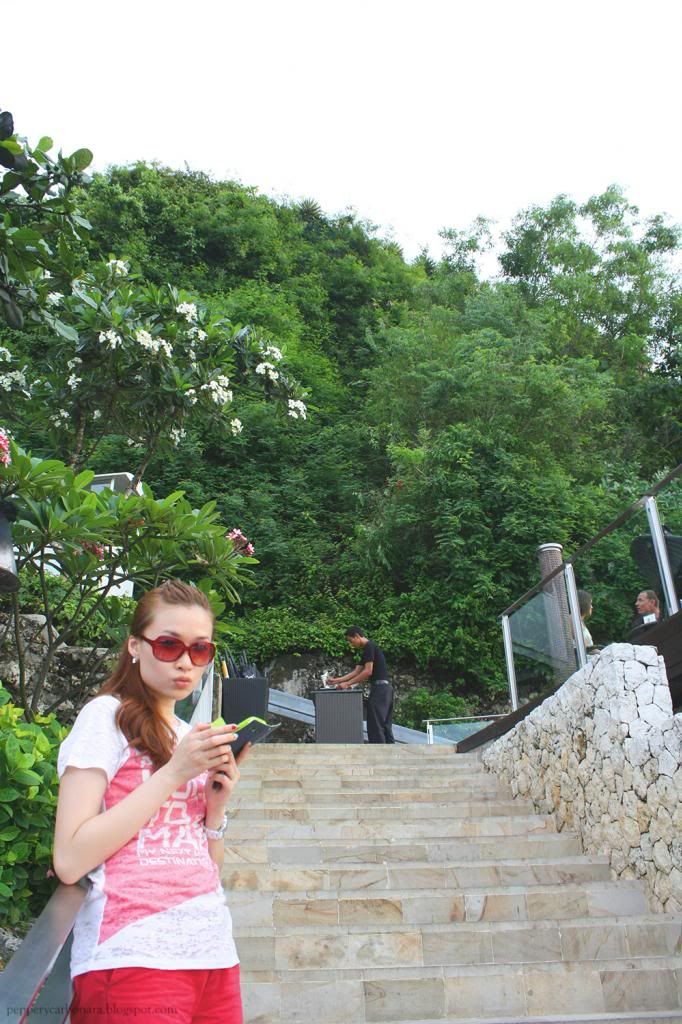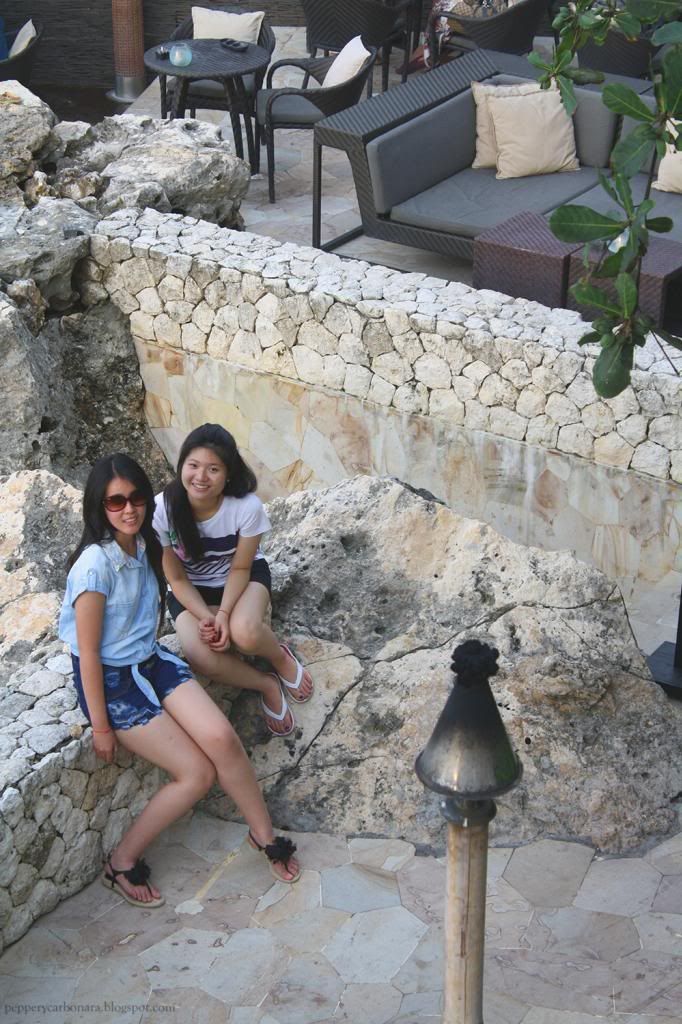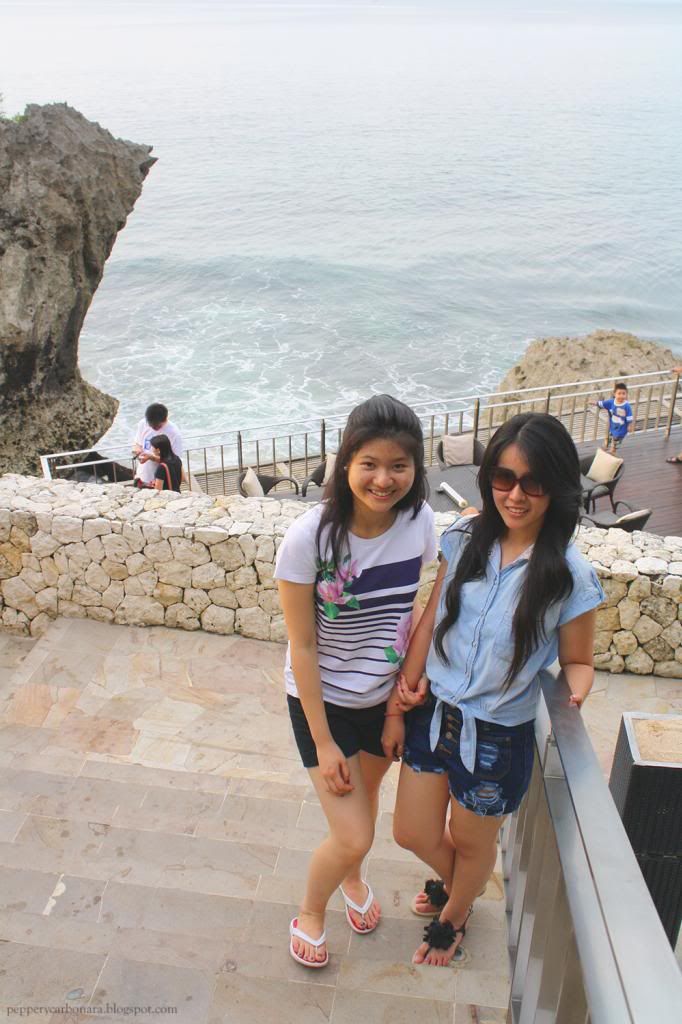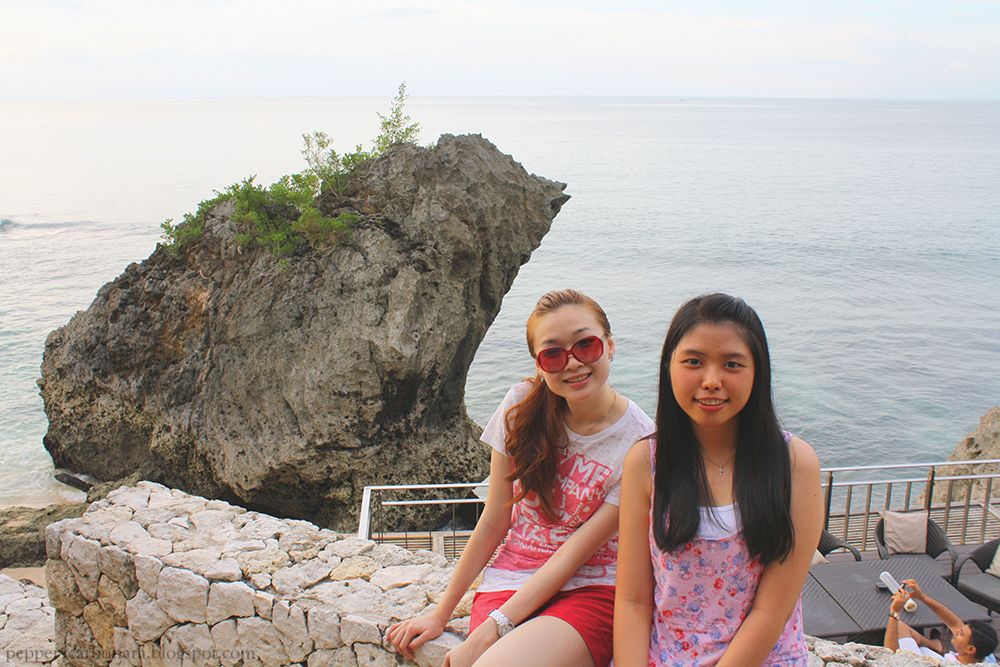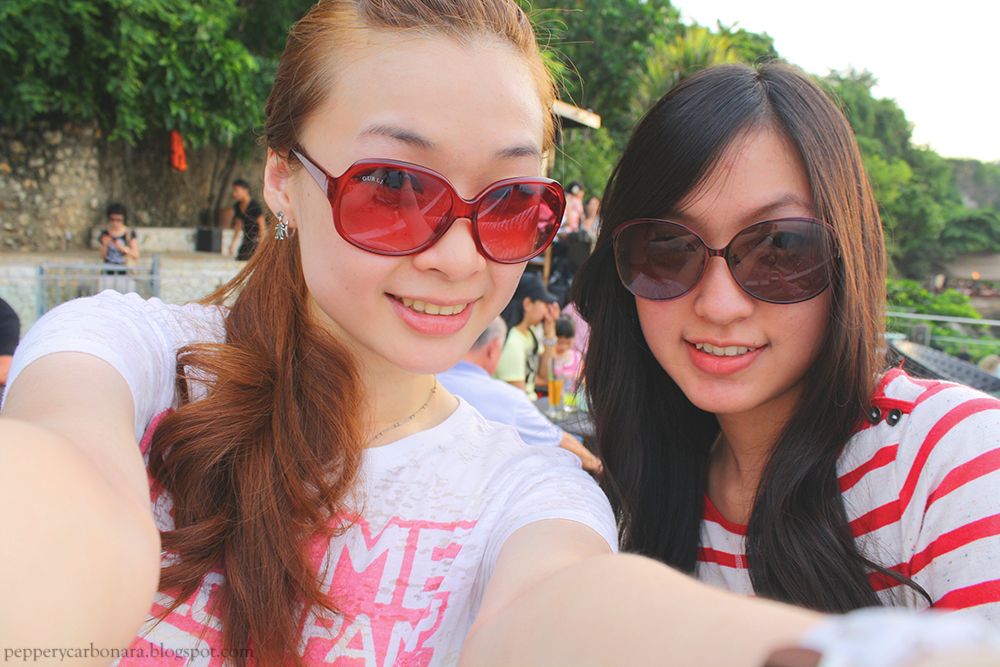 Camwhoring around the resort lol.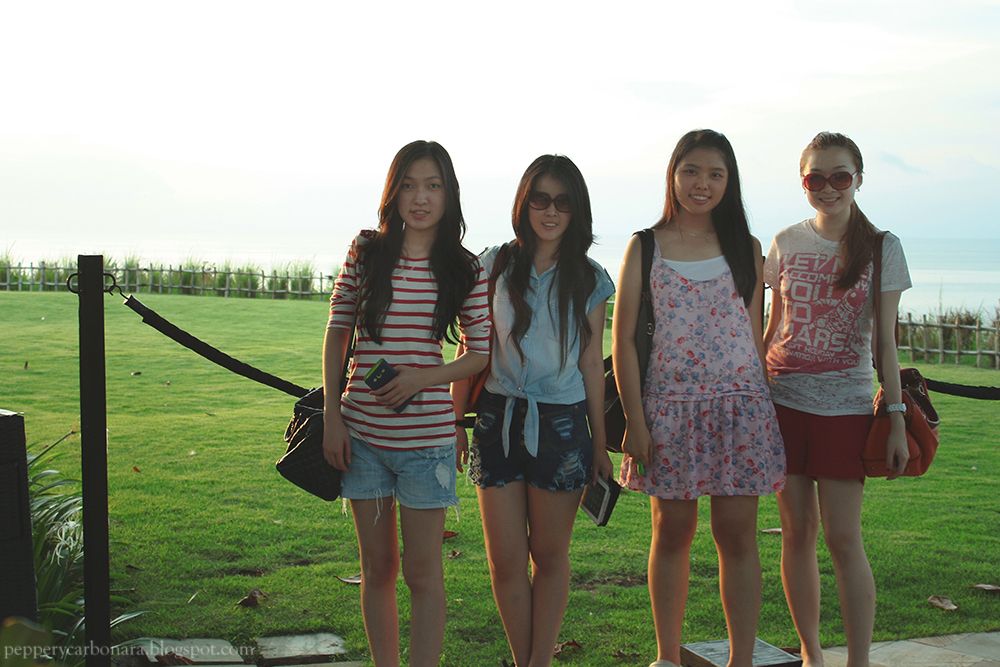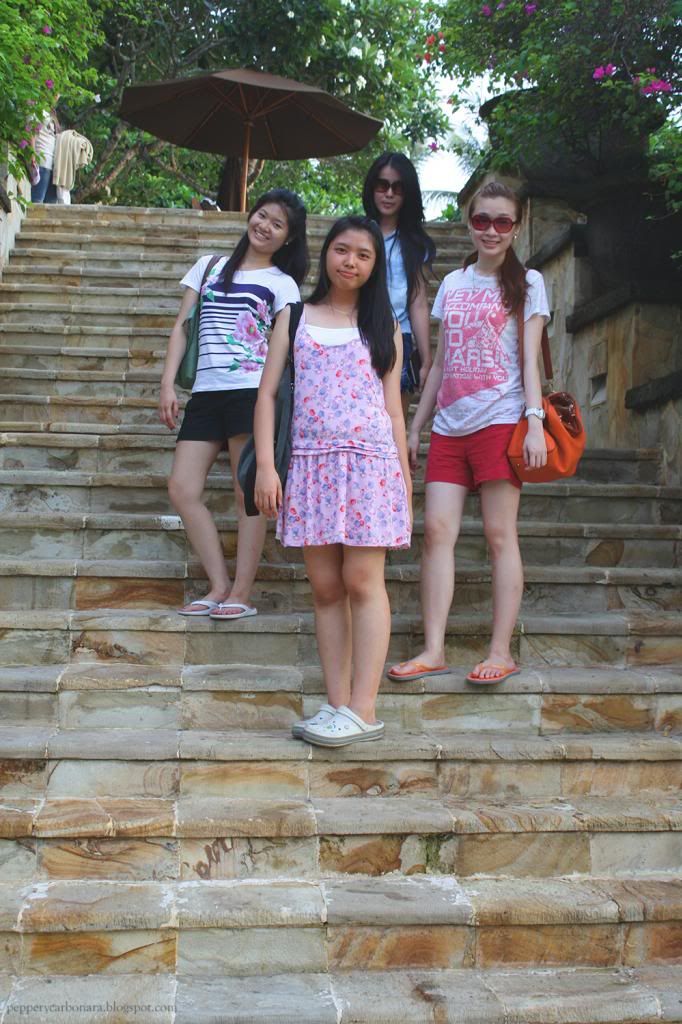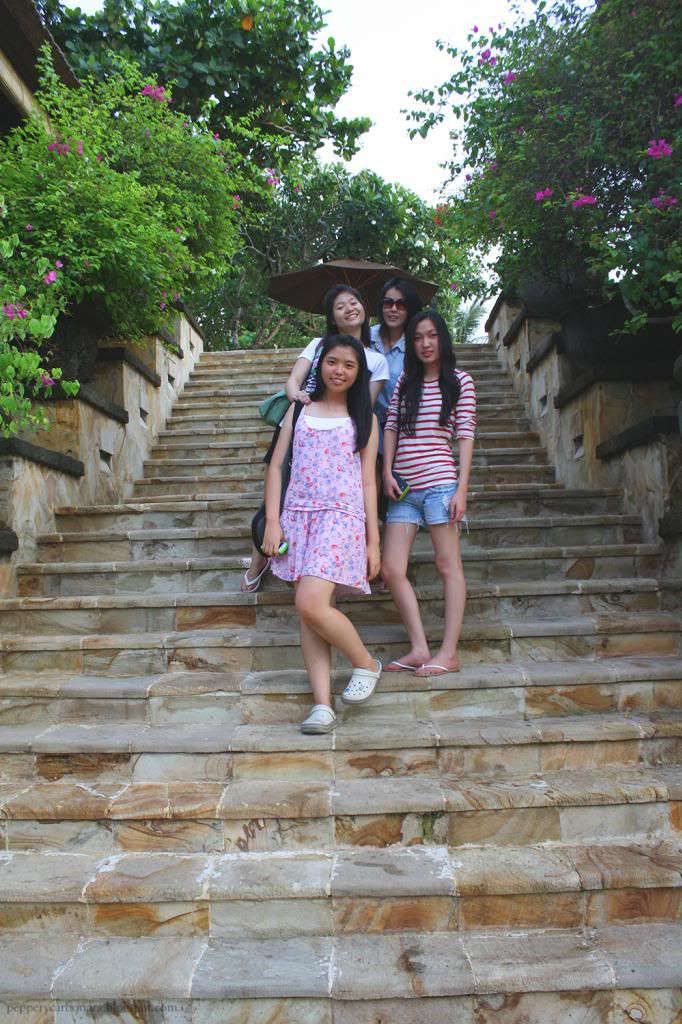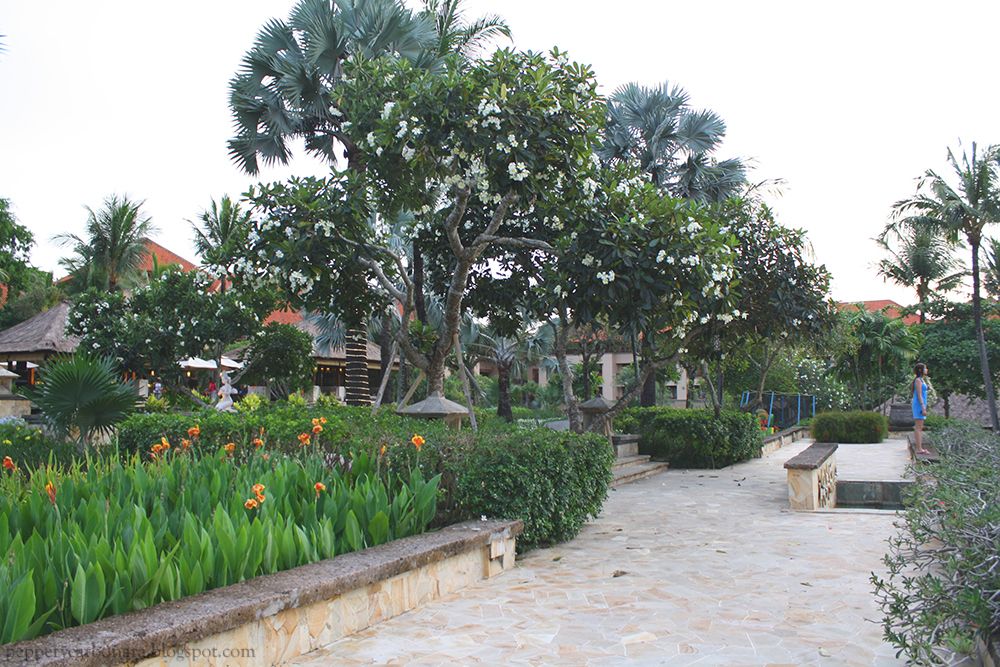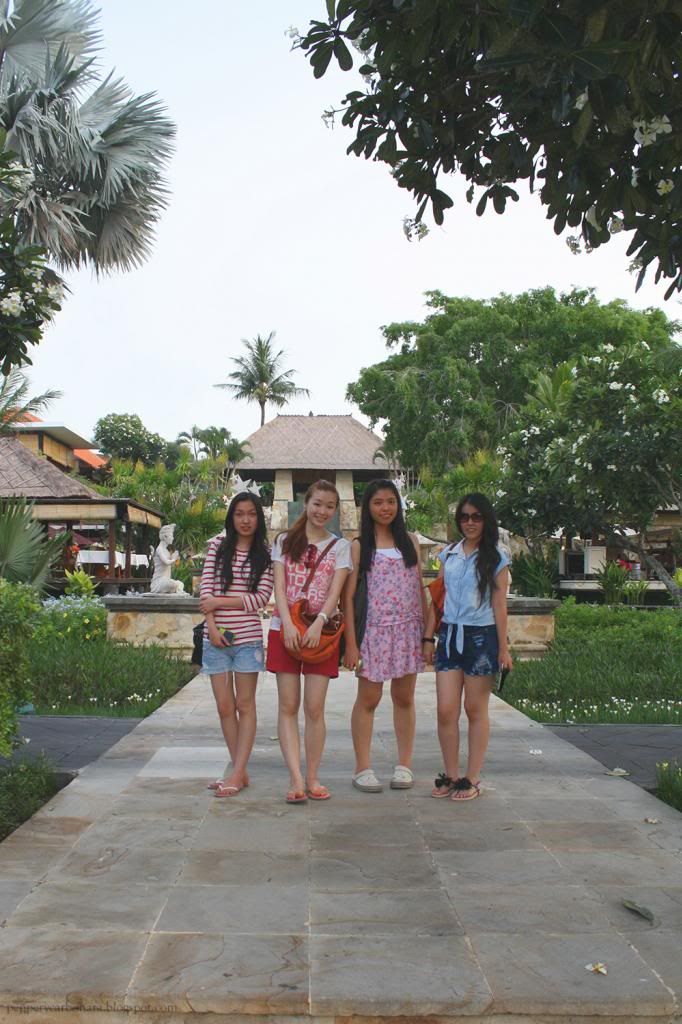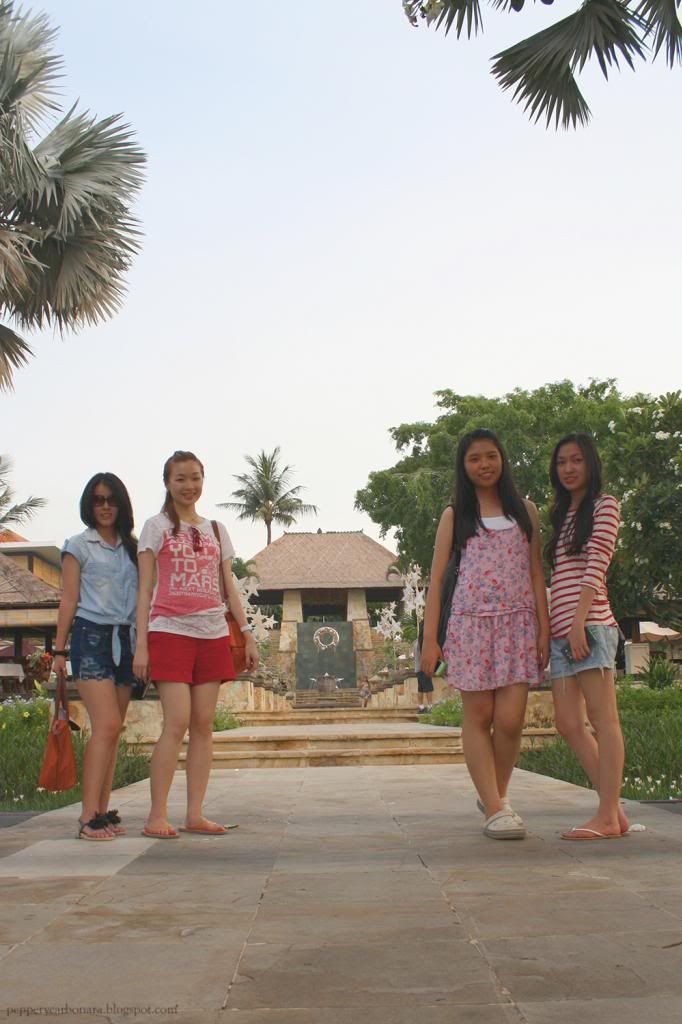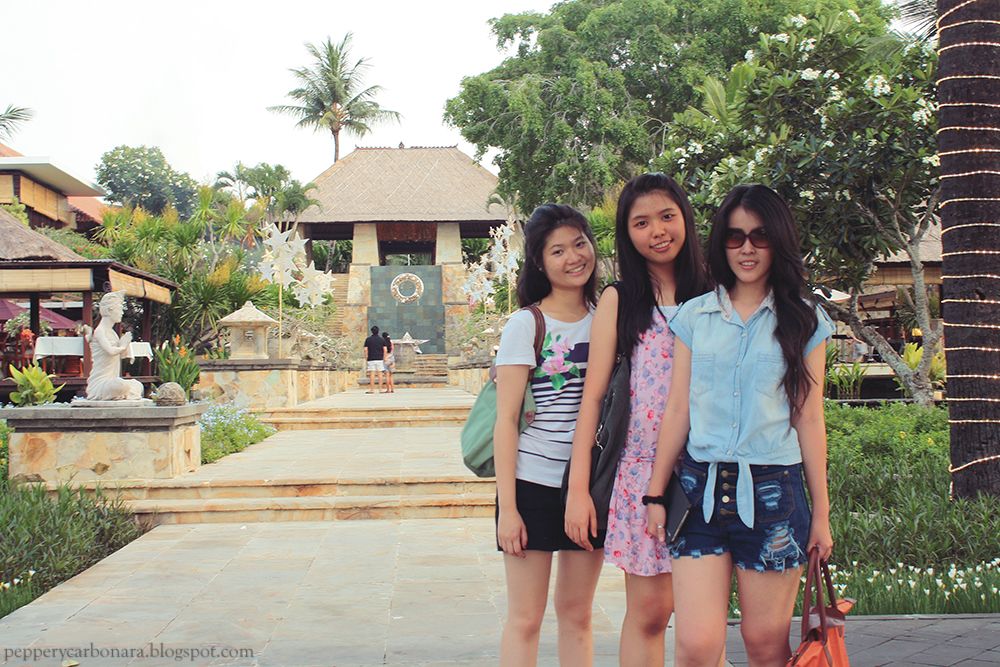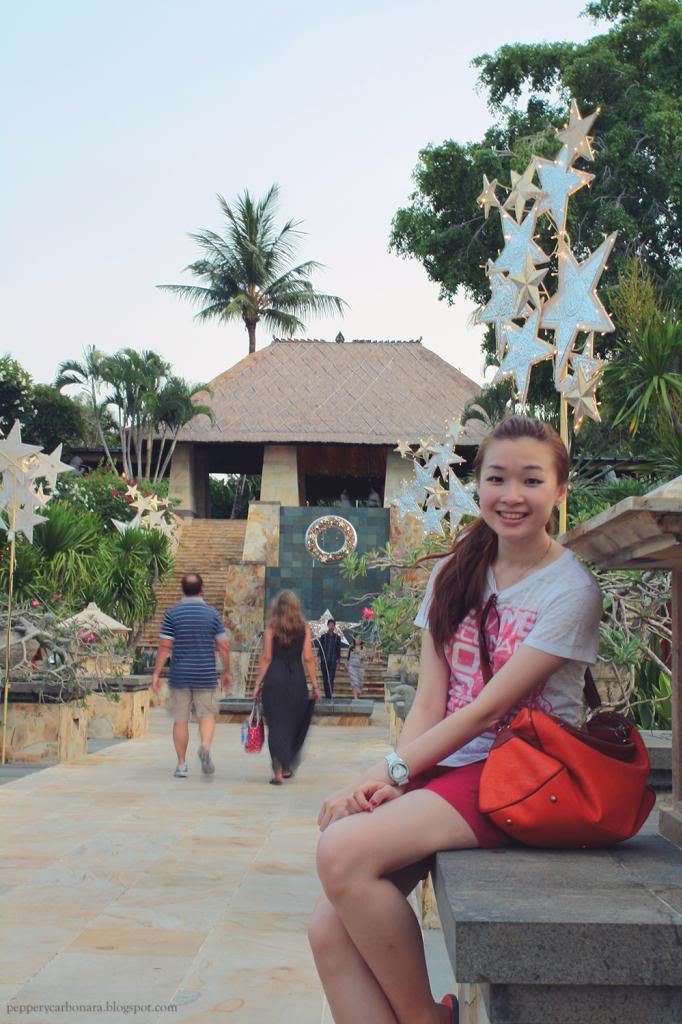 Enough with photos. Went ahead to Jimbaran!
Jimbaran is a place where you can have dinner at the waterfront, which was a must-place-to-visit when you are in Bali! There are tons of restaurant lined up on the road side and there is a beach beind them, and actually the most famous seafood restaurant in Jimbaran is Menega. But unfortunately we didn't know where it is and when we tried to talk to the driver he quickly parked the car in Blue Marine (or whatever the name of the restaurant, definitely it wasn't Menega) and the waitress had been there wait for us to get down. We were confused and the driver said we should try this one first, in appropriate words (fortunately) and we were like speechless and.. okay maybe we could. He absolutely had gratuities from the restaurant, lah!
After ordered the fish we wanted to grill and some seafood, we sat on the waterfront. Lots of tourist there and they looked like enjoyed the view quite much and satisfied.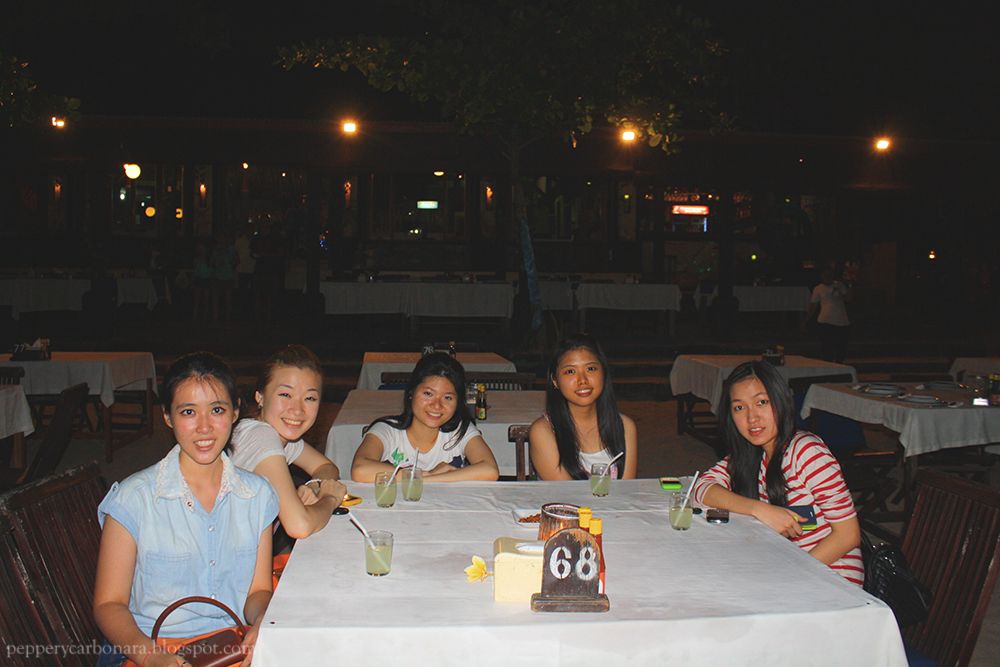 Not pretty anymore! hadn't taken a bath yet, lol.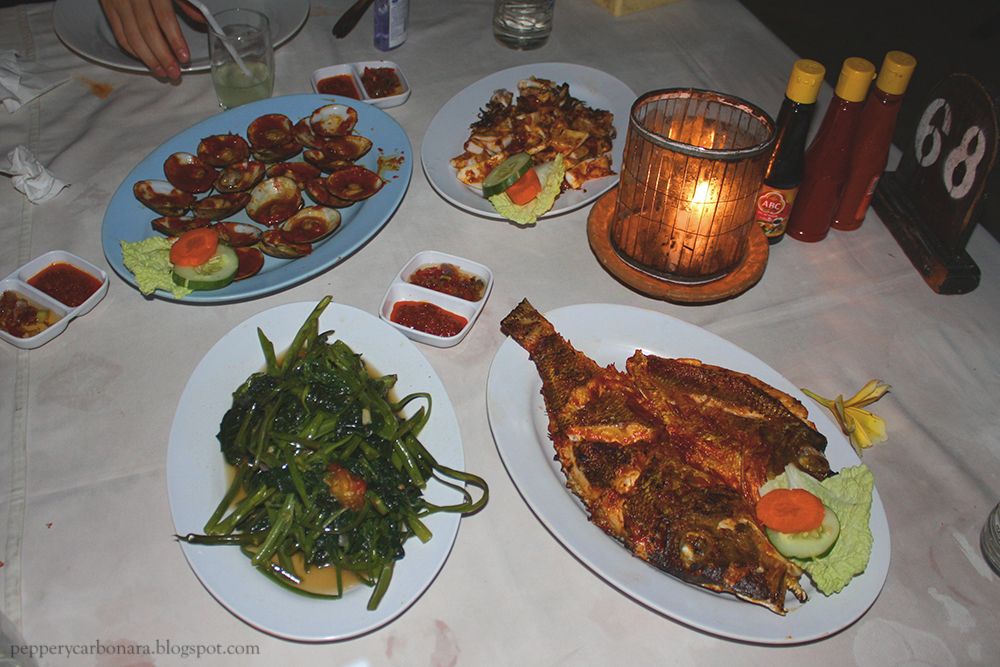 Our food.
Ittadakimas!
Okay, i forgot how Menega tasted, but my friends absolutely said these food were not as delicious as Menega, which why my friend, Sisca, really disappointed why we ate not at Menega.
Lesson for you guys, if you go to Jimbaran, just pick Menega. Even if your driver drove you to other restaurant and asked you to try, even his words were really convincing, ask him to get the hell out from there and drive to Menega. Even if he is forcing, or you have to clawing each other. Before you are disappointed. Period.

It had been such a night. We dropped to Bali Bakery a while to have some snacks and breakfast, just in case we woke up lately tomorrow and could not have the hotel's breakfast. They had many delicious cakes and breads, unfortunately, no camera allowed.

And finally, the hotel!
We stayed at Pop Harris Hotel at Kuta. This is kind of nice-backpacker-hotel or friendship-trip-hotel, definitely not a family hotel. If you go to Bali with your family, especially when your grandma or older people join you, i suggest you to not stay there before they scold you, lol. The interior of the hotel is really fun and young, very colorful. And the bathroom is totally special, lol. If my dad stays here maybe he can't take a bath at all.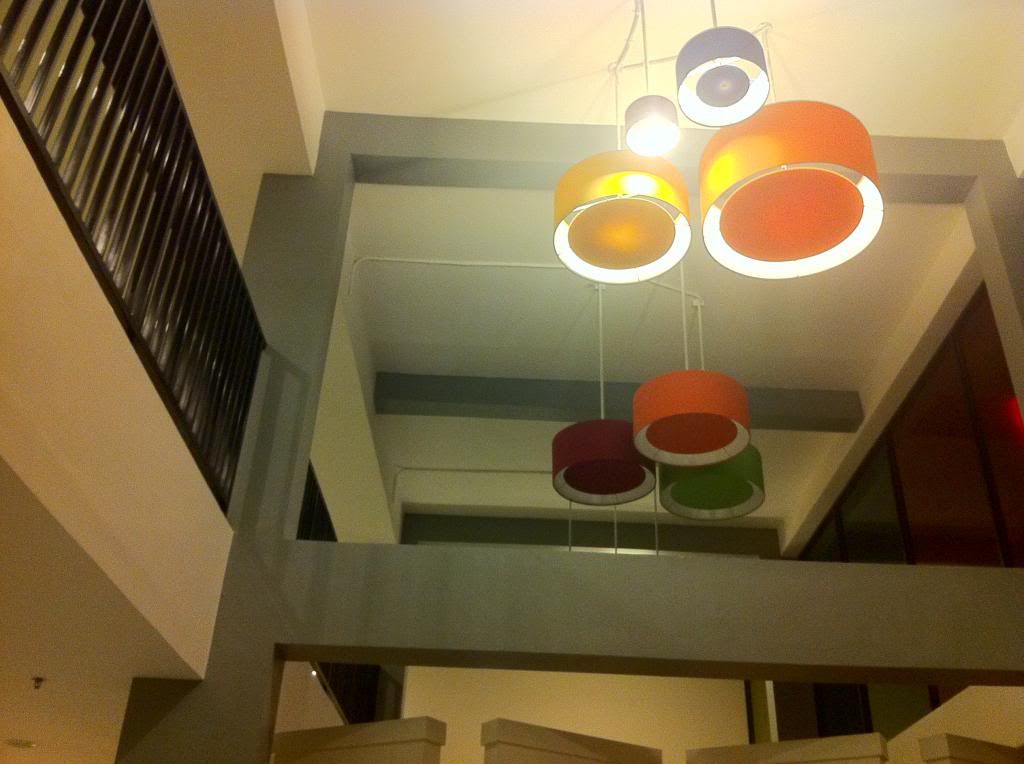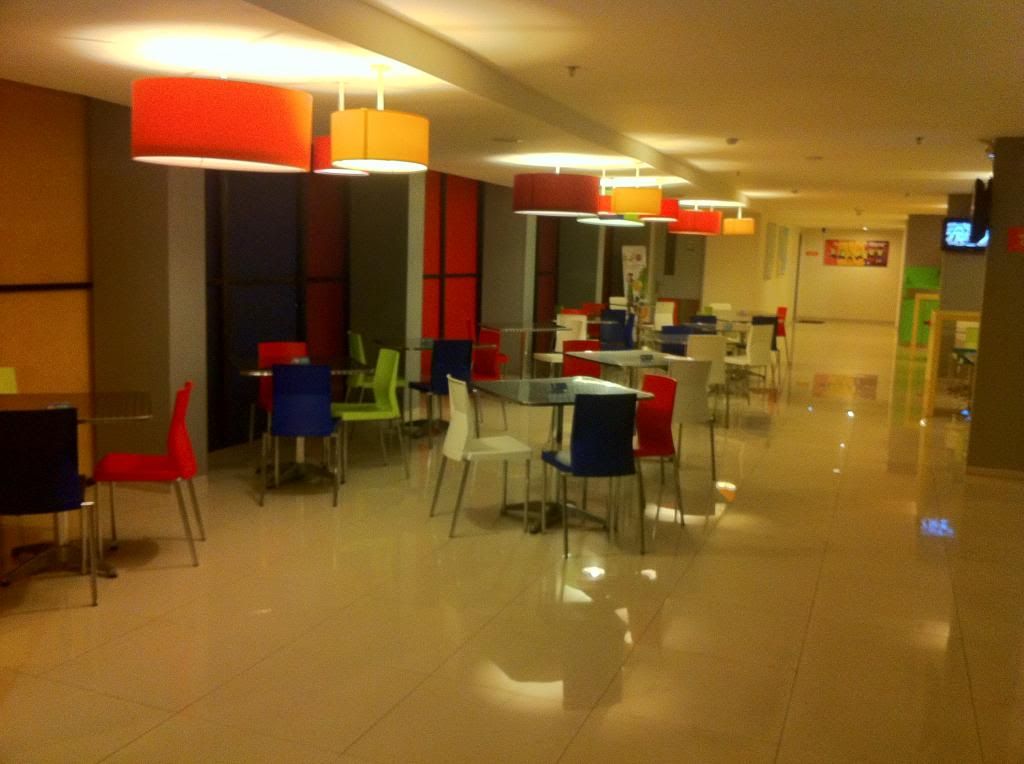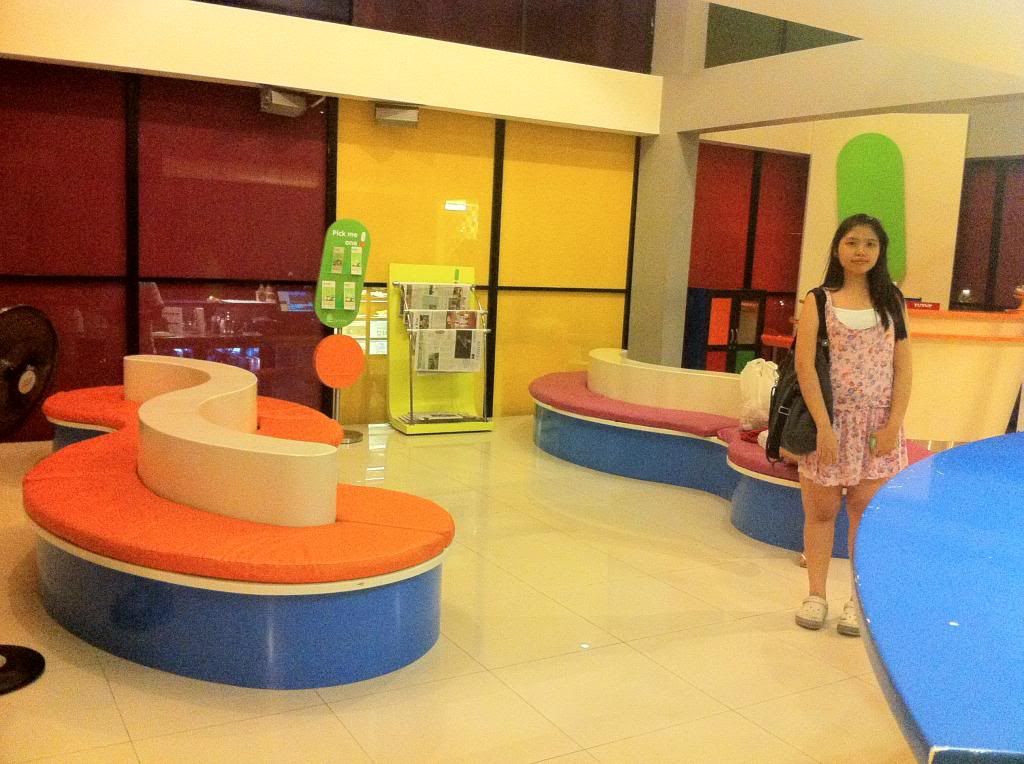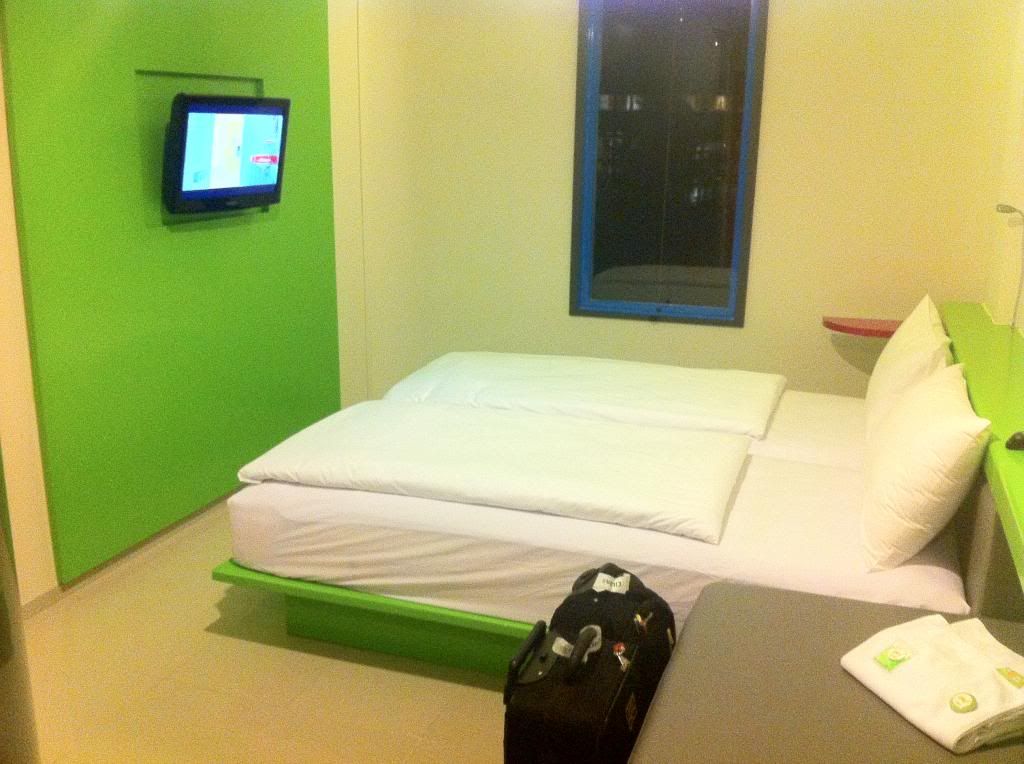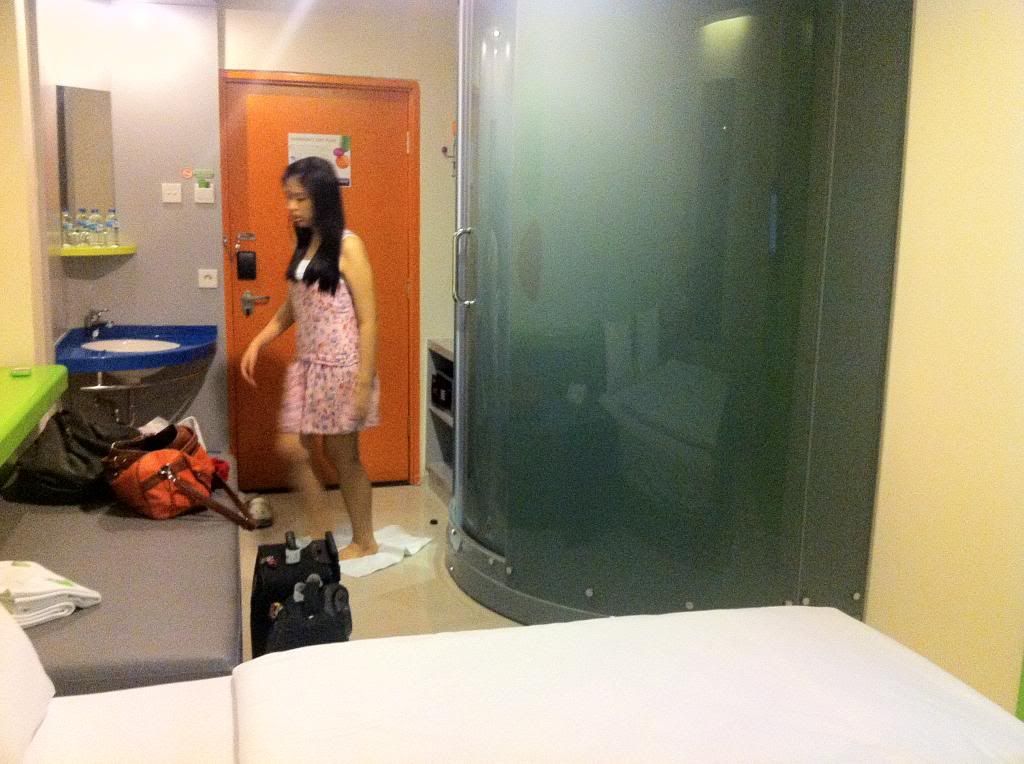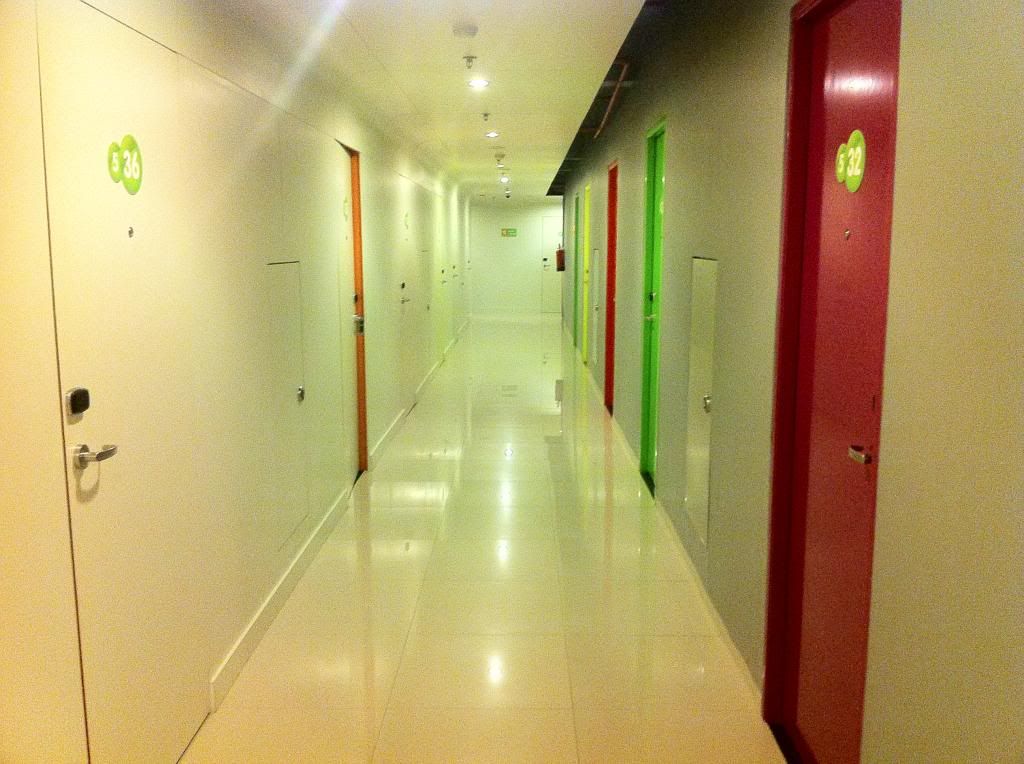 Quite nice, huh?
Unfortunately, the hotel is not on the roadside. It is in quite long alley if you walk from the main road of Kuta, and it is quite dark and quite in the night, because the stores there have closed. So if you thinking of going out to take a walk at Seminyak and Kuta until the middle of the night, maybe it saver if you take a taxi to go back to the hotel, especially when five of you are all girls.
First day of Bali, End.