MOSAIK a very homey cafe and resto
Last Sunday, my boyfriend took me to newly open resto & cafe near his house. He's kinda excited with any new restaurant in town, but he was cheating -he ordered a delivery from this new resto to his house huh. But because we had never been there literally, we wanted to try.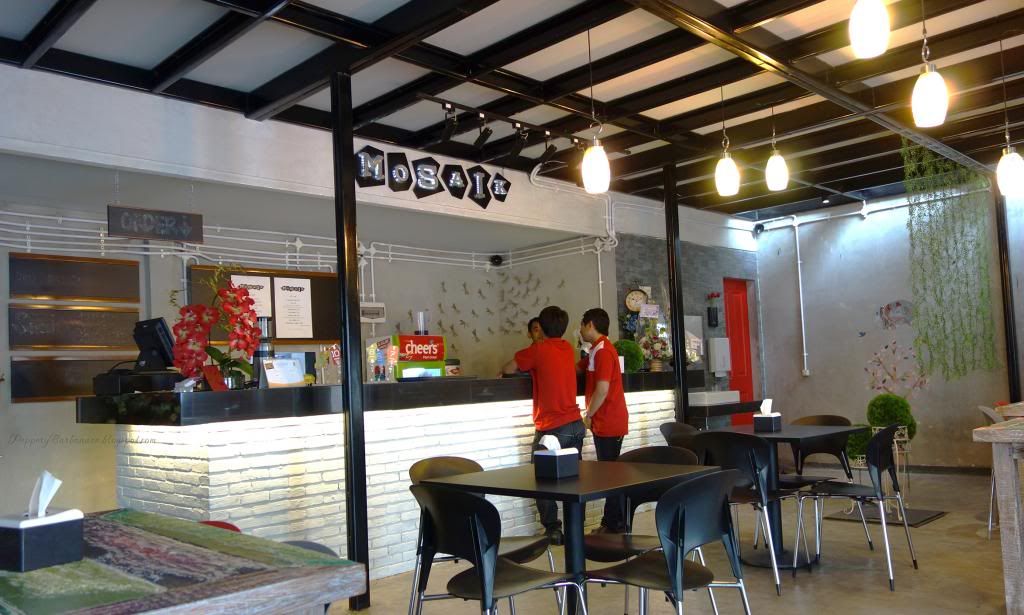 The name is Mosaik resto, catering & cafe, at Arif Rahman Hakim, Surabaya.
First of all, for me, it's kinda weird to open a nice-concept cafe or restaurant in this kind of place. I don't see any good restaurant around there
(except New Royal Ballroom, near but still different street)
, and as i know, mostly trucks and freight cars cross that road. Like.... it's not 'eatery street' (
as weird as why Palacio have to open their beautiful conceptual wedding capel at that street?!)
but who knows? :)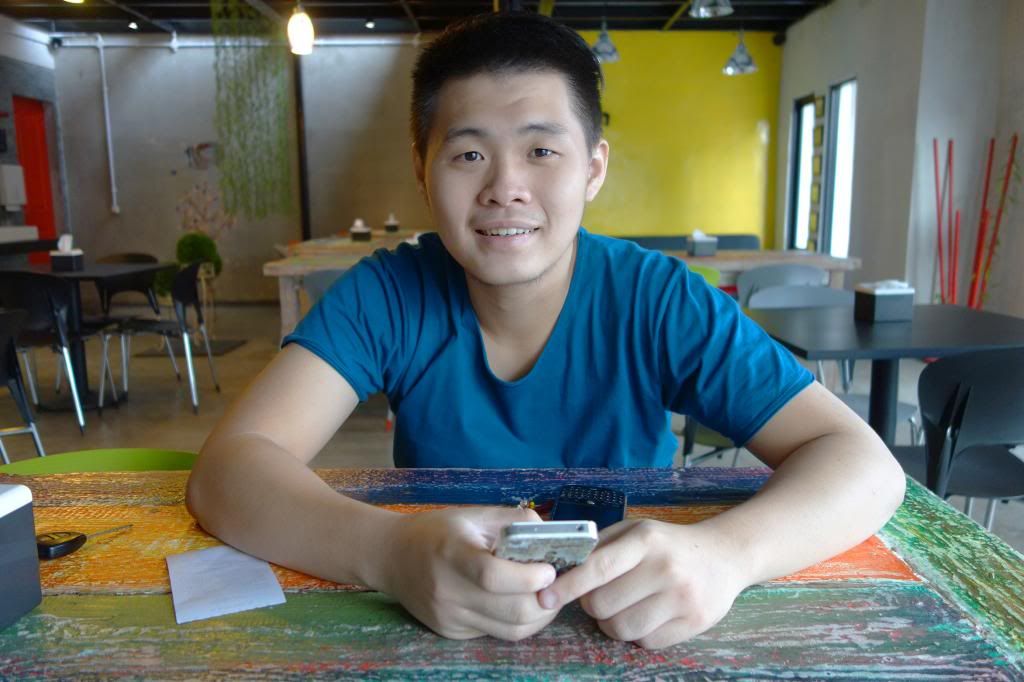 Here's my tour guide♥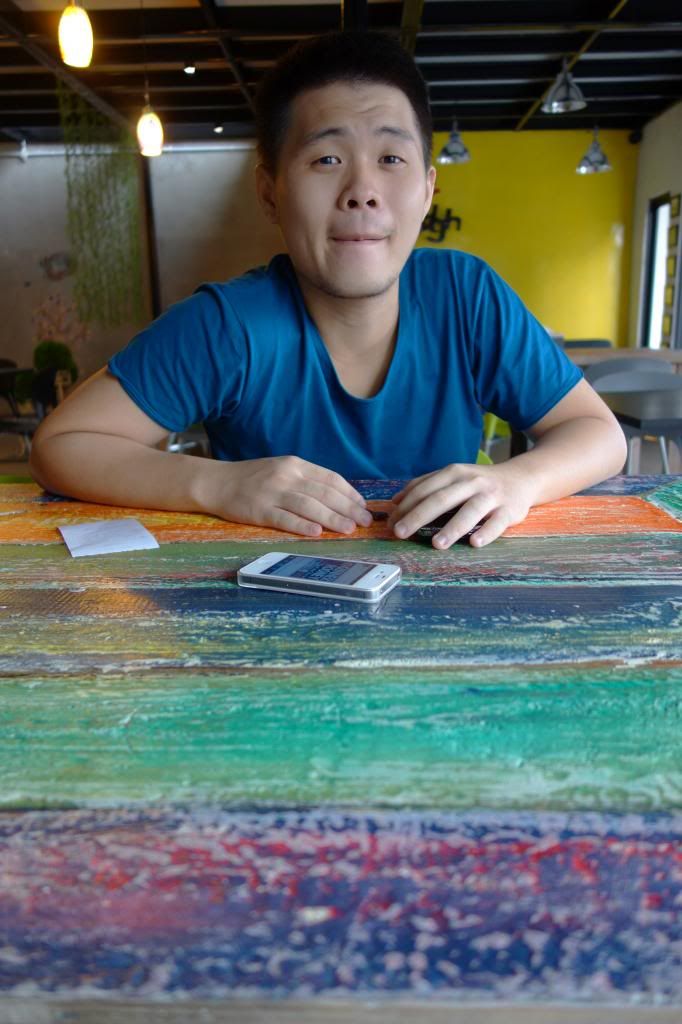 ignore my silly pose, looks at the pretty rainbow table!
Actually, this restaurant has a nice interior concept. It's like homey and comfort cafe, and they succeed to bring the tone. The decorations are unique yet simple, and the table, as you can see, i think it is recycled from old wooden table. It's good since it supports the concept.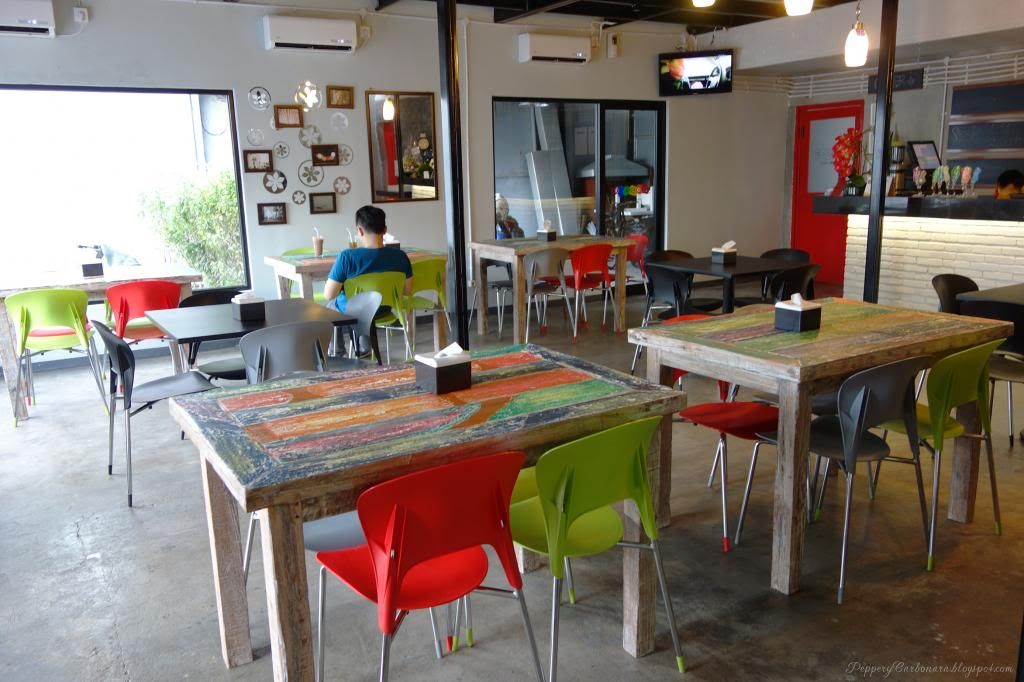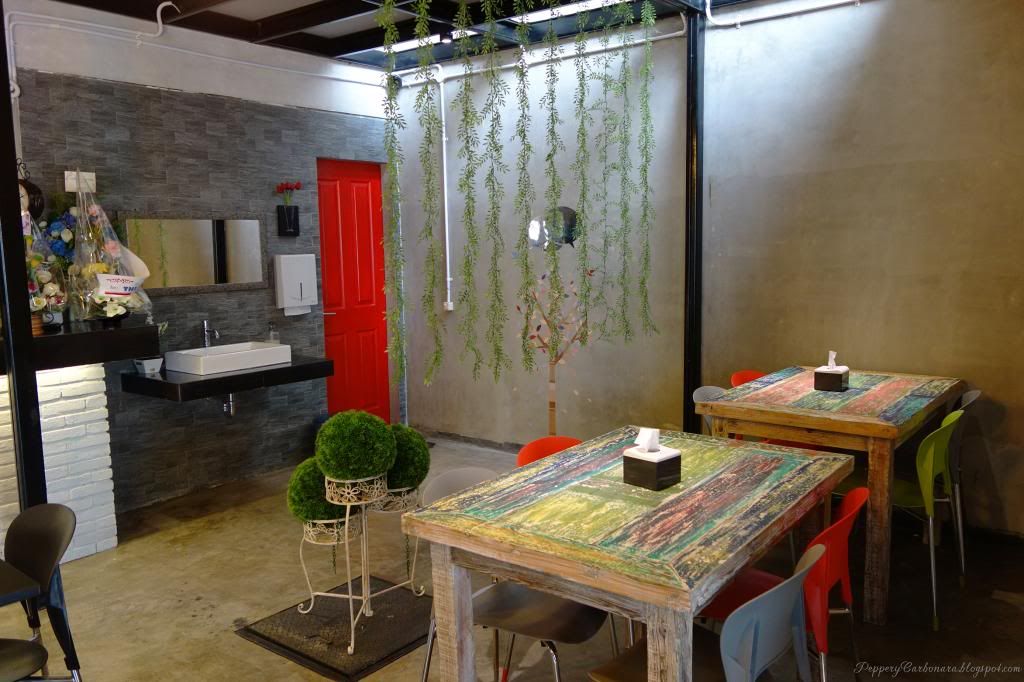 My boy said that the toilet also looks good, with some butterfly decoration, but .. i didn't get in for take photos of course! Or should i?
Well i'm kinda disappointed with their visual media property. A menu which printed in a piece of HVS paper and no photo of the foods, like -really?! How can i choose then??! And the name card is plain white, not that plain like simple and elegant but a plain white and unorganised. Then my boy also deplore their take-away or delivery box which too limp and rough. ....why, Mosaik, WHY??
Okay i have to stop doing this. Sorry, design student and advertising businessman's problem, lol. It's a newly resto, exception.
They only had about seven or ten menu right now, no appetiser and no dessert. I don't know what their food's base, maybe japanese and indonesian. I think it's like trial menu, because they said they actually have around 40 menu already. Maybe in two or three months, or when they are ready, it will get better and more :)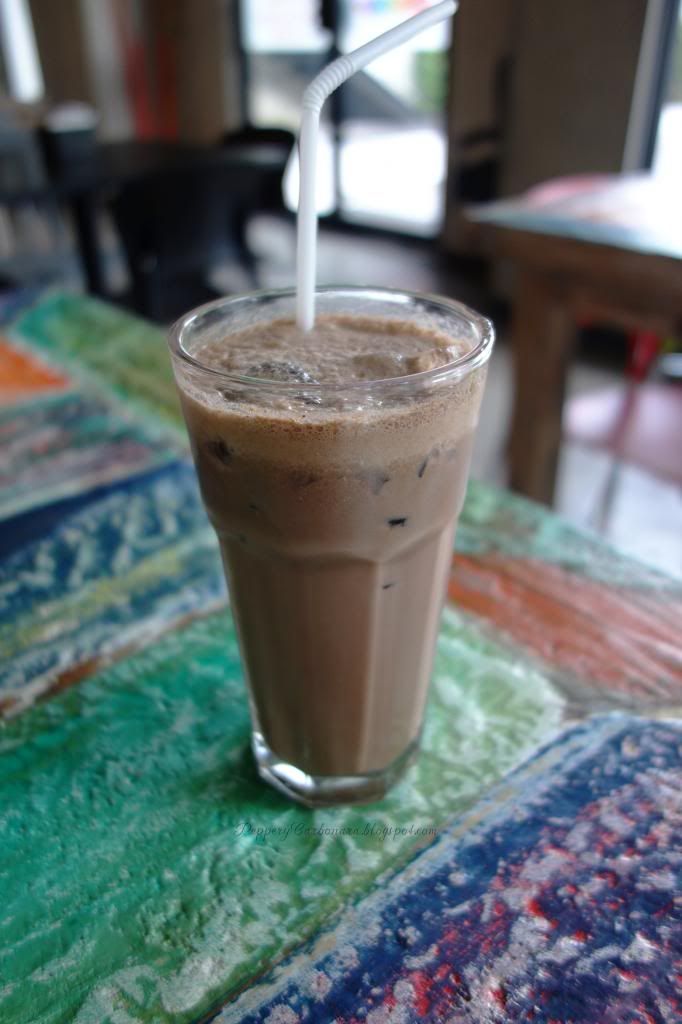 I ordered Cold Chocolate, and i won't say this is the most delicious choco ice because i haven't tried every single choco ice in any cafes, but i would say it is the most delicious one i've ever drink, based on the price. It's 15000 rupiahs, quite a cheap price for cafe standard. But the chocolate is very creamy, not like lame choco ice which taste more like water than chocolate.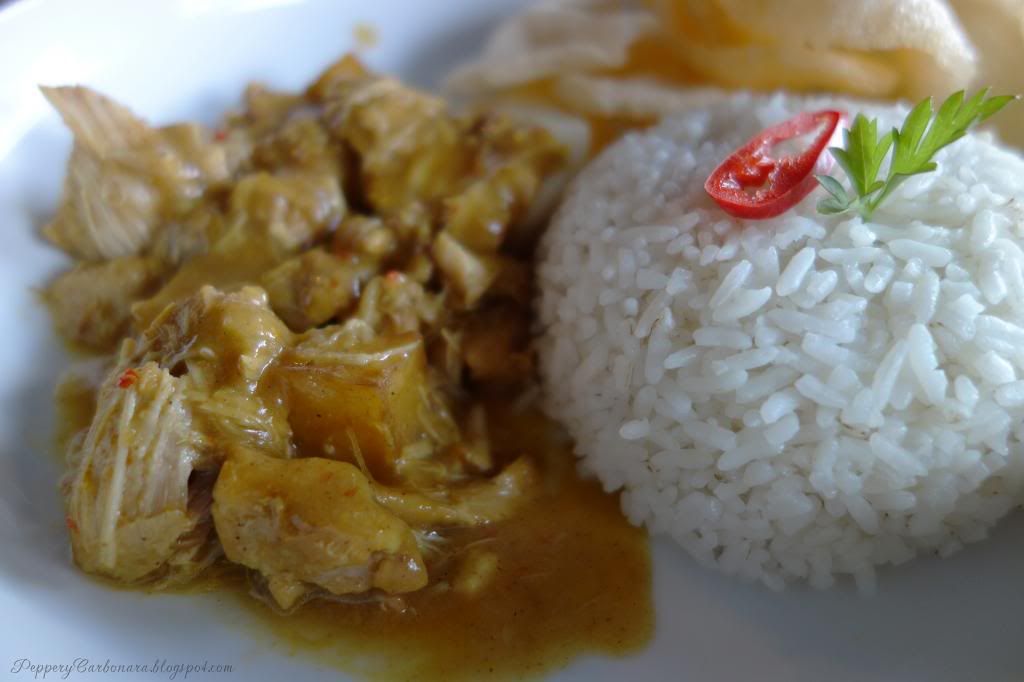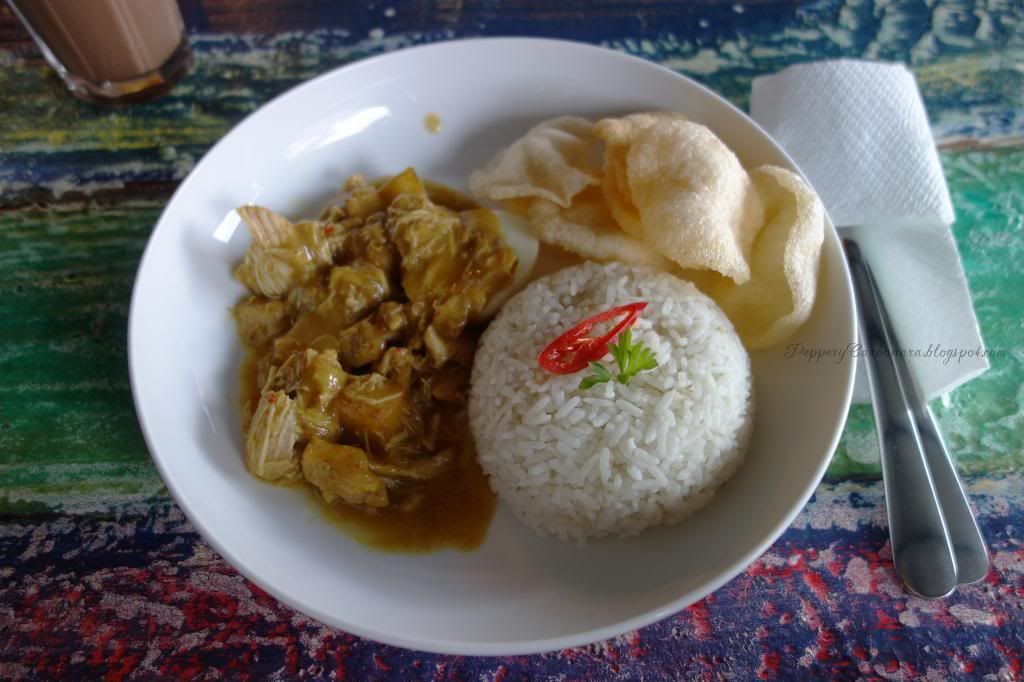 My food was Chicken & Lime Curry. Not bad, taste good. Not OH MY GOD IT'S SO SO GOOD I SWEAR, but not bad. I think they made same concept with their interior, homey. 18000 rupiahs for each plate.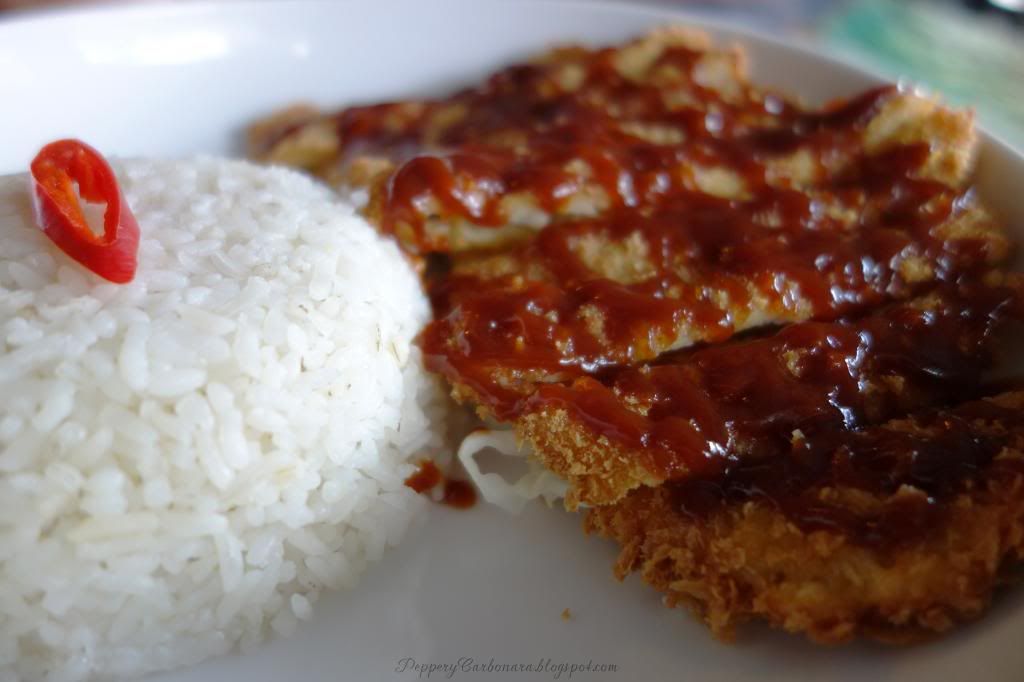 Boo ordered Chicken Katsu Don and i am not recommended this one, lol. Taste so-so, and the chicken was so slight, for -maybe, 0.1 cm. Looks like i am overreact about it but no, really thin. 15000 rupiahs for a plate.
Will i come back next time? I think i will, for the shake of the Cold Chocolate, lol. But maybe two or more months later, hopefully they already add some new menu on their list, photos on their menu (seriously, it is so important!), and not giving mark-up when we come back. And in June or July, i think they will contribute a new space upstairs.
Good luck for this newly resto & cafe!
MOSAIK resto, catering & cafe

rate : ✓✓✓

Jl. Arif Rahman Hakim 193, Surabaya

(031) 595 6089 | 22EA97BE

instagram : @iloveMOSAIK