The Noodle's Airlines : Absolute Aeroplane Taste
When you are about to try new place to eat, don't expect too high and don't try it when you are not in the mood. I am not saying that every new restaurant is suspected, but it's ought to expect low and get the best than expect high and fall, ended with not satisfied tummy ;) just enjoy everything!
Last night, me and my eating partner tried new conceptual restaurant at Manyar Kertoajo, The Noodle's Airlines. The concept of this restaurant is dining in the airplane, which is very fresh because i never found one in Surabaya.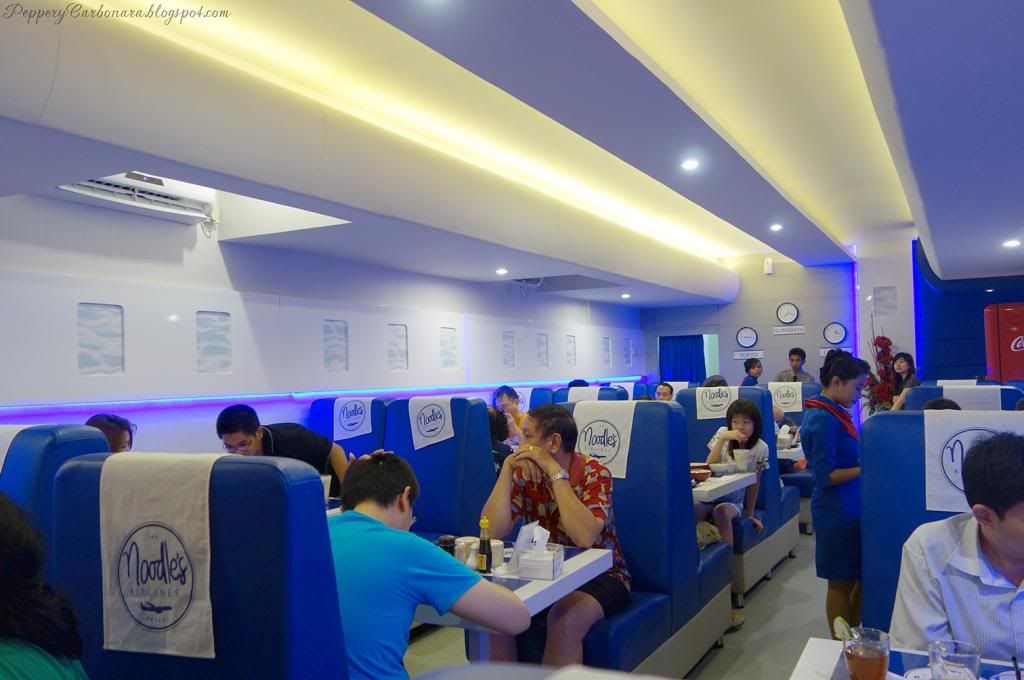 They deliver the concept very well, because everything had already organised such us menu book (i love their design, combination of retro design and modern aeroplane design), the sofas and lightning, even the waitresses use pilot and stewardess' uniform and bring plane's food and drink trolley (idk what i have to call it, tho).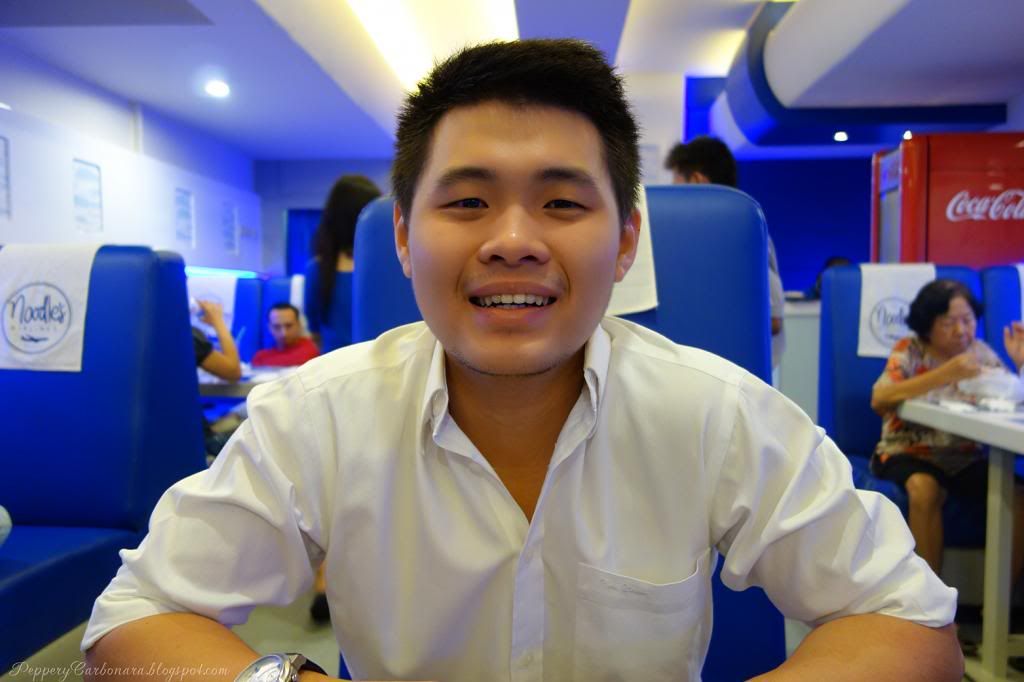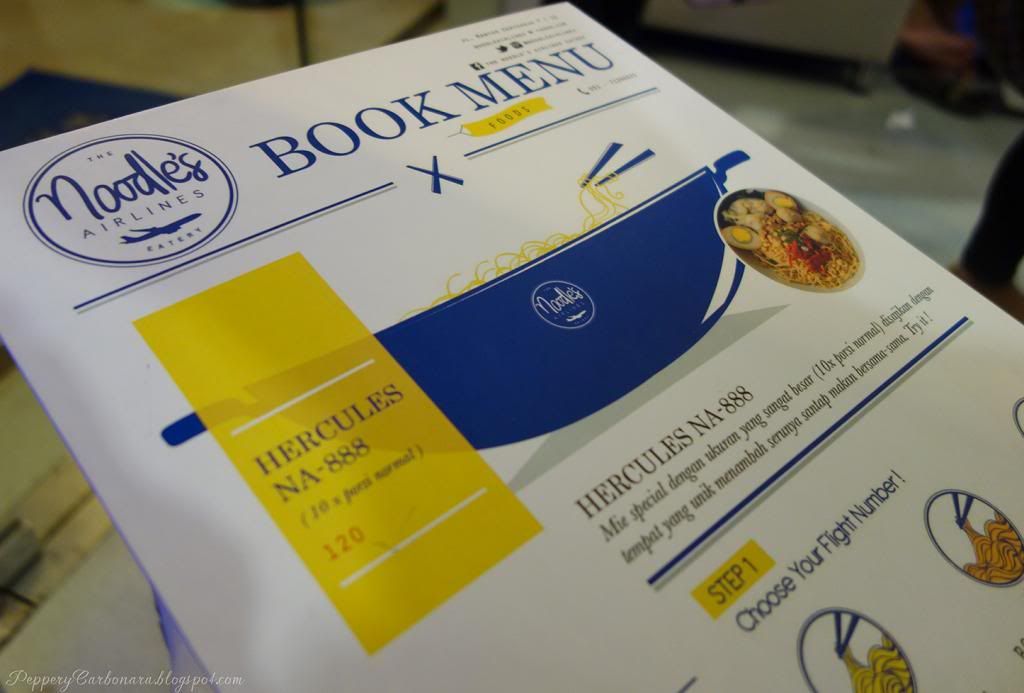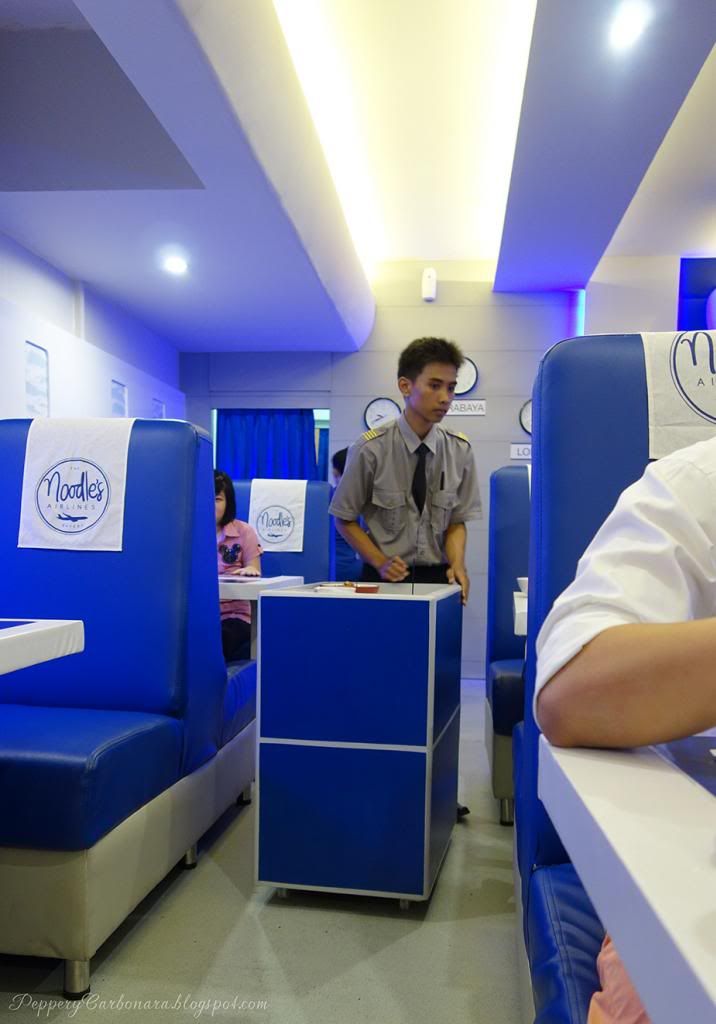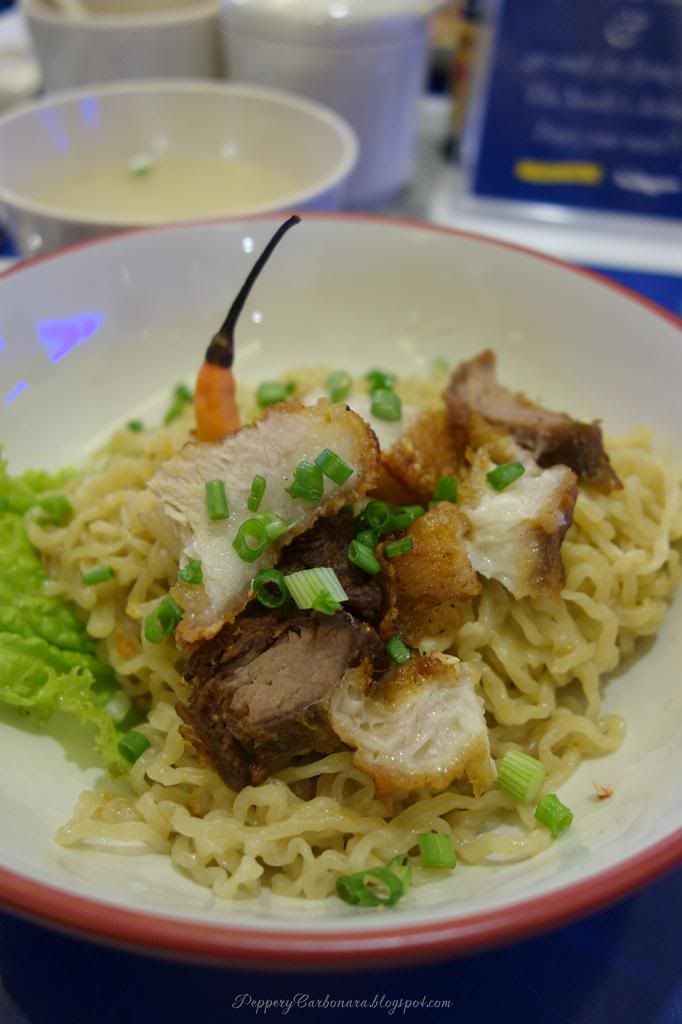 I ordered for spicy noodle with fried pork and he ordered pork fried rice. Their main menu is -of course, noodle. They serve three kind of noodle : basic, sweet and spicy noodle (and their name is Boeing complete with the code). Then step 2, you can choose your topping. They also serve big portion of noodle called Hercules NA-888. He said it's not like what he expect because he thought they serve pasta and so on. Well, maybe the name is have to be The Pasta's Airlines, then. The noodle turned out to be very spicy, don't have a problem with that, but for you who want to order spicy noodle, maybe you will consider the spiciness.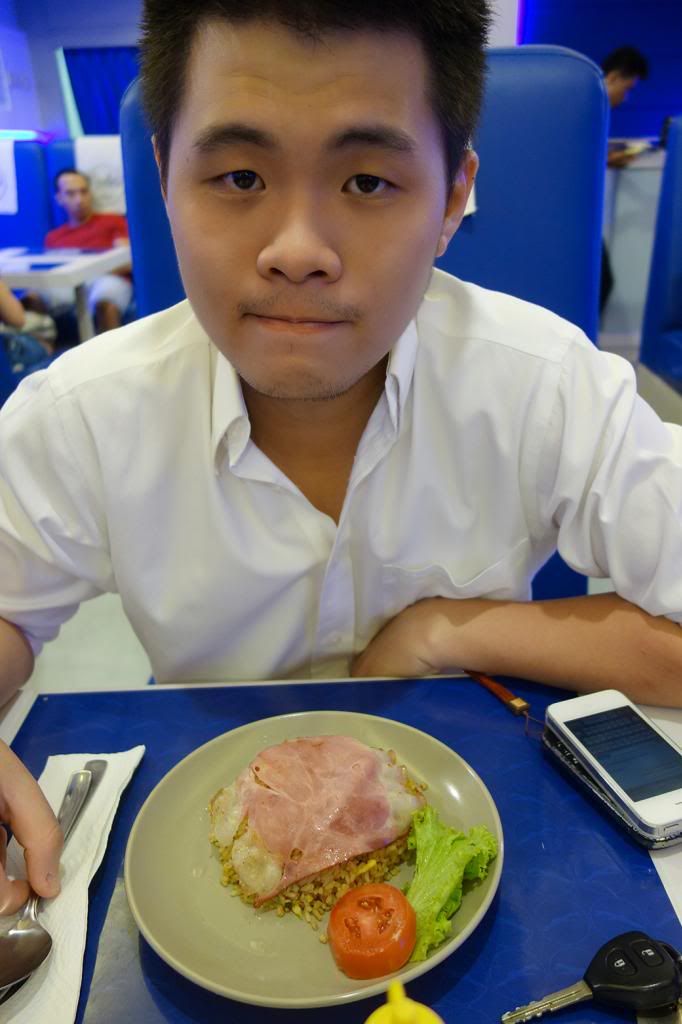 I know. The portion is too small for you, boys.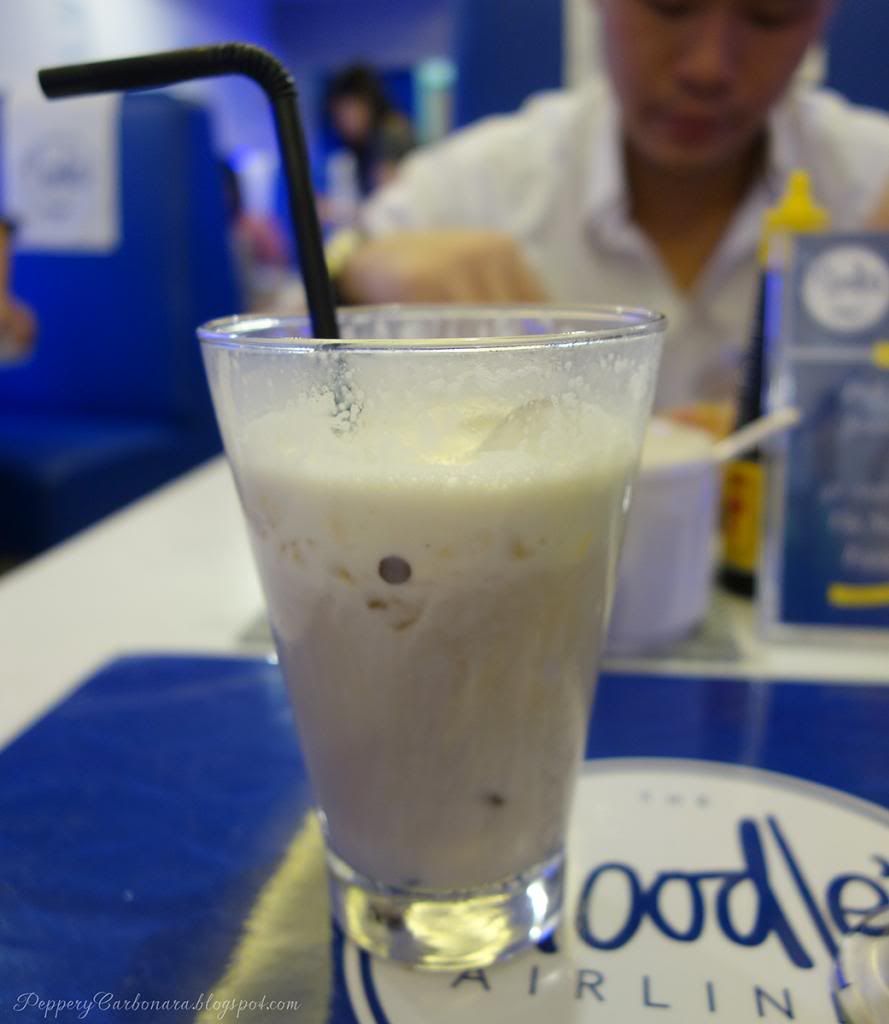 For drink, it is Airplane Illusion (the blue one), and Blackstone Ice (which had been destroyed by him). The blue one taste good, or maybe too sour for some of you. It's mocktail, combination of syrup, soda and lime. I remember i ever taste it somewhere but i forget the name. Fruit Punch? Hmm..
The Blackstone one, is kind of McDonald's coke float. But i still choose McDonald's coke float over this! Or at least, choose the blue one.
This is the Chicken Wings. My boo was disappointed, it's even smaller than the one he bought at some chicken stall in mall, lol.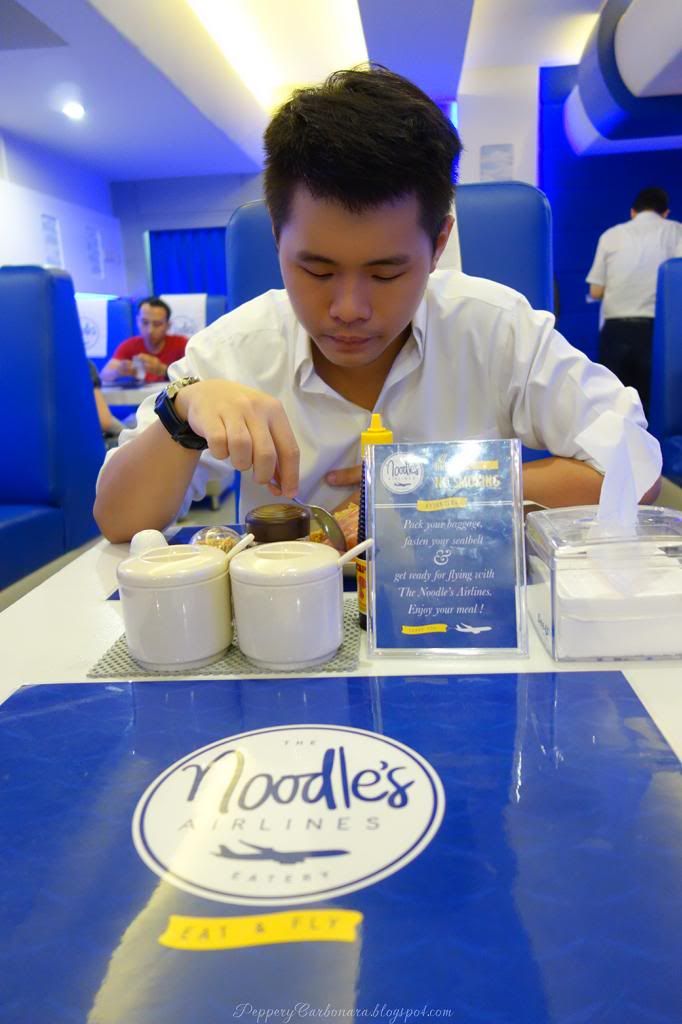 Okay, the moment of truth.
It doesn't taste quite good. Or i can say so-so. The price is about 20000-27000 for foods, 5000-15000 for drinks, + 10% tax. The place is too forced, even the concept is good and fresh. I think the place is too small, the distance between sofa and table to close and you can't move it, area for walking indeed too small. They only had table for two and four, and the shortage of this concept is, yes you can't move the table and sofa like other restaurant. My right table was filled by six people, which for me is a bad idea because it's too stertorous you can't even move. It's definitely not cafe because it's not comfy for me, i think the air conditioner didn't work well because it's full of people and the place is getting warmer. And for restaurant, it's too crowded and the food is so-so.
So, if you are a food traveler who likes to try new restaurant, or you are the one who like conceptual place, take a photo and post it on instagram (somehow i'm describing me), you may go here because i think it is the first Aeroplane conceptual restaurant in Surabaya. If you are trying to fulfil your stomach needs with pleasure, then i'm not suggesting you this place.

But there's always an exception for newly restaurant, isn't it? ;) Everyone needs a try! I hope they will improve their menu and organise the place more. Best luck!
The restaurant is near with Bonet supermarket, beside 3.6.9 and De Sushi.
The Noodle's Airlines

Rate : ✓✓

Jl. Manyar Kertoajo V/12, Surabaya

(031) 7124 6075