Myeong-ga Myeon-ok : Korean Grill Heaven
Hello ヾ(^∇^) while in Jakarta, we were so busy but the last day before my night flight, we were eating at a Korean restaurant!
Note : I barely eat Korean foods, since i'm not really into their foods and their K-Pop or drama and so on.. ( ´(00)`)
(yea i'm not watching running man because i don't think it's funny, but i'm not a hater either, don't judge me okay!)
, so my very last time of korean food is
Kimchi-Go
, which is a fusion korean food i think, mixed with Indonesian taste. I've ever eaten Korean barbecue, somewhere in Darmo Park, Mayjen Sungkono
(no it's not Baik Su, i forgot the name! (´A`。) the place is smaller than Baik Su)
, and i think it's good. I've ever eaten korean food in famous
Myong-Ga
(Puri Matahari Apartment)
but it was when i was in Junior High School or something, i totally forgot (/・・)ノall i remembered just
Gaeran Jjim
(steamed egg)
and their korean ice cream
(Bungeoppang)
. So again, i can't compare this restaurant with any other korean restaurant but i will tell about the whole taste!
We ate in Myeong-ga Myeon-ok, located at Lippo Karawaci, Tangerang.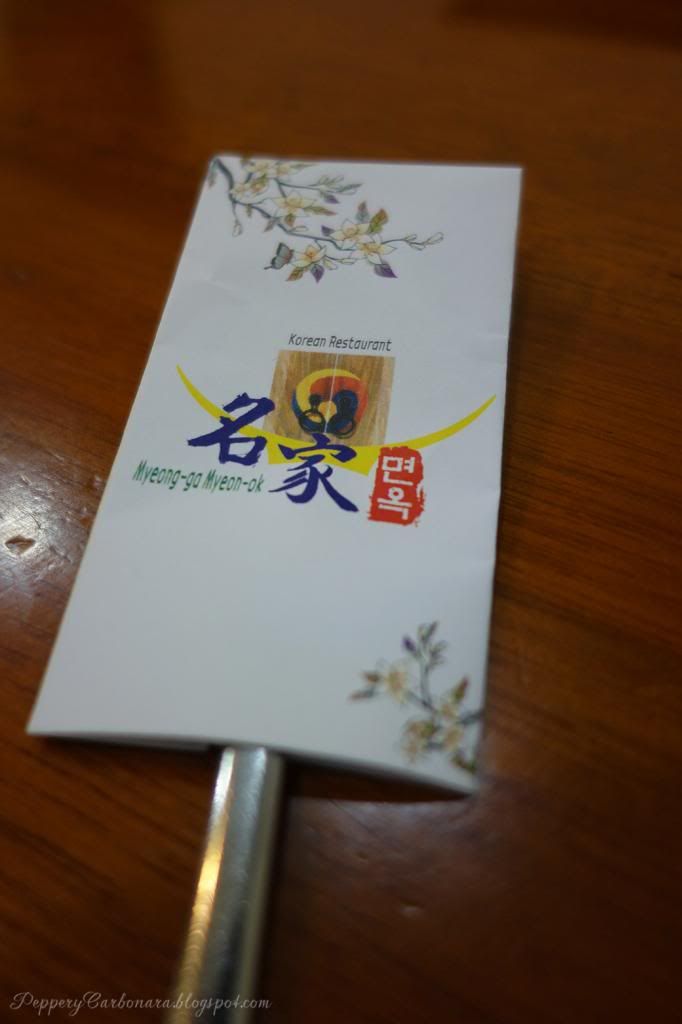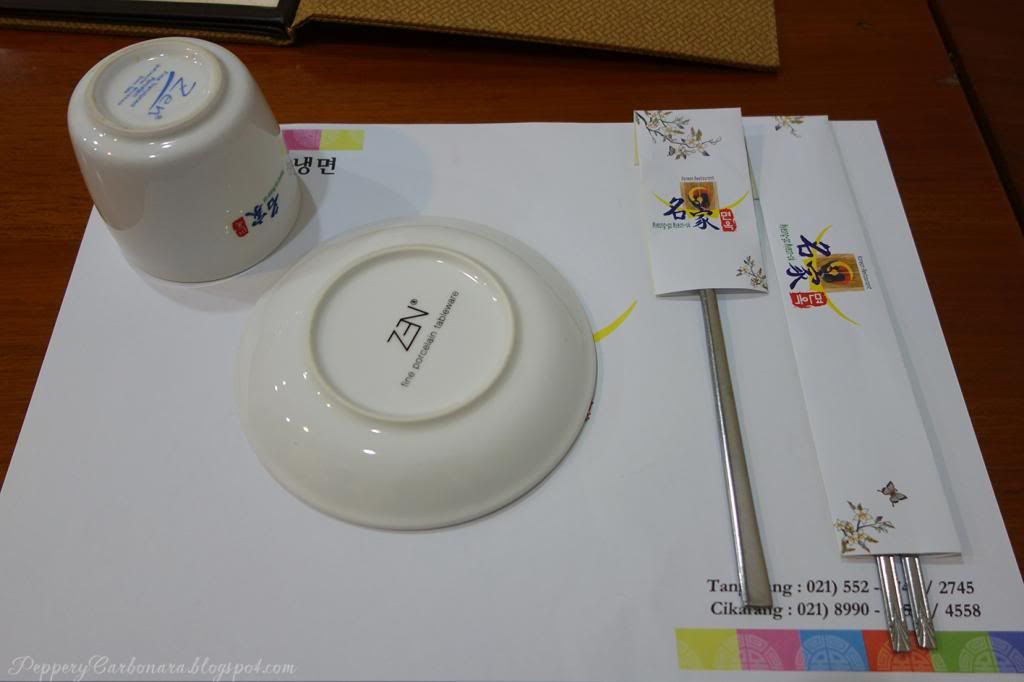 Full set of Korean platter, with their specific spoon and chopsticks.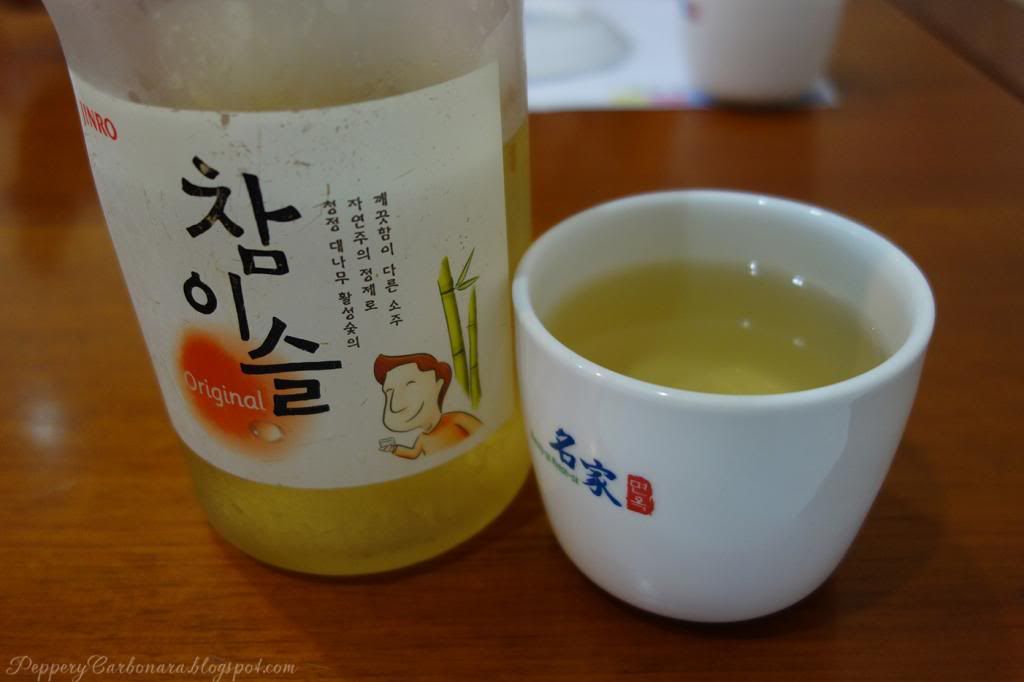 and this is the real Korean tea. I've ever ordered one in Kimchi-Go, but my friend said that Korean tea shouldn't taste like that. This is the first time i tasted it and it's savoury.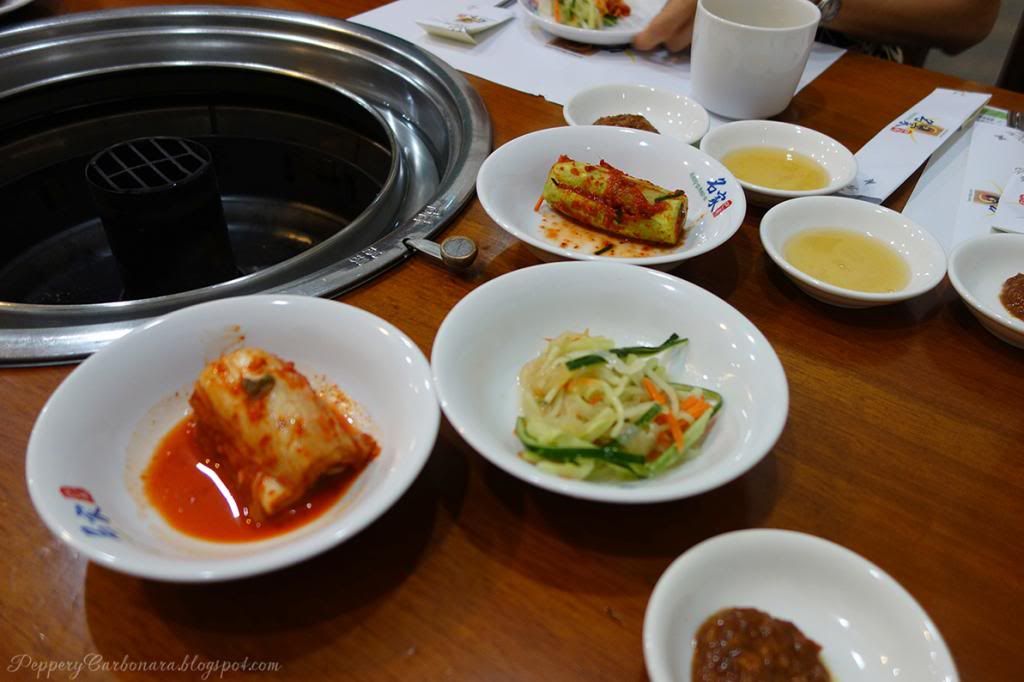 Side dishes or complementary foods. So we ate Korean Barbecue (
i was so excited because it had been a long time since i ate barbecue (●♡∀♡) and i was craving for it)
or called
Galbi
in Korean. No need to worry about cooking, the waitresses will help you to cook it! The only thing i don't like : i feel the grill is too close to us and it's so hot, like burning my face! (*ι*) Even harder because i wear contact lens.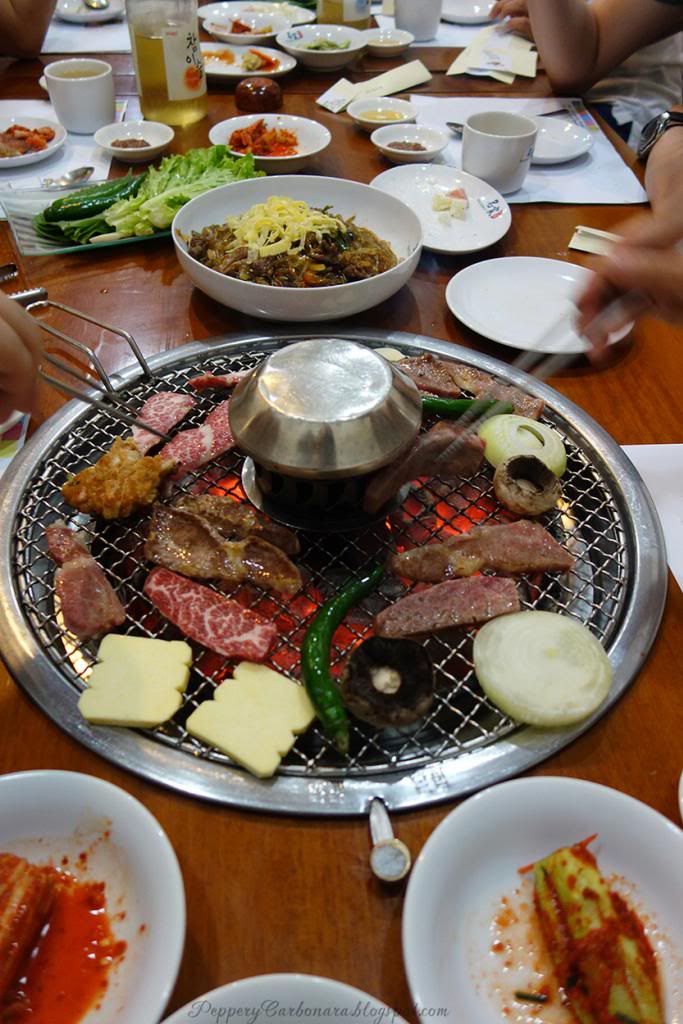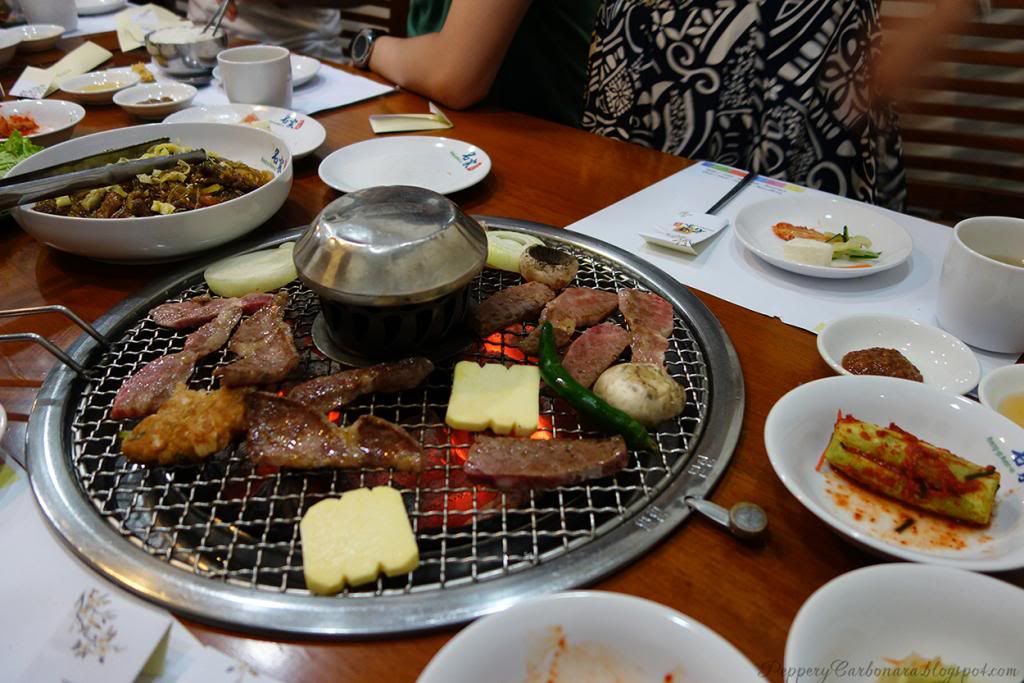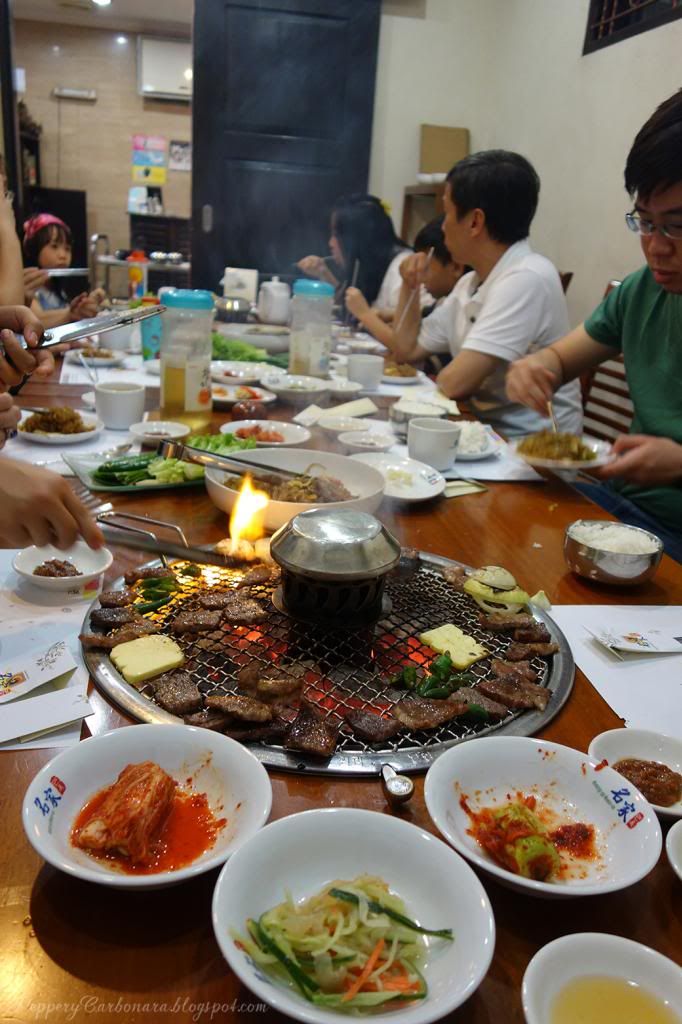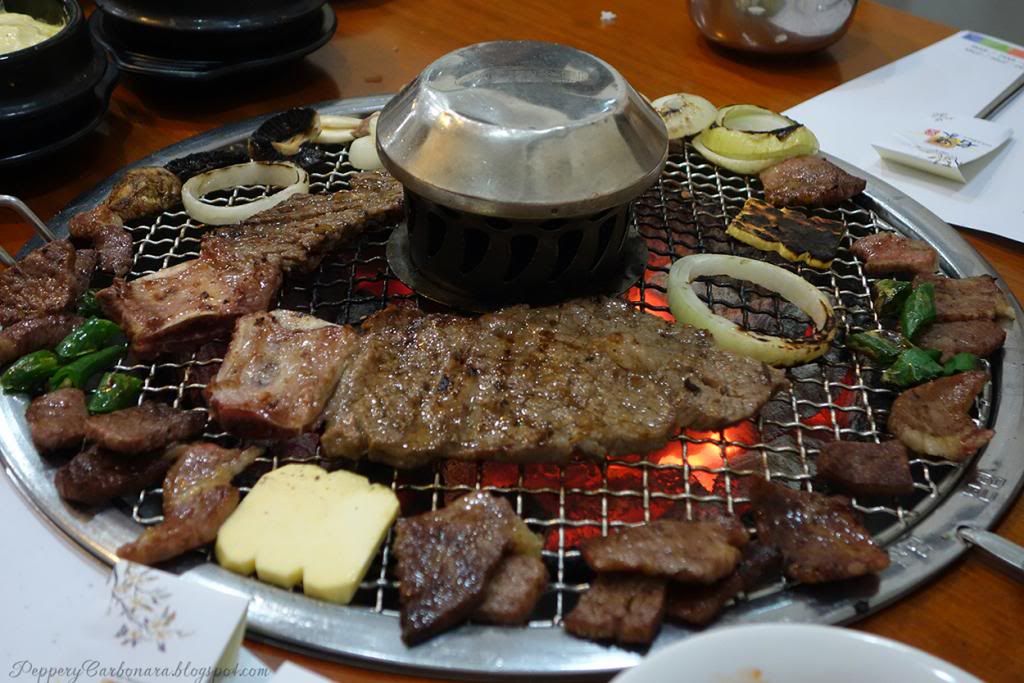 We ordered three kind of meat, salty beef, sweet beef and pork. I like the pork one! ヽ(*'(OO)')ノ゚it is more tender and juicy than beef. *oik*
As you can see, we ordered
Galbi
, some soups
(not really sure of its names)
,
Gaeran Jjim
and
Japchae
(Korean noodle)
. Didn't have the opportunity to take a photo of the full dish from close view because everybody were hungry and immediately eating all the foods (。┰ω┰。) these are the best i could get!
One of the soup. It's spicy and sour, cooked with tofu. I think it called
DaenJang Jjigae
, i'm not really sure. Their language is so hard to read (*´_ゝ`) but i'm having fun in listening Korean. Sounds cool!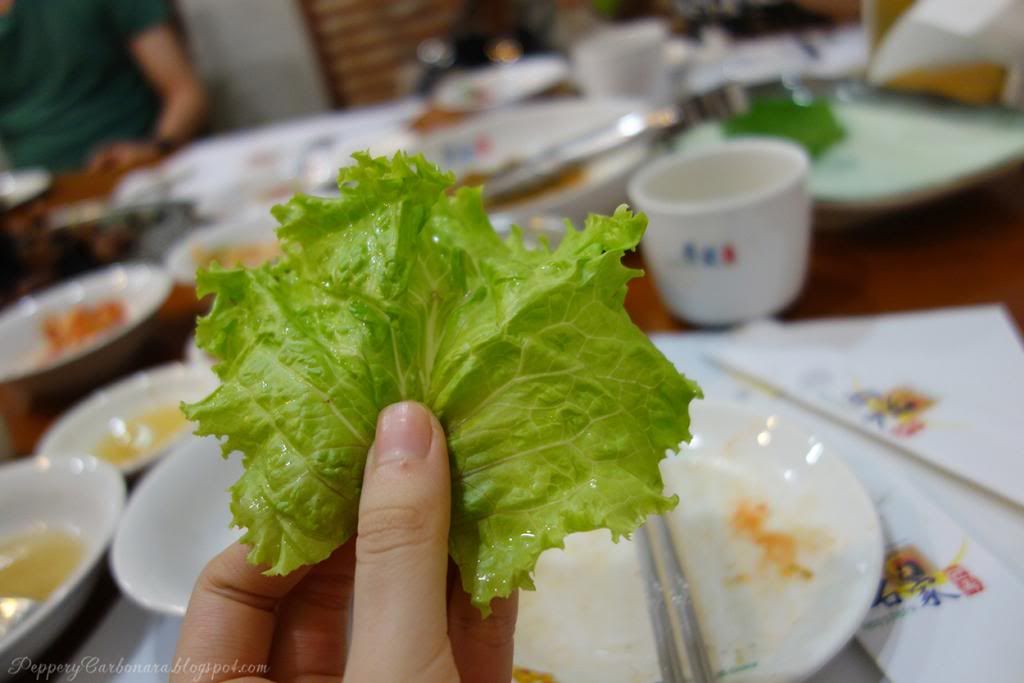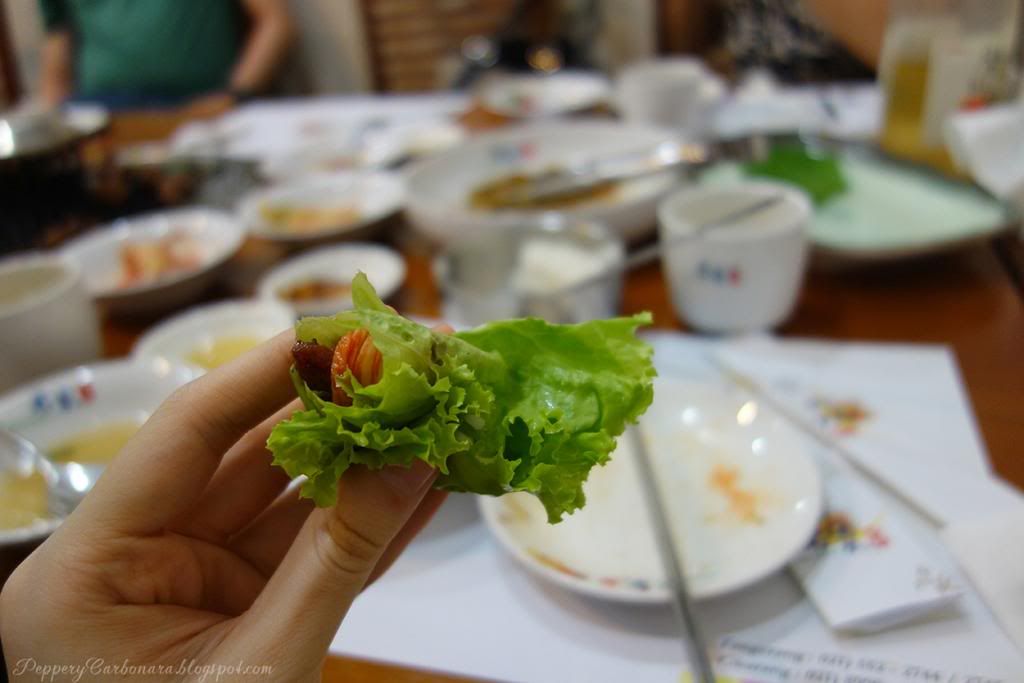 Most of you must have known how to eat
Galbi
! Yes, it could be wrapped with green lettuce, or just eat the meats normally with rice.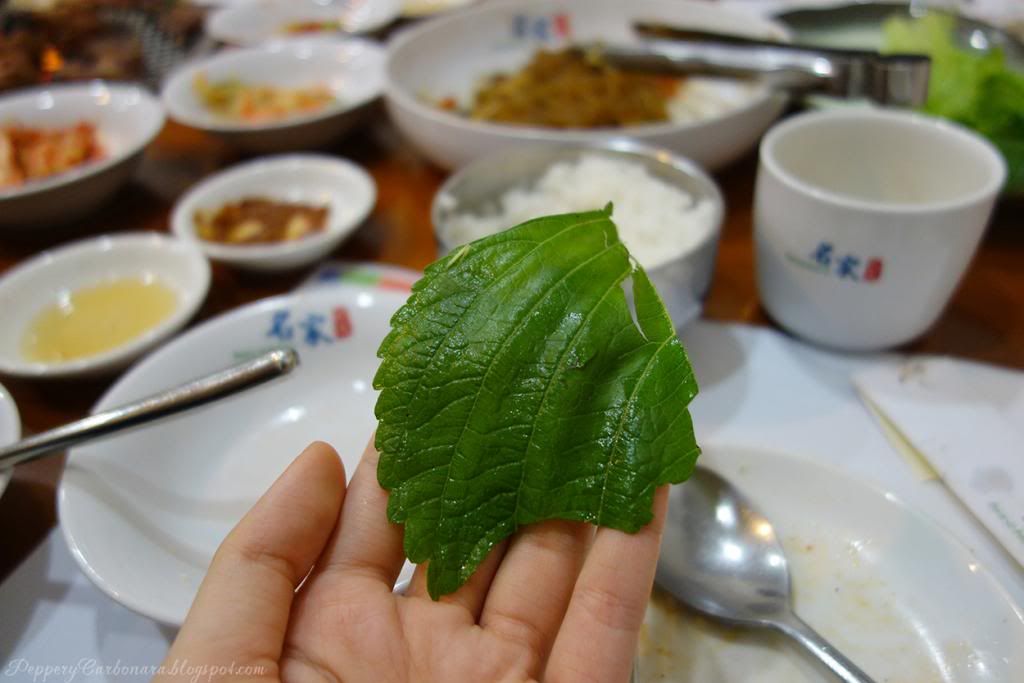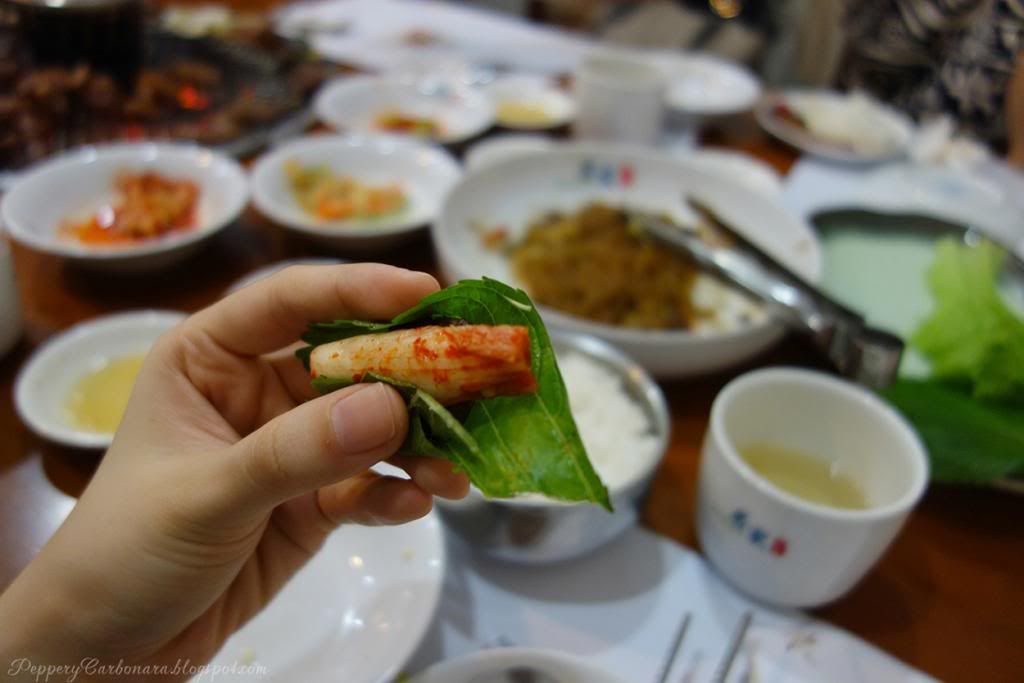 This one is sesame leaf, my first time to try it! Taste like.... sesame lol. It had sesame fragrant, but i prefer lettuce more.
After all, maybe i don't really into Korean foods, but i like
Galbi
!
Myeong-ga Myeon-ok
had the best Galbi in town
(from my uncle opinion, he's Tangerang residence)
, and it had good service. Don't forget to try their grilled pork!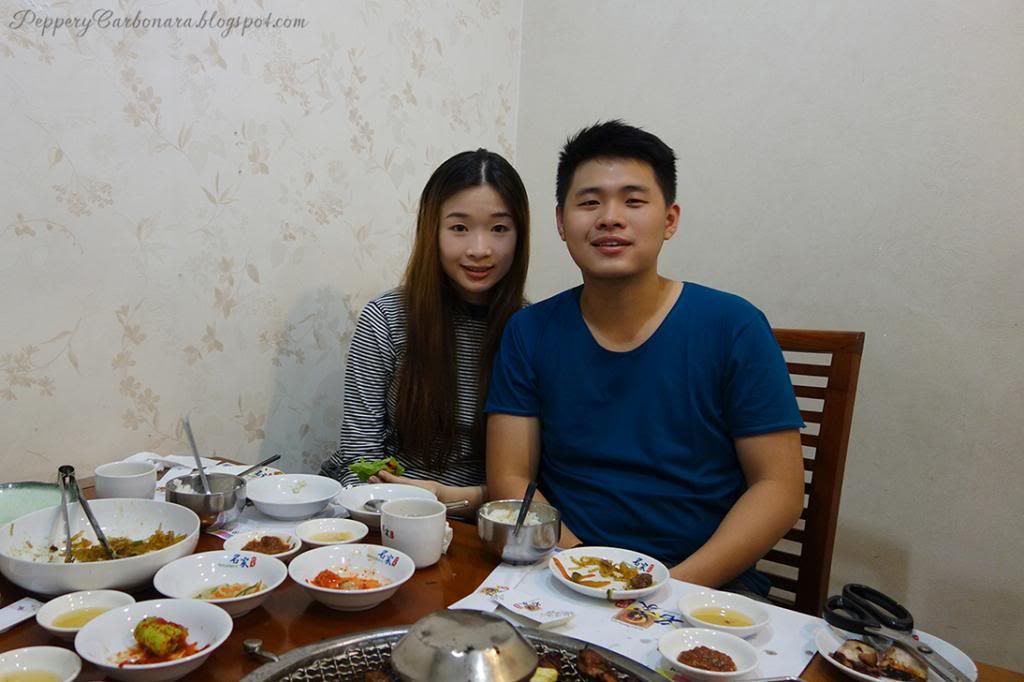 I'm looking forward to eat more
Galbi
here, lol.
건배Cheers!☆ミ(o*・ω・)ノ
rate : ✓✓✓✓✓

Karawaci Office Park, Ruko Pinangsia Blok G 6-7

Tangerang, Banten

(021) 5522745